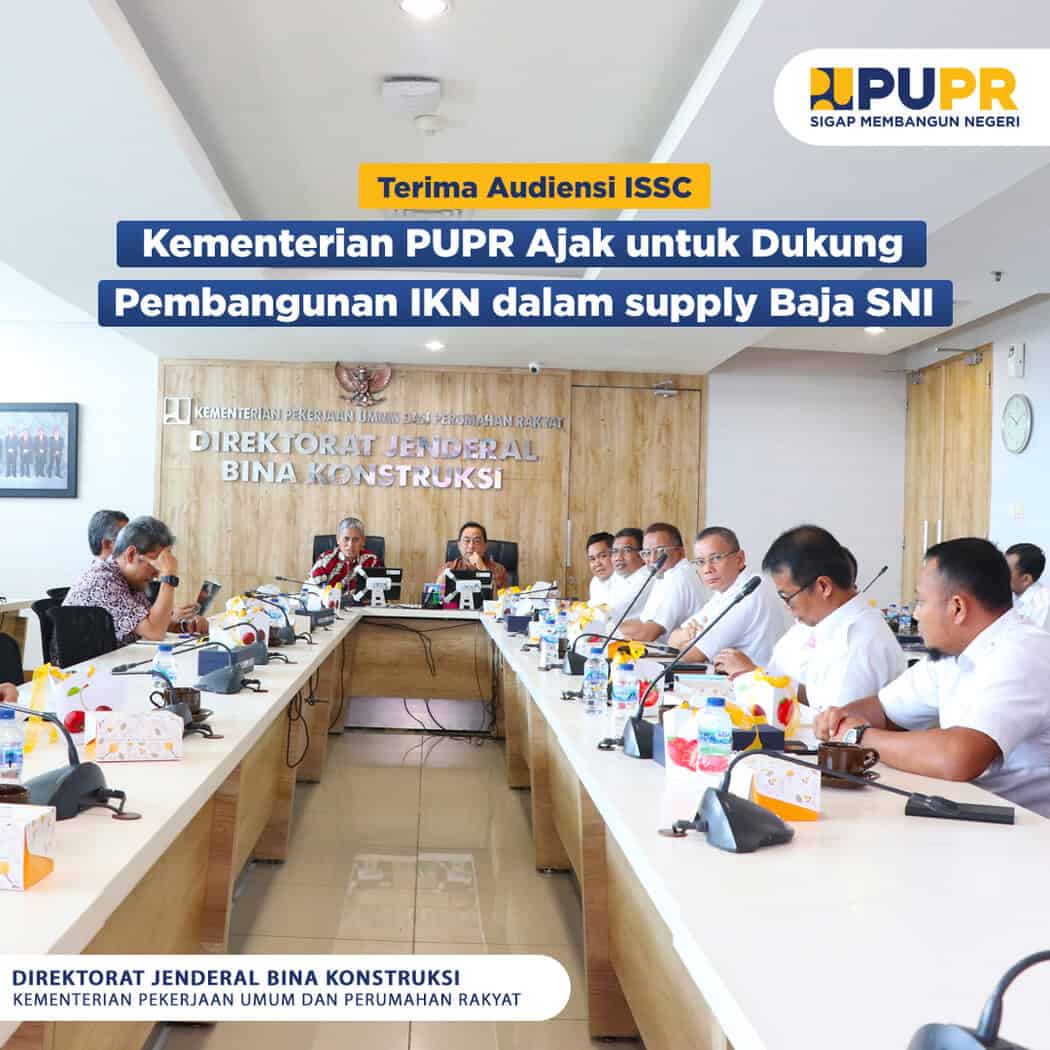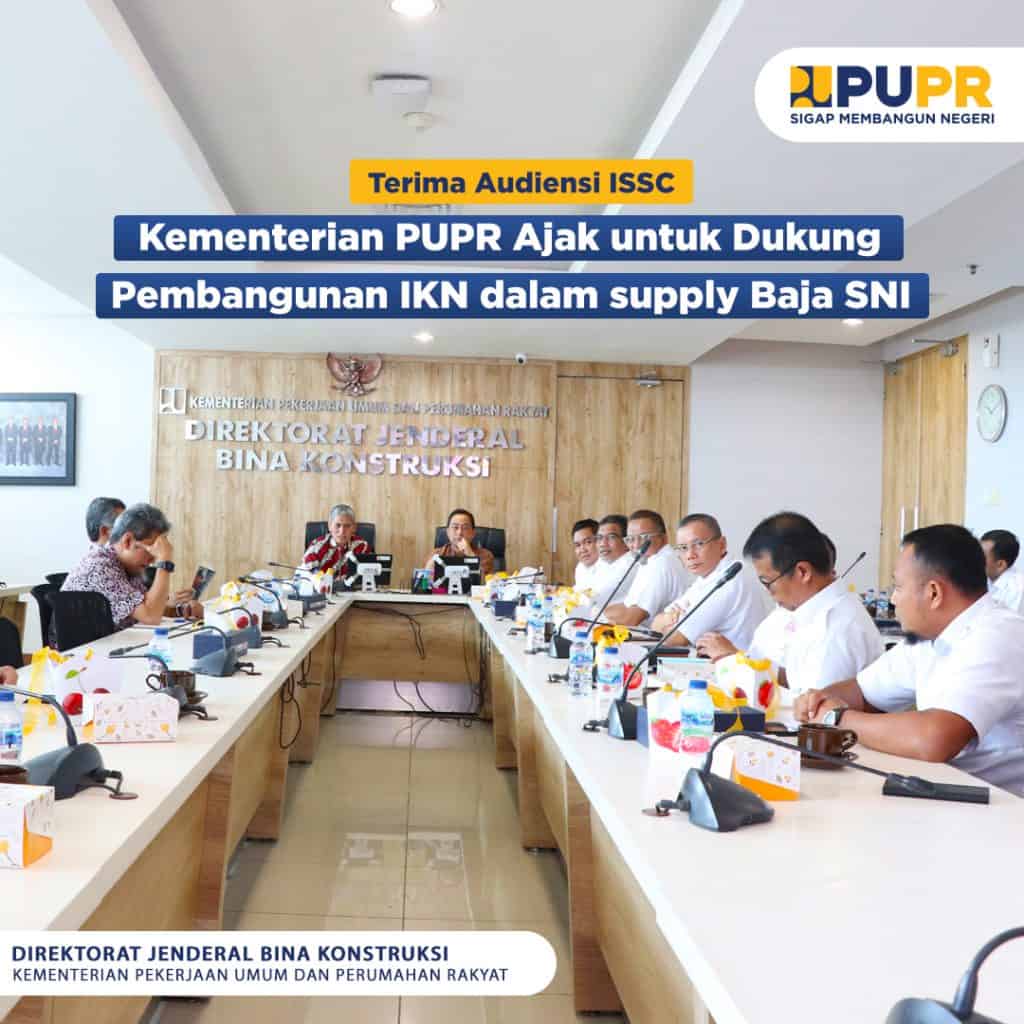 Direktur Jenderal Bina Konstruksi Yudha Mediawan menerima audiensi Indonesian Society of Steel Construction (ISCC) atau perkumpulan masyarakat konstruksi baja Indonesia pada Jumat, (12/5) di Kantor Kementerian Pekerjaan Umum dan Perumahan Rakyat Jakarta.
.
Dalam kesempatan tersebut Yudha Mediawan mengatakan upaya untuk memanfaatkan produk lokal tengah digenjot Kementerian PUPR dalam pembangunan infrastruktur, termasuk dalam proyek pembangunan ibu kota Nusantara. Ia pun mengajak Indonesian Society of Steel Construction (ISCC) untuk berperan aktif dalam pembangunan Ibu Kota Negara.
.
Yudha Mediawan mengungkapkan bahwasanya estimasi total baja yang dibutuhkan selama proses pembangunan infrastruktur di Kementerian PUPR tahun 2023 akan sebanyak kurang lebih 1 juta ton lebih. "Tentunya kebutuhan semua baja ini tentu akan dipasok dari industri dalam negeri yang tentunya sudah berstandar SNI" Terang Yudha Mediawan.
.
Yudha Mediawan juga menilai bahwa selain untuk mendukung proyek nasional, produk lokal dengan SNI lebih unggul dari produk impor. Hal itu menunjukkan, bahwa penggunaan baja ber-SNI mampu meningkatkan kualitas proyek infrastruktur nasional serta memperpanjang ketahanan usia proyek pemerintah. Penggunaan material yang sesuai SNI terbukti mampu menurunkan resiko kegagalan/rusaknya konstruksi bangunan akibat bencana alam seperti gempa bumi.
.
Ketua Umum Indonesian Society of Steel Construction (ISCC) Budi Harta Winata menyambut baik dukungan Kementerian PUPR terhadap indutri baja tanah air, ia pun secara penuh akan melakukan dukungan terhadap Kementerian PUPR dan Satuan Pelaksanaan Tugas Pembangunan Infrastruktur IKN dalam merealisasikan Ibu Kota Negara.
"kami sampaikan kepada Bapak Dirjen Bina Konstruksi kami bersama para anggotanya siap ikut menjadi bagian pembangunan Ibu Kota Negara Nusantara (IKN)" Ungkap Budi Harta Winata.
Selanjutnya Budi Harta Winata juga menyampaikan isu mengenai banyaknya pabrikator baja yang akhir – akhir ini gulung tikar, hal tersebut disebabkan karena permasalahan payment atau pembayaran kepada pabrikator ataupun pengusaha Baja. "saya berharap dengan dukungan dari Kementerian PUPR hal – hal tersebut dapat diselesaikan dengan regulasi yang ketat" Ucap Budi.
Menanggapi hal tersebut Yudha Mediawan menegaskan terus mendorong agar siapapun pabrikator ataupun kontraktor yang bekerjasama dengan BUMN untuk menandatangani Kerjasama Operasi (KSO). Kerjasama operasi sendiri dilakukan agar bisnis yang dilakukan kedua belah pihak bisa lebih maksimal dan transparan. Lebih lanjut, Yudha Mediawan juga mendorong agar kerjasama yang dilakukan harus berhati-hati. Maksudnya, kerjasama harus dilakukan sesuai dengan progres pekerjaan konstruksi yang dilakukan oleh sub kontraktor.
Hal tersebut tertuang di dalam Surat Edaran Menteri PUPR Nomor 14/SE/M/2018 tentang Pemberlakuan Standar Dokumen Pemilihan Pengadaan Jasa Konstruksi Tahun Anggaran 2019. Tujuannya adalah untuk melindungi kontraktor kecil dari kontraktor besar. Dalam surat edaran tersebut, ketika ada suatu pekerjaan yang telah rampung dikerjakan sub kontraktor, maka kontraktor utama berkewajiban membayar mereka terlebih dahulu sebelum meminta anggaran tambahan untuk menggarap tahapan proyek selanjutnya.
Harapannya dengan audiensi ini akan dapat memperlancar komunikasi, koordinasi dan kolaborasi antara Pemerintah pusat dengan para seluruh pemangku asosiasi industri baja tanah air, dan dapat bersinergi, berkontribusi dalam pembangunan infrastruktur nasional.
Turut hadir dalam pertemuan tersebut, Sekretaris Direktorat Jenderal Bina Konstruksi Dewi Chomistriana, Direktur Kelembagaan dan Sumber Daya Konstruksi Nicodemus Daud, Direktur Pengadaan Jasa Konstruksi Abdul Muis, Direktur Pengembanga Jasa Konstruksi Indro Pantja, dan Andias Mintoharjo Pembina Jasa Konstruksi Ahli Muda Direktorat Jenderal Bina Konstruksi. (HAR)