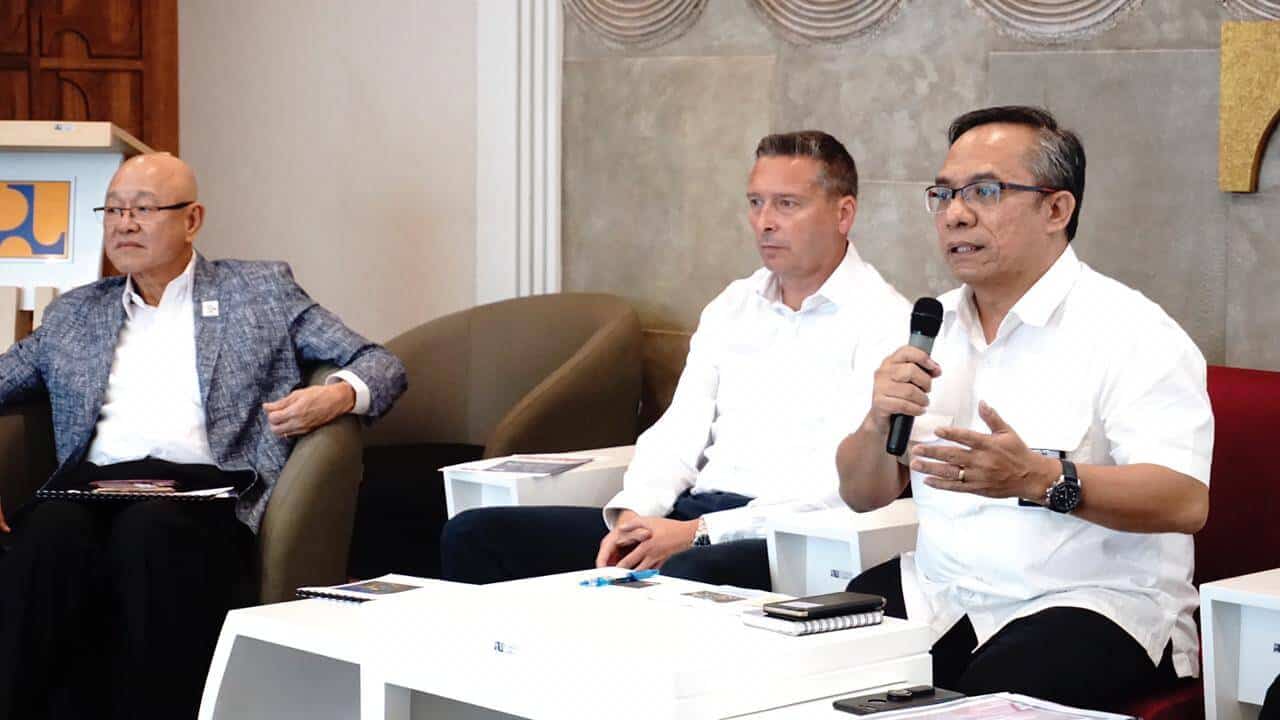 Pembangunan Infrastruktur masih menjadi salah satu program utama Pemerintah, disamping Program Peningkatan kualitas Sumber Daya Manusia. Dan untuk melaksanakan Pembangunan Infrastruktur tersebut berbagai upaya harus dilakukan termasuk menerapkan teknologi yang tepat dan efisien terutama di Era industry 4.0 seperti saat ini, yang ditandai dengan perkembangan pemanfaatan teknologi informasi dan komunikasi termasuk di bidang jasa konstruksi. 
"Dalam beberapa kesempatan Bapak Menteri PUPR menyatakan bahwa pemanfaatan teknologi harus memberikan nilai tambah bagi pelaksanaan pembangunan infrastruktur. Hal tersebut agar Pembangunan Infrastruktur dapat terselesaikan lebih cepat, lebih murah, dan tentunya lebih baik untuk kesejahteraan masyarakat", demikian disampaikan Dirjen Bina Konstruksi yang diwakili Direktur Kerjasama dan Pemberdayaan Kimron saat memberikan keterangan pada acara Press Conference Trenchless Asia 'Trenchless asia 2019 : 11th International Exhibition and Conference on Trenchless Technology, Kamis (11/7) di Jakarta.  
Untuk mendukung upaya tersebut maka Kementerian Pekerjaan Umum dan Perumahan Rakyat, The International Society for Trenchless Technology (ISTT), Lembaga Pengembangan Jasa Konstruksi Nasional (LPJKN), dan Westrade Group United Kingdom LTd akan menggelar event Trenchless Asia 2019 pada 17 – 18 Juli 2019, bertempat di Jakarta International Expo (JIEXPO) Kemayoran Jakarta, dengan rangkaian acara Pameran dan Workshop Internasional dan Nasional.
Trenchless merupakan teknologi konstruksi terkini yang mampu menggarap pekerjaan di bawah permukaan tanah tanpa galian, sehingga teknologi ini sangat tepat untuk diterapkan di kota-kota besar padat penduduk seperti pada pekerjaan terowongan baik jalan dan bendungan, pipa air bersih dan air limbah. "" Melihat kondisi pembangunan infrastruktur di Indonesia saat ini, teknologi trenchless sangat bisa diterapkan pada berbagai proyek bawah tanah yang ada, serta menjadikan pelaksanaan pekerjaan konstruksi akan lebih efisien, dan memiliki risiko yang lebih rendah terhadap terjadinya kecelakaan kerja konstruksi", Tutur Kimron.  
Disampaikan oleh Kimron bahwa saat ini teknologi trenchless telah diaplikasikan pada beberapa proyek Kementerian PUPR diantaranya : pada Bidang SDA seperti pembangunan Bendungan Jatigede dan pembangunan Sudetan Kali Ciliwung ke Kanal Banjir Timur ; pada Bidang Jalan seperti pembangunan Terowongan Jalan Tol Cisumdawu ; pada Bidang Cipta Karya seperti proyek DSDP (Denpasar Sewerage Development Project) Denpasar, proyek Metropolitan Sanitation Management and Health Project (MHMHP) Medan, dan proyek Metropolitan Sanitation Management and Health Project (MHMHP) Jogjakarta.
Pada kesempatan yang sama, Ketua Lembaga Pengembangan Jasa Konstruksi Nasional Ruslan Rivai menyatakan bahwa kegiatan Trenchless Asia 2019 ditargetkan bagi para stakeholder sektor konstruksi baik lokal maupun internasional, termasuk para kontraktor, konsultan insinyur di bidang sipil, bahkan bagi mahasiswa politeknik dan perguruan tinggi. Target dari acara ini adalah pengunjung/peserta dari negara-negara Asia seperti : Malaysia, Filiphina, Singapura, Australia, Cina, Hongkong, Jepang, Korea, India, Thailand dan Indonesia.
Selain itu Pameran Trenchless Asia 2019 ini akan diikuti 30 negara dari Eropa, Amerika, dan Asia, dengan target pengunjung dan peserta dari Malaysia, Filipina, Singapura, Australia, Cina, Hongkong, Jepang, Korea, India, dan Thailand. Sedangkan target pengunjung dari Domestik antara lain BUMN, Asosiasi Profesi, Badan Usaha Swasta, serta dari kalangan media.
"Sehingga melalui Trenchless Asia 2019 ini akan semakin mempererat hubungan antara Indonesia dengan negara-negara sahabat sekaligus memberikan dampak positif bagi kemajuan industri konstruksi di Indonesia di masa kini dan mendatang", ujar Ruslan.
Disampaikan oleh Managing Director Trenchless Asia Paul Harwood bahwa Pameran ini pertama kalinya akan diadakan di Jakarta dan merupakan agenda tahunan ke-11 kalinya, dimana sebelumnya Trenchless Asia 2018 diadakan di Kuala Lumpur, Malaysia. Tercatat pada tahun 2018, Trenchless Asia  terselenggara dan dihadiri oleh kurang lebih 3 ribu exhibitor, pengunjung serta delegasi.
"Kami harapkan kegiatan ini akan memberi manfaat kepada publik terutama terkait perkembangan teknologi yang berkaitan dengan sektor konstruksi. Jangan sampai terlewatkan sebag event ini juga akan membahas tentang isu-isu penting lainnya seperti bidang sipil, tata lingkungan, dan K3", ungkap Paul.
Seminar/workshop yang akan dilaksanakan nantinya akan membahas tentang penggunaan teknologi Trenchless yang saat ini digunakan di beberapa negara dengan narasumber diantaranya berasal dari Kementerian PUPR, PT PLN (Persero), Institut Teknologi Bandung (ITB), PT Wijaya Karya Tbk (Persero), PT Hutama Karya Tbk (Persero), Himpunan Ahli Manajemen Konstruksi Indonesia Indonesia (HAMKI), dan PT Bina Karya (Persero).*