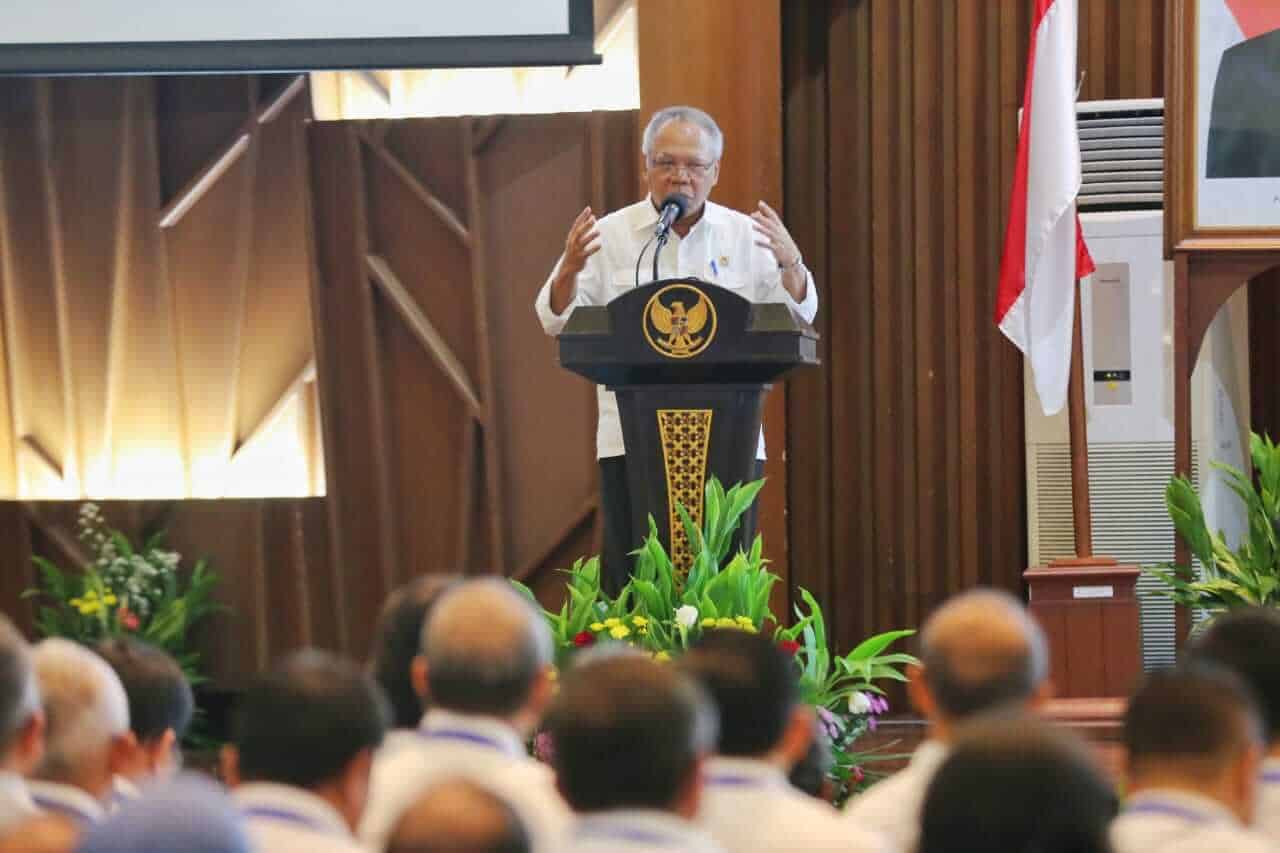 Jakarta – Menteri Pekerjaan Umum dan Perumahan Rakyat Basuki Hadimuljono memberikan arahan sekaligus membuka acara Rapat Koordinasi Pengadaan Barang/Jasa di Kementerian Pekerjaan Umum dan Perumahan Rakyat, pada Rabu (20/03) di Gedung Auditorium Kementerian PUPR Jakarta.
Kementerian PUPR telah merumuskan sembilan strategi pencegahan penyimpangan dalam pengadaan jasa konstruksi yakni:
1. Re-organisasi Struktur Organisasi ULP dan Pokja PBJ;
2. Perkuatan SDM;
3. Perbaikan Mekanisme Penyusunan Harga Perkiraan Sendiri (HPS);
4. Pembinaan Penyedia Jasa (Kontraktor dan Konsultan);
5. Pemeriksaan hasil pekerjaan (system delivery) yang melibatkan BPKP;
6. Risk Management di Unor, Balai, dan Satker;
7. Pembentukan Unit Kepatuhan Internal (UKI) pada Unor dan Balai (sebagai Second Line of Defense);
8. Pembentukan Inspektorat Bidang Investigasi (IBI) dan Penguatan Kapasitas Auditor Inspektorat Jenderal; dan
9. Continous Monitoring atas Perangkat Pencegahan Fraud PBJ dengan IT Based (PUPR 4.0).
Langkah pertama dalam melaksanakan kesembilan strategi tersebut yaitu melalui reformasi organisasi pengadaan jasa konstruksi dengan membentuk Unit Kerja Pengadaan Barang/Jasa (UKPBJ) yakni Direktorat Pengadaan Jasa Konstruksi dan Unit Pelaksana Teknis Pengadaan Barang/Jasa (UPTPBJ) yakni 34 Balai Pelaksana Pemilihan Jasa Konstruksi. Hal ini sesuai dengan amanat Pasal 1 Perpres 16 Tahun 2018 dan Peraturan LKPP Nomor 09 Tahun 2018.
Oleh karena itu, rapat koordinasi ini dimaksudkan untuk melakukan pembinaan kepada para pihak pelaksana Pengadaan Barang/Jasa (PBJ) di Kementerian PUPR baik di kantor pusat maupun di wilayah dalam rangka pelaksanaan PBJ oleh UKPBJ dan UPTPBJ yaitu Direktorat Pengadaan Jasa Konstruksi dan Balai Pelaksanaan Pemilihan Jasa Konstruksi. Organisasi ini diharapkan dapat menjadi sebuah Pusat Keunggulan (Center of Excellence) yang memegang prinsip: efisien, efektif, transparan, terbuka, bersaing, adil dan akuntabel dalam pelaksanaan PBJ di Kementerian PUPR dan mematuhi etika pengadan dan kesinambungan proses PBJ dari ULP ke UKPBJ.
Seiring dengan dibentuknya organisasi pengelola PBJ permanen yang baru, maka diperlukan pemindahtanganan proses PBJ yang sedang berlangsung dari organisasi lama kepada organisasi baru agar pelaksanaan PBJ tetap dapat berjalan secara berkesinambungan.
Dalam Rakor ini terdapat tiga aspek yang harus diserah terimakan dari ULP lama kepada Balai Pelaksana Pemilihan Jasa Konstruksi, yakni:
1. paket pekerjaan yang belum di tender/seleksi-kan;
2. paket pekerjaan yang sedang di proses dan personel Pokja Pemilihan yang telah ditetapkan; dan
3. akses untuk mengoperasikan sistem informasi pengadaan barang/jasa.
Dimana pada tahun 2018 Kementerian PUPR melelang 10.259 paket pengadaan dengan total sekitar Rp 80 Triliun atau sekitar 80% dari pagu anggaran yang dilelang oleh sekitar 2.483 anggota kelompok kerja pemilihan yang tergabung dalam 888 kelompok kerja.
"Saya ingin mengingatkan kita semua bahwa Balai Pelaksana Pemilihan Jasa Konstruksi adalah wajah Kementerian PUPR di hadapan masyarakat dan seluruh pemangku kepentingan, sehingga integritas dan profesionalisme harus selalu menjadi dasar dalam melakukan setiap tugas dan dengan dilaksanakannya serah terima pengadaan barang/jasa ke Balai Pelaksana Pemilihan Jasa Konstruksi pada hari ini, Saya berharap seluruh paket pekerjaan tahun anggaran 2019 agar segera dilakukan tender/seleksi," ungkap Menteri PUPR.
Hadir dalam kesempatan ini Direktur Litbang Komisi Pemberantasan Korupsi (KPK) Wawan Wardiana yang menyampaikan tentang strategi nasional pencegahan korupsi pada pengadaan jasa konstruksi. Ia mengingatkan tentang 3 hal penyimpangan yang berada di Kementerian PUPR yaitu pengadaan barang dan jasa, perijinan dan penganggaran. Sebelum PEPRES PBJ terbit fraud banyak terjadi di serah terima pekerjaan, sedangkan setelah PEPRES PBJ terbit fraud banyak terjadi di perencanaan dan penganggaran. "Saat ini KPK telah mengembangkan Big Data dan membuat kelompok fraud, dimana dan sudah terjadwal. Dengan adanya Big Data ini diharapkan menjadi pagar untuk seluruh Balai P2JK." Ungkap Wawan
"Jika paket pekerjaan di atas 100 Milyar diputuskan oleh Menteri, maka seharusnya paket pekerjaan di bawah 100 M di tetapkan oleh Kepala Balai. Perlu dirumuskan kembali SOP untuk Balai P2JK, hal ini harus segera disiapkan. Untuk menghindari terjadinya fraud salah satunya adalah tidak boleh berhubungan dengan penyedia jasa pada saat pelaksanaan pelelangan." Tegas Basuki
Sementara Ketua Lembaga Kebijakan Pengadaan Barang dan Jasa Pemerintah (LKPP) Roni Dwi Susanto Mekanisme blacklist harus dilaksanakan sesuai prosedur, untuk menghindarkan terjadinya gugatan. Blacklist agar tidak dilakukan secara nasional tidak berhenti di lokal. Balai P2JK harus memiliki orientasi "From Compliance to Customer Focus" jangan hanya mengikuti prosedur tetapi value for money harus menjadi yang utama.
Menteri PUPR Basuki Hadimuljono juga mengingatkan kepada Kepala Balai P2JK untuk membuat batasan-batasan yang seharusnya dan tidak seharusnya dilakukan. Hal ini perlu dilakukan untuk mencegah hal-hal yang tidak diinginkan. "Kita ditugasi untuk membelanjakan uang negara, untuk kepentingan masyarakat. Mari bekerja dengan hati dan hati-hati." Tutup Menteri PUPR. (*)