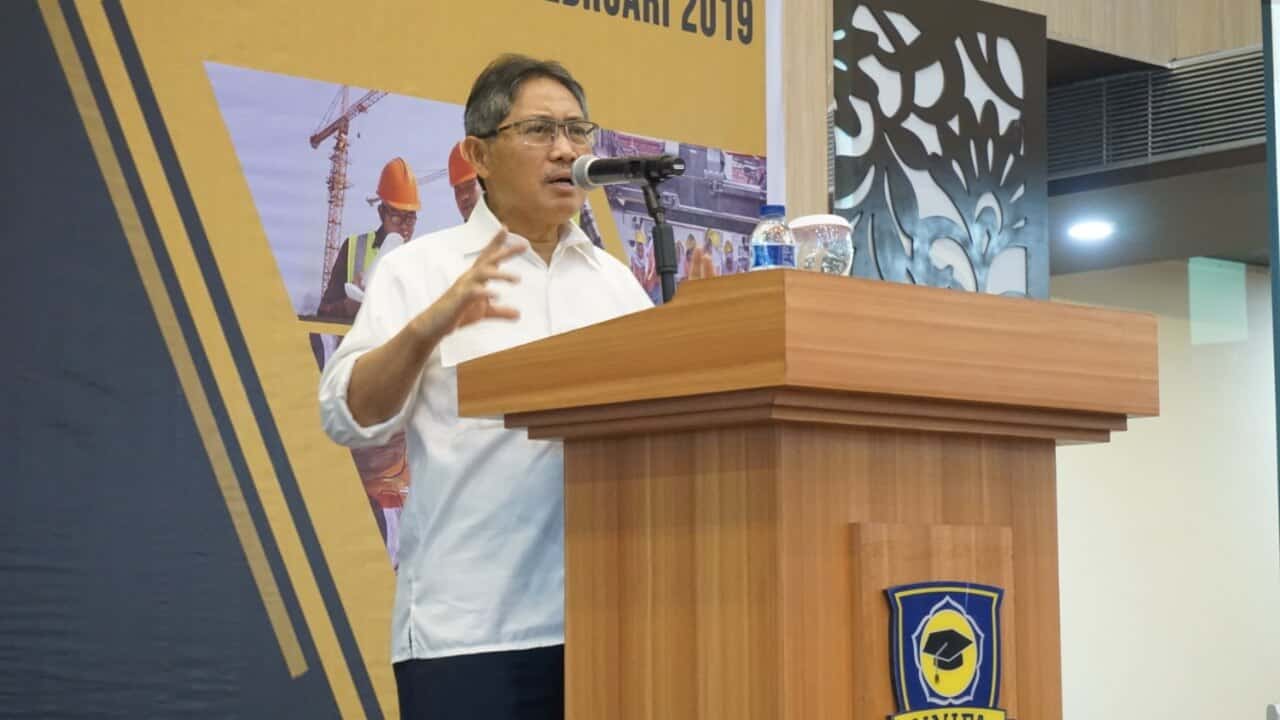 Untuk mewujudkan infrastruktur yang berdaya saing, diperlukan 5 terobosan yaitu regulasi dan hukum, sumber daya manusia, penerapan hasil riset dan teknologi, pendanaan inovatif, programming serta leadership. Dengan terobosan ini, Kementerian PUPR dapat menghasilkan infrastruktur yang tepat waktu, tepat mutu, tepat biaya dan tepat manfaat. Kapasitas SDM konstruksi atau tenaga kerja konstruksi yang terlibat mulai dari tahap perencanaan, pelaksanaan/pembangunan, hingga tahap pengawasan haruslah memiliki kemampuan yang baik dan dilengkapi dengan sertifikasi kompetensi yang sesuai dengan standar kinerja yang dipersyaratkan di tempat kerja. 
Berdasarkan tingkat pendidikan, tenaga kerja konstruksi saat ini masih didominasi oleh lulusan SMA ke bawah, yakni sebanyak 73,5% (dari total 8,1 juta) . Sementara untuk Diploma ke atas, yang merupakan supply tenaga ahli, hanya berjumlah 4,49% saja. Sebaran tenaga kerja konstruksi masih tidak merata, dengan 65,19% tenaga kerja kontruksi tersebar di Pulau Jawa, 17,13% di Pulau Sumatera dan sisanya tersebar di pulau-pulau lainnya di Indonesia dengan persentase sebaran terkecil berada di Kepulauan Maluku dan Papua, yaitu sebesar 1,23%.
"Tantangan tersebut memacu kita untuk bergerak cepat menyesuaikan perkembangan global, apalagi saat ini kita dihadapkan pada tantangan baru dunia yaitu industri konstruksi 4.0 dan society 5.0. Karakteristiknya adalah berbasis teknologi dan serba praktis. Disinilah saya berharap inovasi-inovasi baru dari kaum muda untuk dapat memajukan sektor konstruksi kita", demikian disampaikan Dirjen Bina Konstruksi Kementerian Pekerjaan Umum dan Perumahan Rakyat Syarif Burhanuddin saat memberikan kuliah umum kepada mahasiswa Universitas Syiah Kuala Aceh, Senin (11/3) di Banda Aceh.
Inovasi dan adaptasi menghadapi revolusi industri 4.0, diperlukan agar Kementerian PUPR tetap dapat mewujudkan infrastruktur yang tepat mutu, tepat waktu, tetap biaya dan tepat manfaat. Kementerian PUPR melakukan perubahan dalam proses bisnisnya melalui digitalisasi, connectivity & computer power, human machine interface dan analytics intelligent untuk dapat meningkatkan efisiensi dan meningkatkan optimasi produksi.
Fitur utama dalam revolusi industri 4.0, mengharuskan SDM Konstruksi untuk Dinamis terhadap perubahan (Movement), Pragmatis dalam kecepatan produksi (Speed) dan kemampuan berbagi komunikasi serta kolaborasi. Revolusi industri 4.0 ini berdampak pada semua sektor usaha, seperti penerapan teknologi digital (internet of things, big data dan intelligent production) serta perubahan struktur pasar kerja yang mendorong peluang posisi kerja baru. Industri konstruksi 4.0 membutuhkan kolaborasi sinergi semua pihak (penyedia teknologi, pelaku, pengguna teknologi, penyedia infrastruktur digital) dalam penyediaan infrastruktur yang tepat biaya, tepat waktu dan tepat mutu.
Perguruan Tinggi merupakan Centre of Excellent para tenaga ahli bidang konstruksi dimana dari Perguruan Tinggi lah dihasilkan solusi kekinian yang terkait dengan isu strategis bidang konstruksi seperti sustainable construction, value engineering, Building Information Modelling dan lain-lain. "Perguruan Tinggi adalah kawah candradimuka yang akan melahirkan calon tenaga ahli muda yang nantinya akan terjun di industri konstruksi, sehingga saya berharap saat ini banyak terjadi perubahan positif di setiap Perguruan tinggi terutama dalam hal penyesuaian berbagai bahan dan metoda ajar untuk merespon perkembangan industri konstruksi baik di Indonesia maupun di dunia internasional", harap Syarif.
Untuk mengoptimalkan peran Perguruan Tinggi dalam pembangunan infrastruktur era disrupsi teknologi 4.0, pemerintah telah melakukan harmonisasi supply – demand tenaga kerja konstruksi, melalui:
Program link and match dunia pendidikan dengan dunia jasa konstruksi, melalui upaya penyelarasan kurikulum dan kerjasama pendidikan dan industri.
Reorientasi kurikulum berbasis digital dan robotic, melalui upaya digitalisasi kurikulum dan pengembangan robotic di dunia pendidikan.
Penguatan pendidikan vokasi dan kejuruan, melalui upaya penyederhanaan program studi sesuai tuntutan industri dan perkuatan program studi favorit industri.
Pengembangan metode pembelajaran melalui sistem informasi untuk mempercepat peningkatan kompetensi sumber daya manusia.
Skema pemagangan berbasis kebutuhan dunia kerja, melalui optimalisasi praktek magang dan pengembangan teaching factory dan technopark.
Pengembangan Entrepreneurship, melalui upaya pengembangan karakter kreatif dan inovatif dan pengembangan inkubasi wirausaha.
" Saya mengajak adik adik semua untuk semangat meningkatkan kompetensi diri sehingga dapat turut aktif membangun infrastruktur Indonesia. Saya yakin Sumber Daya Manusia Indonesia tidak kalah dengan negara tetangga, bahkan lebih hebat", tegas Dirjen Bina Konstruksi. *