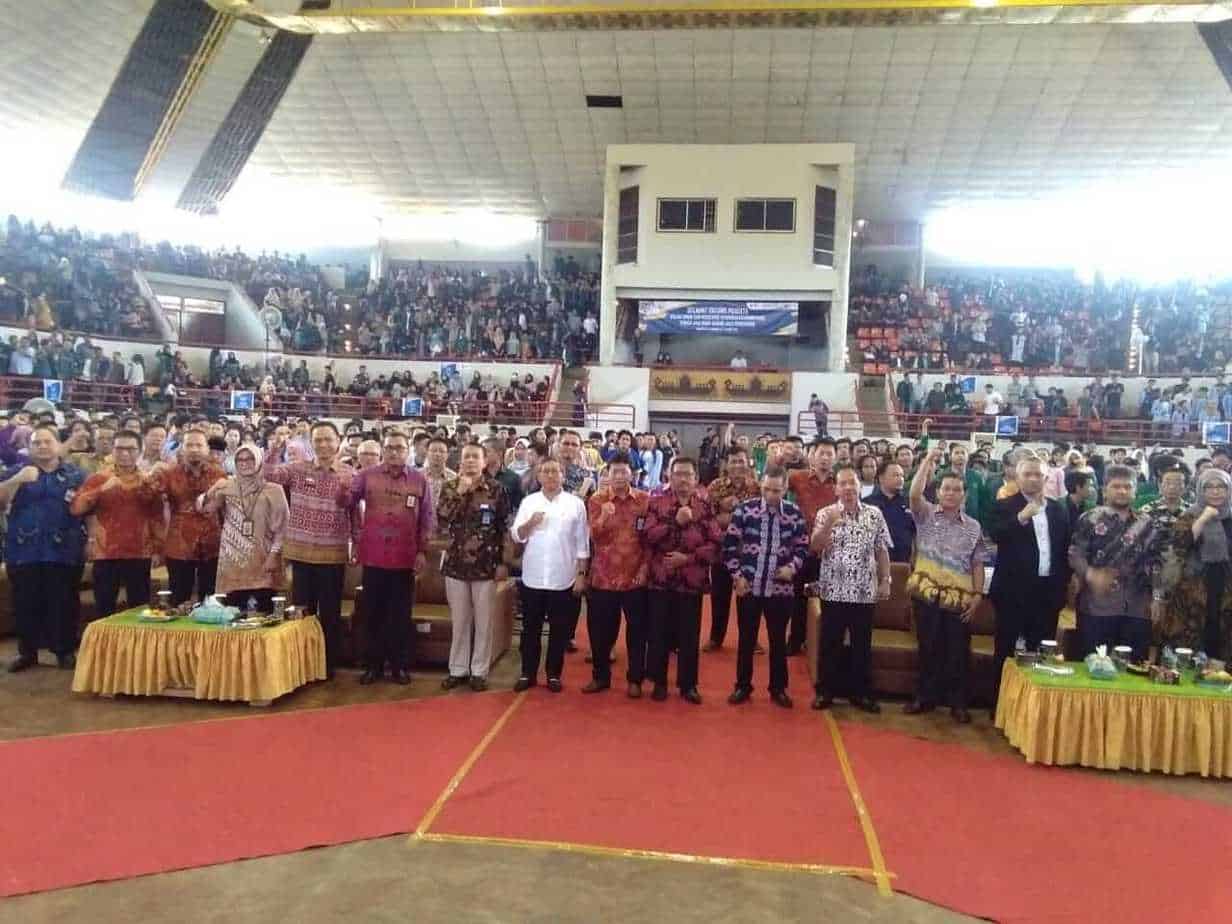 Bandar Lampung – Pemerintah terus melakukan berbagai upaya untuk mendukung program Pembangunan Sumber Daya Manusia. Hal ini sebagaimana disampaikan Presiden RI bahwa kualifikasi tenaga kerja di Indonesia harus lebih banyak yang terlatih agar dapat lebih mudah terserap ke dalam dunia kerja. Untuk mendukung upaya tersebut, masih banyak hal yang harus dibenahi termasuk diantaranya proses bisnis industri konstruksi perlu diubah untuk meningkatkan efisiensi, menurunkan biaya produksi, memperbaiki proses produksi, dan meningkatkan mutu hasil produksi.
"Hal-hal tersebut saya harap mendapat respon positif dari Perguruan Tinggi sebagai Centre of Excellent para tenaga ahli bidang konstruksi agar dihasilkan solusi kekinian yang terkait dengan isu strategis bidang konstruksi seperti sustainable construction, value engineering, Building Information Modelling, serta tentunya hadirnya industri 4.0″, demikian disampaikan Dirjen Bina Konstruksi Kementerian PUPR Syarif Burhanuddin saat menjadi narasumber pada acara  Kuliah Umum dan Workshop Peningkatan Kompetensi Tenaga Ahli Bidang Jasa konstruksi Provinsi Lampung, dengan tema" Tantangan Lulusan Pendidikan Tinggi Dalam Era Industri Konstruksi 4.0 dan Society 5.0″ di Bandar Lampung,  Jumat (12/4).
Dirjen Bina Konstruksi mengatakan revolusi industri generasi keempat atau Industri 4.0 sarat dengan penggunaan teknologi sehingga harus direspon dengan kesiapan data dan sumber daya manusia (SDM) yang memadai. Apalagi jika melihat jumlah tenaga kerja konstruksi bersertifikat (data LPJKN per  April 2019) adalah 627.500 orang yang terdiri dari 429.588 orang tenaga terampil dan 197.892 tenaga ahli, atau baru sekitar 7,6 % dari total jumlah tenaga kerja konstruksi sebesar 8,3 juta orang.
Untuk itu perlu strategi khusus dalam rangka percepatan sertifikasi tenaga kerja konstruksi, sebagaimana amanah Undang-Undang Jasa Konstruksi nomor 2 Tahun 2017. Beberapa upaya yang telah dan sedang dilakukan Pemerintah diantaranya dengan melakukan harmonisasi supply – demand tenaga kerja konstruksi, melakukan kerjasama baik dengan dunia pendidikan maupun kementerian dan lembaga, dan lain sebagainya.
Dalam hal harmonisasi supply-demand, Pemerintah mengoptimalkan peran Perguruan Tinggi dalam pembangunan infrastruktur era disrupsi teknologi 4.0 melalui beberapa program yaitu : Program link and match dunia pendidikan dengan dunia jasa konstruksi, melalui upaya penyelarasan kurikulum dan kerjasama pendidikan dan industri ; Reorientasi kurikulum berbasis digital dan robotic, melalui upaya digitalisasi kurikulum dan pengembangan robotic di dunia pendidikan ; Penguatan pendidikan vokasi dan kejuruan, melalui upaya penyederhanaan program studi sesuai tuntutan industri dan perkuatan program studi favorit industri ; Pengembangan metode pembelajaran melalui sistem informasi untuk mempercepat peningkatan kompetensi sumber daya manusia.
Kemudian dilakukan pula Skema pemagangan berbasis kebutuhan dunia kerja, melalui optimalisasi praktek magang dan pengembangan teaching factory dan technopark ; serta Pengembangan Entrepreneurship, melalui upaya pengembangan karakter kreatif dan inovatif dan pengembangan inkubasi wirausaha.
Selain itu dengan telah diterbitkannya Kepmen Ristekdikti Nomor 123/M/KPT/2019 tentang Magang Industri dan Pengakuan Satuan Kredit Semester Magang Industri untuk Program Sarjana dan Sarjana Terapan, kedepannya akan dilaksanakan Magang Mahasiswa di  proyek-proyek infrastruktur setelah melalui proses seleksi penempatan, monitoring dan evaluasi.
"Pemerintah juga memiliki inovasi dalam pelayanan publik untuk mempercepat sertifikasi yang berbasis online, yaitu Sistem Informasi Belajar Intensif Mandiri atau SIBIMA Konstruksi. Dimana adik-adik disini bisa mengaksesnya dengan mudah mudah, murah dan efektif", ungkap Syarif.
Sementara itu, Rektor Universitas Lampung yang diwakili oleh Wakil Rektor II Universitas Lampung Muhammad Kamal saat membuka acara ini menyatakan bahwa Pembangunan Infrastruktur memegang peranan penting untuk membangun bangsa. Karenanya mahasiswa harus mengambil kesempatan ini dan menjadi bagian di dalamnya. "Saya harap mahasiswa semua yang hadir disini untuk serius mengikuti acara ini dan semoga mendapat pengetahuan yang lebih terutama di sektor konstruksi, bahkan untuk yang hampir lulus bisa bawa sertifikat", ujar Kamal.
Peserta Kuliah Umum dan Workshop kali ini merupakan mahasiswa di Universitas/Institute/Sekolah Tinggi Teknik yang ada di Provinsi Lampung sebanyak 2.405 orang dengan rincian : Universitas Lampung 1318 orang, Universitas Bandar Lampung 316 orang, Universitas Malahayati 188 orang, Universitas Saburai 108 orang, Universitas Muhammadiyah Lampung 42 peserta, Universitas Muhammadiyah Metro 57 orang, Universitas Megou pak Tulang Bawang 3 peserta, Institut Teknologi Sumatera 371 peserta, dan Sekolah Tinggi Teknik Nusantara 2 peserta.
Sedangkan jabatan kerja yang dibuka pada acara ini adalah :  Ahli Muda K3, Bidang Teknik Bangunan Gedung, Teknik Jalan, Teknik Jembatan, Teknik Sumber Daya Air,dan  Sanitasi dan Limbah. Kegiatan ini dilaksanakan selama 2 (dua) hari mulai 12 s.d 13 April 2019, dan merupakan hasil kerja sama antara Balai Jasa Konstruksi Wilayah II Palembang dengan Perguruan Tinggi dan BUJK dengan harapan terjadi sinergi dan awareness dalam pembinaan peningkatan kapasitas sumber daya manusia bidang jasa konstruksi.
Narasumber acara ini berasal dari : Kementerian PUPR, Universitas Lampung, Universitas Bandar Lampung, LPJK Provinsi Lampung, A2K4I Provinsi Lampung, dan PII Wilayah Lampung. (tw)