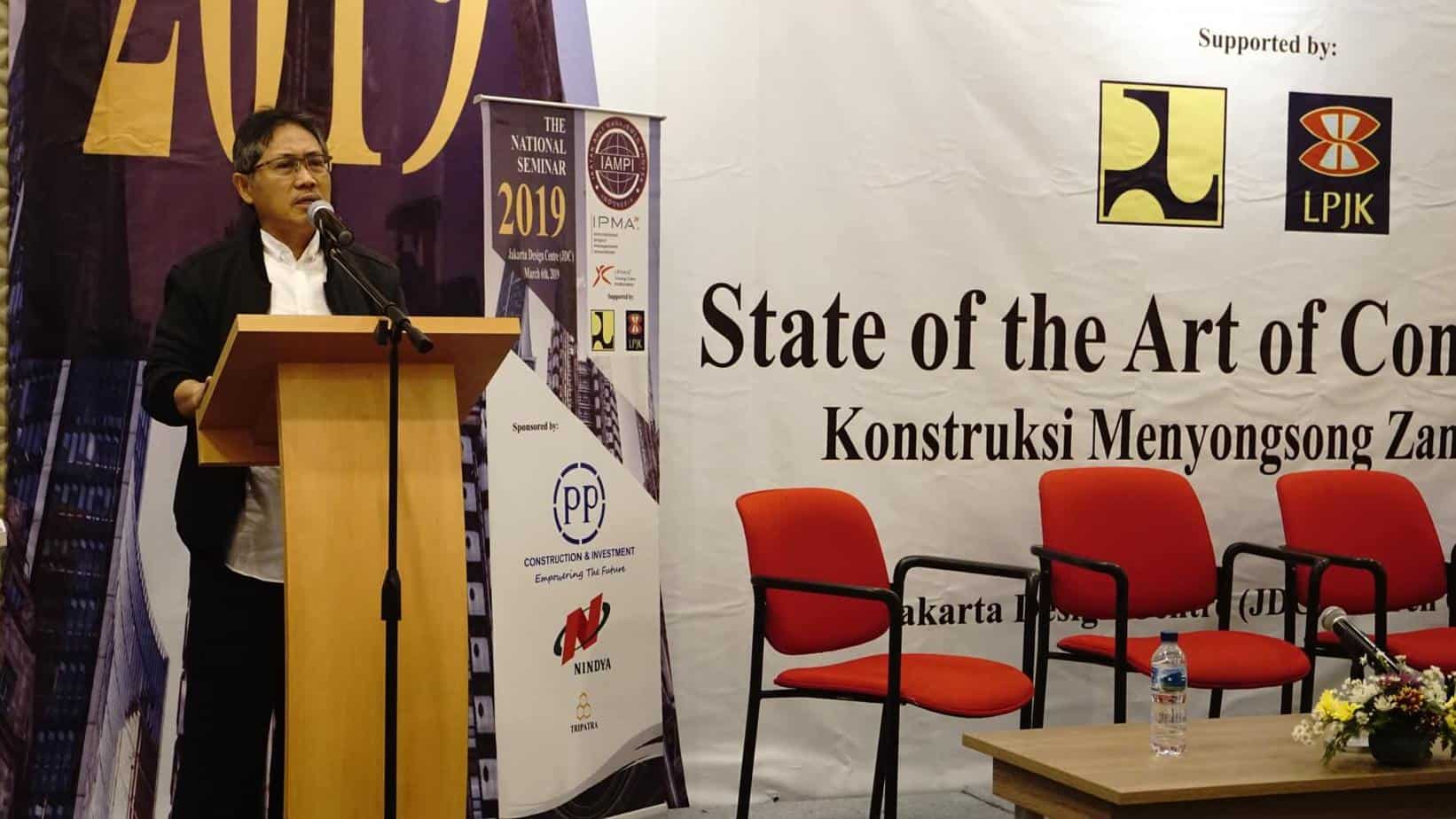 Perkembangan teknologi bidang konstruksi terus berkembang baik secara manual maupun digital, oleh karenanya setiap tenaga kerja dituntut untuk dapat mengikuti perkembangan teknologi saat ini. Demikian disampaikan Direktur Jenderal Bina Konstruksi Kementerian PUPR Syarif Burhanudin saat memberikan keynote speech dalam Seminar Ikatan Ahli Manajemen Proyek Indonesia (IAMPI) yang mengusung tema tentang "State of The Arts of Construction" , Rabu (06/03) di Jakarta.
"Dengan perkembangan teknologi ini saat ini kita sudah bisa mengetahui tentang kondisi bangunan meski sudah dibangun. Sehingga dengan perkembangan teknologi seperti ini kita sudah tidak bisa bermain-main lagi, semisal bahan bangunan yang kita pergunaan sudah harus sesuai dengan kebutuhan bangunan tersebut."Ujar Syarif
Lebih jauh lagi, pengetahuan akan teknologi juga diperlukan untuk mengetahui perkembangan yang saling berkaitan antara constructability/buildability, lean construction, last planner scheduling, agile project management yang dikolaborasikan dengan Building Information Modelling (BIM) pada tahapan Integrated Project Delivery Methode (IPD).
Syarif juga menambahkan bahwa tenaga kerja konstruksi harus bisa mengejar ketertinggalan terutama dari terknologi dari negara-negara lain salah satunya umur bangunan sudah ditentukan dari mulai perencanaan proyek dilakukan. Sehingga pemeliharaannya sudah bisa dijadwalkan dari awal untuk menghindari hal-hal yang tidak diingikan seperti kegagalan bangunan.
Sehingga pembangunan infrastruktur tidak lagi ternodai dengan kecelakaan kerja konstruksi yang masih sering terjadi beberapa waktu lalu, mengingat hal tersebut dapat mempengaruhi kepercayaan publik terhadap kualitas hasil pembangunan. Diketahui bersama setelah dilakukan penyelidikan penyebab terjadinya kecelakaan karena sumber daya manusia yang tidak berkompetensi.
Padahal menurut peraturan Undang-undang No 2 Tahun 2017 Tentang Jasa Konstruksi dalam pasal 70 menyebutkan bahwa setiap pekerja yang bekerja dalam proyek konstruksi harus memiliki sertifikat baik tenaga kerja terampil maupun tenaga kerja ahli. Jika dahulu sertifikat bukanlah alat untuk bisa mendapatkan proyek pembangunan konstruksi, saat ini orangnya yang sangat dibutuhkan kompetensi pekerjanya yang harus berkompeten dan dijamin dalam sebuah sertifikat.
"Di era industri 4.0 saat ini sertifikasi digital juga sudah mulai dikembangkan oleh Kementerian PUPR bekerjasama dengan asosiasi/lembaga terkait. Untuk memberikan kemudahan para pekerja konstruksi sehingga tidak perlu lagi membawa sertifikat manual seperti dulu, cukup melalui smatphone yang dicocokan dalam sebuah website sehingga terverifikasi dan dijamin keasliannya." Ungkap Syarif
Syarif menyatakan belum lama ini terdapat kasus yang tidak bisa menunjukan sertifikat sehingga akhirnya digugurkan pada proses konsultasi atau dalam tahap memenangkan suatu proyek. Ternyata yang menggugurkan adalah manajemen proyek karena tidak ada tenaga ahli. Satu sisi kita membutuhkan tenaga ahli, di sisi lainnya kita masih kurang dengan tenaga-tenaga kerja tersebut. Karena dalam proses pelaksanaan pekerjaan konstruksi mewajibkan memiliki sertifikat.
Diharapkan melalui seminar ini dapat mengimplementasikan dari hal-hal yang dapat dipelajari terutama dalam pembuatan KAK manajemen proyek bisa menerapkan konsep keamanan, keselamatan, kesehatan, dan keberlanjutan sebuah proyek konstruksi. (dri/tw)