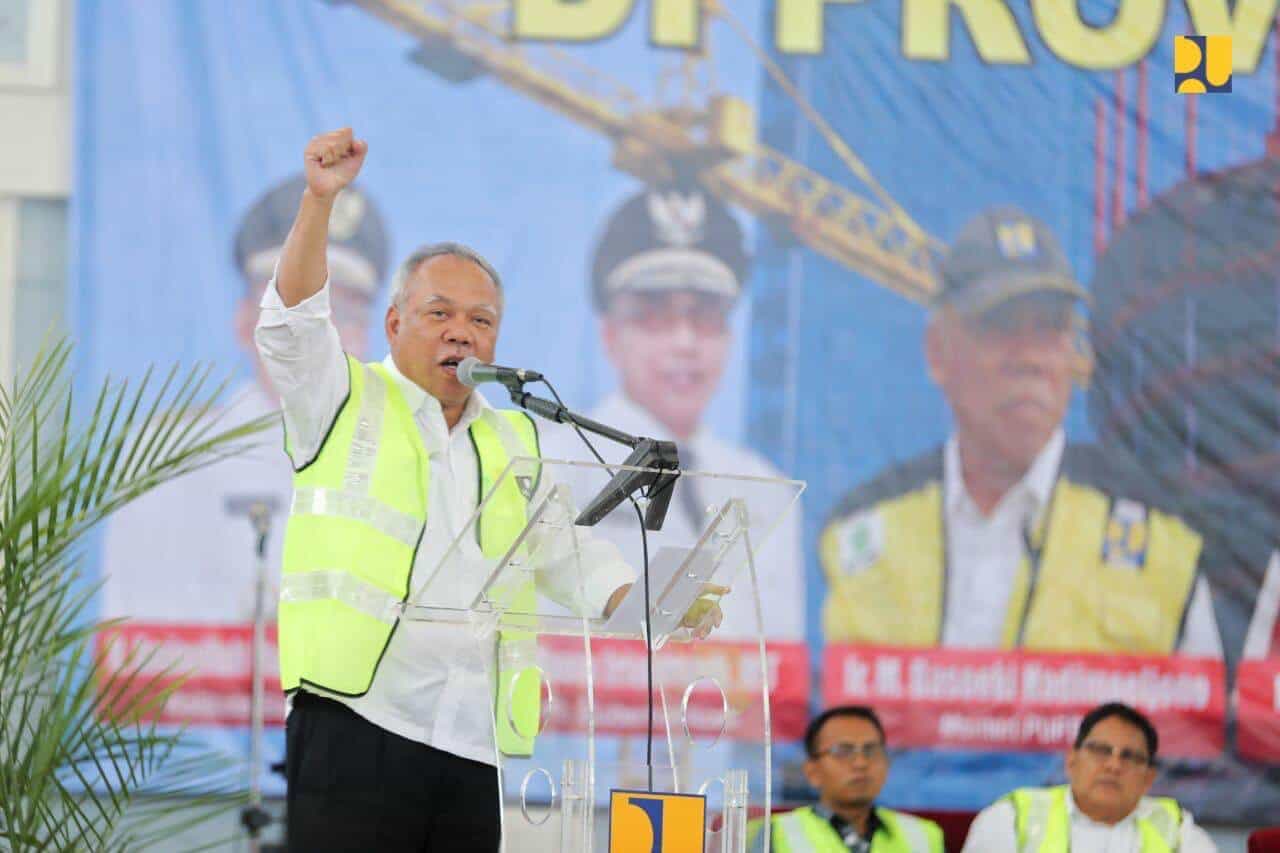 Banda Aceh – Pembangunan infrastruktur di Indonesia masih terus berjalan seiring dengan upaya peningkatan daya saing infrastruktur Indonesia. Hal ini tentunya perlu didukung oleh SDM yang handal dan kompeten untuk mendukung terwujudnya kesejahteraan masyarakat.
"Untuk itulah saya mendorong upaya percepatan sertifikasi di seluruh wilayah di Indonesia, sebagaimana kewajiban ini secara tegas tertuang dalam UU No.2 tahun 2017 tentang Jasa Konstruksi. Selain itu dengan semakin banyaknya tenaga kerja konstruksi yang bersertifikat maka kualitas Pembangunan Infrastruktur juga semakin terjamin", demikian disampaikan Menteri Pekerjaan Umum dan Perumahan Rakyat Basuki Hadimuljono saat membuka secara resmi Kegiatan Uji Sertifikasi kepada Tenaga Kerja Konstruksi di Banda Aceh, Senin (11/3) di Banda Aceh.
Saat ini jumlah tenaga kerja konstruksi di Provinsi Aceh sebesar 166.824 orang (2,0% dari tenaga kerja konstruksi nasional) dimana hanya sekitar 12,1% yang bersertifikat atau hanya sekitar 20.129 orang. Sementara itu anggaran infrastruktur Kementerian PUPR untuk pembangunan fisik di Provinsi Aceh sejak tahun 2015-2018 rata-rata sebesar Rp1,65 T. Nilai anggaran infrastruktur pembangunan fisik tersebut menyerap tenaga kerja konstruksi sebanyak 23.100 orang tiap tahunnya. Sehingga dapat diketahui masih terdapat gap sebanyak 12,8% tenaga kerja konstruksi bersertifikat di Provinsi Aceh.
Kesadaran sertifikasi tenaga kerja konstruksi seharusnya menjadi komitmen semua pemangku kepentingan, karena pengaturannya telah diatur dalam Undang-Undang, dimana Kewenangan Pemerintah Provinsi adalah penyelenggaraan pelatihan tenaga ahli konstruksi, sedangkan untuk pelatihan tenaga terampil konstruksi menjadi kewenangan Pemerintah Kabupaten/Kota.
"Saya minta semua pihak memegang komitmen tersebut dan menegakkan ketegasan penegakan hukum dalam menjalankannya. Penggunaan tenaga kerja bersertifikat harus tertuang sejak disepakatinya kontrak kerja konstruksi demi jaminan profesionalisme, mutu dan akuntabilitas dari setiap pekerjaan", tegas Menteri Basuki.
SDM atau Tenaga kerja yang bersertifikat diharapkan akan mendongkrak produktivitas dan kinerja pembangunan infrastruktur. Tuntutan tersebut tentunya harus sejalan dengan jaminan peningkatan kesejahteraan bagi seluruh tenaga kerja konstruksi bersertifikat. "Pengaturan terkait upah bagi tenaga kerja konstruksi, saya minta dapat segera disiapkan dengan baik oleh Kementerian PUPR bersama dengan Kementerian Tenaga Kerja", tambah Menteri PUPR.
Program Percepatan Sertifikasi Tenaga Kerja Konstruksi dalam menciptakan SDM Konstruksi yang handal dan kompeten, sejalan dengan program pembangunan sumber daya manusia (SDM) yang menjadi prioritas nasional di tahun 2019 ini. Pembangunan SDM ini dapat dilakukan melalui program pendidikan vokasi dan link and match dengan sektor industri, salah satunya industri konstruksi.
Kementerian Pekerjaan Umum dan Perumahan Rakyat telah melakukan berbagai upaya untuk mendorong Pengembangan SDM Konstruksi, diantaranya seperti : kolaborasi dengan Kementerian Pendidikan dan Kebudayaan Revitalisasi pendidikan vokasi melalui program link and match untuk menyiapkan generasi muda yang berkualitas ; kolaborasi dengan Kementerian Hukum dan HAM untuk melaksanakan program sertifikasi terhadap Warga Binaan Lapas, sehingga diharapkan mereka dapat berkontribusi dalam pembangunan negara setelah masa binaannya berakhir ; dan seterusnya.
Pada kesempatan tersebut Menteri PUPR juga menyampaikan bahwa sesuai dengan amanat Perpres 16 Tahun 2018, pelaksanaan pengadaan jasa konstruksi bukan lagi tugas adhoc, melainkan tugas lembaga permanen sehingga terciptanya Center of Excellence Pengadaan Barang/Jasa Pemerintah (PBJ), yang menjawab tuntutan pelaksanaan PBJ yang transparan, terbuka, dan kompetitif. Selain itu, untuk mendukung penyelenggaraan jasa konstruksi yang transparan, terbuka, dan kompetitif, perlu didukung pula dengan keterbukaan dan kemudahan akases terhadap data rantai pasok konstruksi. Hal ini memerlukan peranan dan komitmen dari seluruh stakeholder konstruksi untuk dapat membangun sistem informasi rantai pasok terintegrasi.
Fasilitasi Uji Sertifikasi untuk Tenaga Kerja Konstruksi di Banda Aceh ini diikuti oleh peserta yang terdiri dari: daerah Kuta alam sebanyak 70 orang, dari Syiah kuala 95 orang, dari Luengbata 114 orang, dari Jayabaru 95 orang, dari Baiturrahman 60 orang, dari Kutaraja 26 orang, dari Meuraxa 22 orang, dari Banda raya 40 orang, dari PUPR kota Banda Aceh sebanyak 20 orang, dari BLK sebanyak 21 orang, PUPR Pidie sebanyak 75 orang, dari Poltek Lhokseumawe 22 orang, dari PT. Harum Jaya 27 orang, dan Alumni Unmuha 17 orang. Jumlah keseluruhan peserta uji sertifikasi 704 Orang. (*)