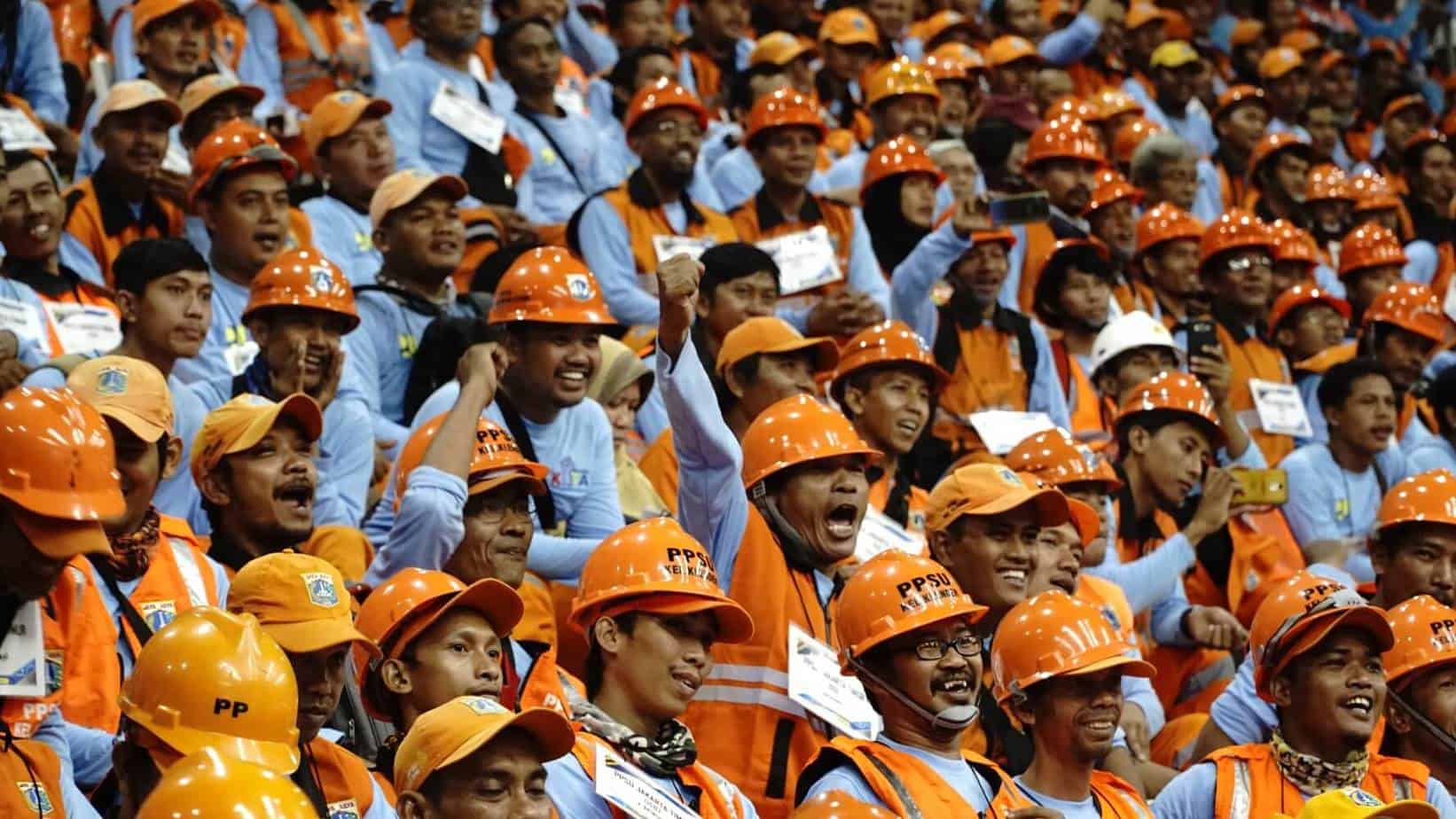 Jakarta – Menteri Koordinator Bidang Perekonomian Darmin Nasution didampingi Menteri Pekerjaan Umum dan Perumahan Rakyat Basuki Hadimuljono, melakukan penyerahan sertifikat kompetensi kepada 3.000 tenaga kerja Ahli Muda Konstruksi se-Indonesia. Penyerahan sertifikat diberikan kepada enam orang perwakilan, dalam rangka kegiatan Pekan SDM Ahli Konstruksi Indonesia, IndobuildTech Expo 2019 dan Pertemuan Ilmiah Tahunan Intakindo 2019. Kegiatan diadakan tanggal 20 – 24 Maret bertempat di ICE-BSD, Tangerang-Banten.
Tenaga kerja ini merupakan potensial personil yang bisa digunakan dalam pekerjaan konstruksi. Mereka adalah tenaga kerja angkatan muda baik yang baru lulus (fresh graduate) ataupun memiliki pengalaman kerja kurang dari 5 tahun.Bertambahnya tenaga kerja Ahli Muda dan telah disertifikasi ini akan memberikan nilai tambah bagi penyediaan tenaga kerja Ahli Bidang Konstruksi yang jumlahnya baru 32% dari total 616.081 orang tenaga kerja konstruksi yang telah disertifikasi.
Data BPS menunjukan bahwa tenaga kerja yang dibutuhkan dalam setiap pekerjaan konstruksi adalah 8,3 juta orang. Dari jumlah tersebut, 20% nya adalah tenaga ahli. Asumsinya adalah, dari jumlah tersebut dibutuhkan 1,6 juta orang tenaga ahli. Baik itu ahli muda, madya dan utama. "Potensi ruang kerja yang besar ini dapat menjadi peluang bagi para engineer muda untuk berkarya di bidang konstruksi," ujar Basuki
Sebagai gambaran, data LPJKN per 31 Desember 2018, jumlah tenaga kerja Ahli di Pulau Sumatera sejumlah 25.186, Jawa sebanyak 83.679 orang, Kalimantan berjumlah 11.946 orang, di Sulawesi terdapat 15.519 orang, Bali-Nusa ada 7.318 orang dan di Maluku-Papua terdapat 6.876 orang. "Jumlah ini masih sangat jauh dari kebutuhan tenaga ahli dari setiap pekerjaan konstruksi," jelas Menteri PUPR, Basuki Hadimuljono.
Selain kebutuhan pasokan sumber daya manusia yang merupakan bagian tak terpisahkan dari sebuah pekerjaan konstruksi. Guna menjaga mutu dan kehandalan pekerjaan diperlukan adanya sertifikasi. Sertifikasi yang merupakan bagian dari amanat UU No.2 Tahun 2017 tentang Jasa Konstruksi pada pasal 70. Bertujuan untuk menghindari terjadinya mal praktik dalam pekerjaan konstruksi. Sertifikat adalah sebagai bukti dari kompetensi kerja tenaga kerja konstruksi. Bagi pengguna jasa dan/atau penyedia jasa wajib mempekerjakan tenaga kerja yang memiliki sertifikat kompetensi kerja. Apabila ditemukan ada pengguna dan/atau penyedia jasa yang tidak mempekerjakan tenaga kerja bersertifikat, maka yang bersangkutan akan dikenakan sanksi administratif. Mulai dari denda administratif dan/atau penghentian sementara kegiatan layanan.
Sementara itu dalam sambutannya Darmin menyatakan, bahwa dalam membangun infrastruktur tidak hanya terfokus pada fisik bangunan, tapi diperlukan kolaborasi dukungan antara kebutuhan tenaga kerja (SDM), peralatan, finansial, material, dan teknologi konstruksi. Sinergi yang harmoni akan dapat mendukung proses kegiatan pekerjaan konstruksi. Ketidaksiapan tenaga kerja yang kompeten akan dapat mempengaruhi dan menurunkan mutu konstruksi yang dihasilkan.
Guna menyiapkan tenaga kerja yang handal maka diperlukan adanya peningkatan kapasitas berupa soft skill. "Soft skill ini perlu dilakukan agar memberikan nilai tambah bagi pekerja," jelas Darmin. Selain itu, di sisi pendidikan perlu dikembangkan program link and match yaitu memadukan dan menyelaraskan kurikulum pendidikan dengan kebutuhan industri, sehingga lulusan pendidikan tinggi siap memasuki pasar kerja konstruksi.
Program link and match ini, tak sekedar penyelarasan kurikulum, tetapi yang penting adalah ruang latih praktek yang cukup bagi peserta didik. Perlu dibangun kemitraan dengan badan usaha ataupun balai latihan agar tenaga kerja siap kerja. Menurut Kajian Vokasi Infid (2018) bahwa pencari kerja yang tidak terserap di pasar kerja dikarenakan tidak memiliki kompetensi yang sesuai kebutuhan industri. Selain tidak adanya kepastian remunerasi dan keberlangsungan karier tenaga kerja. "Sertifikasi ini adalah salah satu instrumennyayang membekali peserta didik dengan bukti kompetensi keahliannya," tutur Menko Perekonomian. Pemagangan menjadi hal terpenting dalam mengasah keterampilan peserta didik. Termasuk penempatannya saat lulus dan siap kerja.
Menanggapi era 4.0, Presiden menegaskan agar sektor konstruksi juga mulai menyiapkan diri. Era 4.0 yang lekat dengan kecepatan, kemudahan, digital dan adanya nilai tambah dari setiap produk, perlu dipersiapkan. Joko Widodo menyambut baik sertifikat elektronik sebagai upaya mengurangi adanya pemalsuan sertifikat, kemudahan dan ramah lingkungan. "Sertifikat elektronik akan memudahkan bagi tenaga kerja untuk berkarya dimana saja karena sudah ada di dalam genggaman atau gawai," katanya. Hal ini juga memudahkan bagi Pokja Pengadaan Barang dan Jasa dalam proses pengecekan keaslian dan keabsahan Sertifikat Kompetensi Keahlian (SKA) yang dimiliki oleh tenaga kerja. Karena semua sudah ada dalam sistem informasi yang terintegrasi.
Ke-enam perwakilan yang menerima sertifikat elektornik adalah Agus Saputra sebagai ahli muda manajemen konstruksi, Hendry ahli muda teknik jalan, Yusnita Kristiani ahli muda perencanaan wilayah dan kota, Iwan Indra Lesmana ahli muda bendungan besar, Claudia Tumiwa ahli muda Arsitek dan Dicky Zulkarnain sebagai ahli muda K3 Konstruksi.