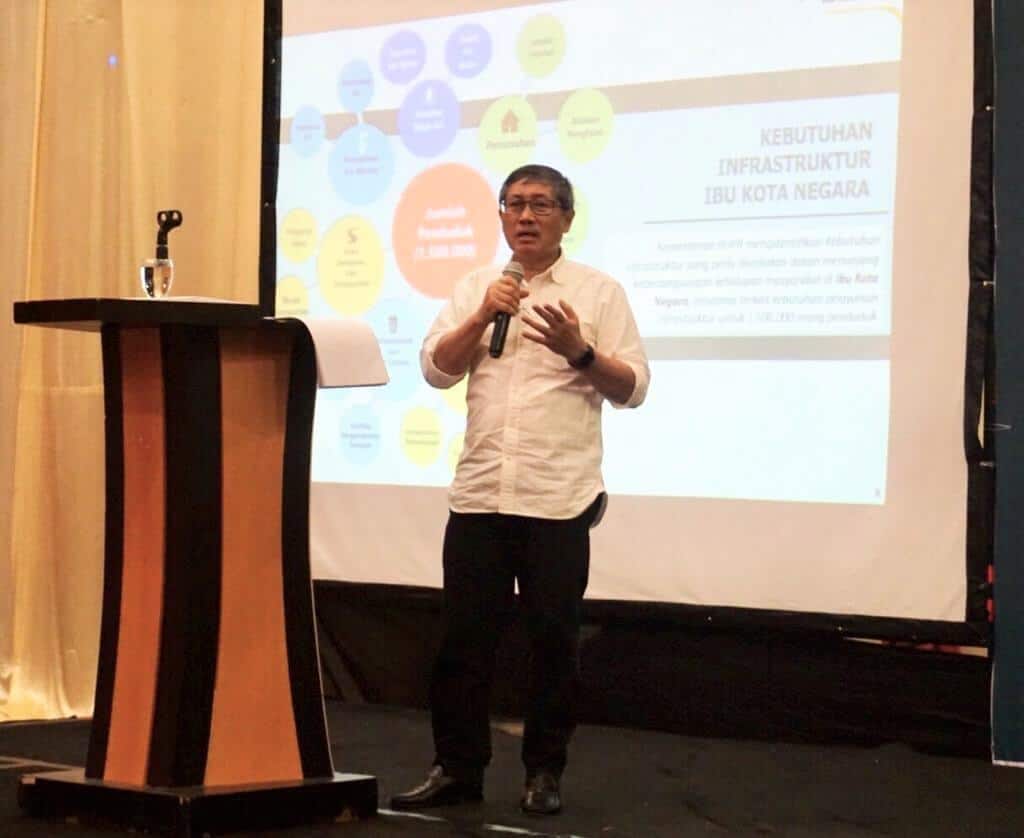 MAKASSAR-DJBK. Direktur Jenderal Bina Konstruksi Syarif Burhanuddin memberikan kuliah umum tentang Peluang dan Tantangan Ketekniksipilan dalam Menyongsong Pemindahan Pusat Ibu Kota Negara Baru, Kamis(05/12) di Makassar Sulawesi Selatan. 
Dalam paparannya Dirjen Bina Konstruksi menjelaskan mengenai tantangan rantai pasok jasa konstruksi dan strategi percepatan peningkatan kualitas dan kuantitas tenaga ahli konstruksi. 
"Penggunaan Teknologi sudah tidak bisa dihindari, sehingga sudah saatnya seluruh pembelajaran bidang teknik sipil seperti menghitung geomatika atau struktural jalan dan lainnya secara digital." Ujar Syarif 
Syarif menjelaskan konsep Ibu Kota Negara baru mengusung konsep smart city, seperti smart infrastructure it system yaitu smart technology dan aplikasi berorientasi manusia, smart grid (solar cell dan angin) artinya distribusi listrik menggunakan jaringan bawah tanah, sustainable urban drainage system, water treatment system, green and forest city, dan rail based and integrated transportation. Dengan konsep smart city yang menggunakan teknologi yang serba digital, para sarjana teknik harus sudah bisa familiar dengan teknologi-teknologi yang akan digunakan.
Para mahasiswa khususnya lulusan fakultas tenik sipil turut mengambil peran dalam pembangunan infrastruktur khususnya di wilayah Ibu Kota Negara Baru. Karena SDM konstruksi merupakan bagian yang tidak dapat terpisahkan dari suatu rantai pasok konstruksi secara keseluruhan. Rantai pasok konstruksi juga mencakupi keseluruhan jasa konstruksi seperti kontraktor dan pengguna jasa baik secara langsung maupun tidak langsung dalam mencapai tujuan proyek.
Untuk meningkatkan SDM Konstruksi Kementerian PUPR tengah menyiapkan strategi percepatan peningkatan kualitas dan kuantitas tenaga ahli konstruksi yaitu dengan menggunakan Distance Learning SIBIMA konstruksi yaitu metode pembelajaran jarak jauh kapanpun dan dimanapun dengan menggunakan internet. Serta Building Information Modelling (BIM) yaitu teknologi terkini yang dapat mengidentifikasi permasalahan sebelumnya dan permasalahan-permasalahan yang akan datang dengan sistem digital.
"Dengan rencana nasional pemindahan Ibu Kota Negara Baru lulusan teknik Indonesia harus mengambil peran aktif dalam pembangunan Ibu Kota Negara baru." Tegas Syarif
Berdasarkan data dari Badan Perencanaan Pembangunan Nasional (Bappenas) di tahun 2020-2024 masuk pada tahap persiapan/pelaksanaan, pembangunan yang pertama akan dilakukan ada Ground Breaking, Istana Negara, Kantor Pemerintahan/Kementerian/Lembaga, taman budaya, dan botanical garden. Oleh  karenanya, selain kesiapan SDM Konstruksi (Man) tantangan lain yang harus menyiapkan machine (peralatan), method (metode), material (Bahan Material), dan money (Uang).
Para peserta yang hadir merupakan mahasiswa program studi Magister Teknik Sipil Program Pascasarjana Universitas Muslim Indonesia, Makassar. Turut menjadi narasumber dalam acara ini adalah Tri Dewi Virgianti Direktur Perkotaan, Perumahan dan Pemukiman Kementerian PPN/ Bappenas dan Prof. Agus Taufik Mulyono Kepala Pusat Study Transportasi dan Logistik Universitas Gajah Mada. Turut hadir mendampingi Kepala Balai Jasa Konstruksi Wilayah IV Makassar Faisal dan Kepala BP2JK Hasrawati Rahim.