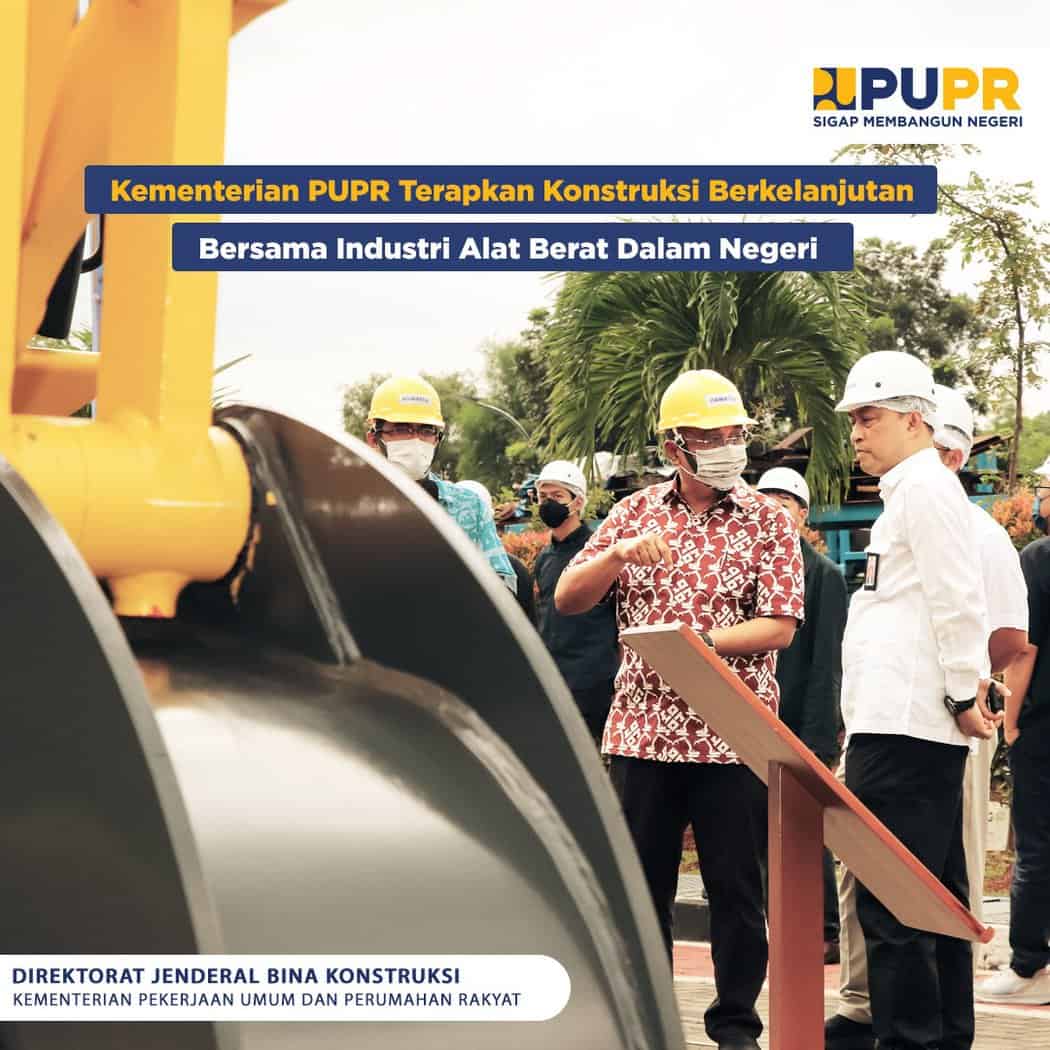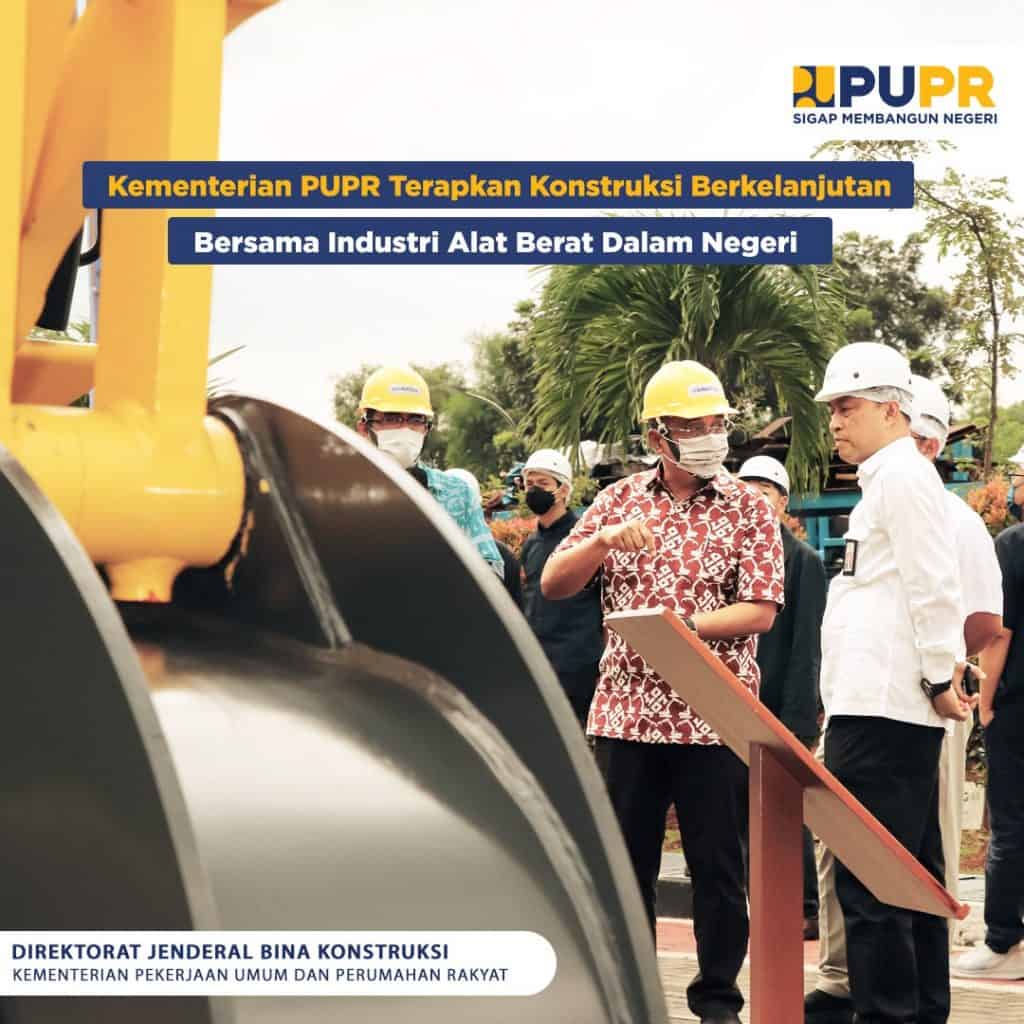 DJBK – Penerapan prinsip pembangunan infrastruktur berkelanjutan yang terintegrasi dengan seluruh stakeholder dan seluruh elemen lingkungan merupakan langkah strategis untuk mengurangi dampak negatif dari pembangunan infrastruktur. Hal tersebut disampaikan oleh Direktur Jenderal Bina Konstruksi Yudha Mediawan saat membuka kegiatan Carbon Neutrality Seminar And Exhibition PT. Komatsu Indonesia, Kamis (9/03) di Cibitung, Jawa Barat.
Hal ini disebabkan karena sektor konstruksi menjadi salah satu pengguna sumber daya alam terbesar, dan sangat berpotensi memberikan dampak penurunan kualitas lingkungan yang berpotensi terjadinya perubahan iklim. Kementerian PUPR terus berkomitmen untuk meningkatkan kualitas pembangunan infrastruktur dengan menerapkan Keberlanjutan Konstruksi demi menjaga kualitas lingkungan dan menghadapi perubahan iklim.
"Pembangunan berkelanjutan bertujuan untuk menciptakan pemerataan pembangunan antar generasi. Dimana, pembangunan dilakukan tidak hanya untuk memenuhi kebutuhan generasi sekarang tetapi juga memperhatikan dan tidak mengorbankan kebutuhan generasi yang akan datang." Ungkap Yudha Mediawan
Saat ini dunia sedang menghadapi tiga krisis planet (triple planetary crisis) yang menjadi masalah utama penurunan 8 kualitas lingkungan hidup, seperti perubahan iklim yang terus terjadi akibat kegiatan industri dan kegiatan antropologi manusia yang akan berdampak bagi kelangsungan hidup manusia pada masa mendatang, peningkatan beban polusi pada badan lingkungan air, udara, dan tanah, dan kerusakan ekosistem lingkungan yang akan menyebabkan hilangnya keanekaragaman hayati.
Dalam upaya menjaga kelestarian lingkungan dan penerapan Konstruksi Berkelanjutan, telah menerbitkan Peraturan Menteri PUPR No. 9 Tahun 2021 tentang Pedoman Pelaksanaan Konstruksi Berkelanjutan, disampaikan bahwa dalam penerapan Konstruksi Berkelanjutan, terdapat 3 pilar yang perlu diperhatikan, yaitu pilar ekonomi, sosial, dan lingkungan. Dengan melaksanakan konstruksi berkelanjutan dapat mewujudkan pelaksanaan konstruksi yang dianggap layak secara ekonomi dan meningkatkan kesejahteraan masyarakat, mendukung pelestarian lingkungan, dan mengurangi kesenjangan sosial dalam masyarakat.
Sementara itu, dalam penerapannya konstruksi berkelanjutan perlu didukung oleh stakeholder konstruksi dalam hal ini PT. Komatsu Indonesia menunjukan komitmennya dalam meningkatkan kelestarian lingkungan melalui inovasi teknologi yang diwujudkan dalam Seminar Carbon Neutrality 2023 yang bertajuk "Future of Indonesia Heavy Equipment Industry towards Carbon Neutrality 2060."
Sebagai perusahaan alat berat Komatsu Indonesia terus berusaha melahirkan berbagai inovasi baru untuk memastikan bahwa seluruh manufaktur dan kegiatan usaha menjadi lebih ramah lingkungan. Dalam kesempatan tersebut, PT. Komatsu Indonesia menampilkan demonstrasi smart construction, yaitu penerapan teknologi yang terintegrasi guna mendapatkan perhitungan akurat dan komprehensif agar pembangunan lebih efisien dan ramah lingkungan.
Semoga dengan peran aktif Pemerintah dan Stakeholder dalam menyiapkan seluruh mata rantai pasokan sumber daya peralatan konstruksi berbasis industri dalam negeri mampu mendukung prinsip-prinsip pembangunan konstruksi/ infrastruktur yang keberlanjutan. (dri)