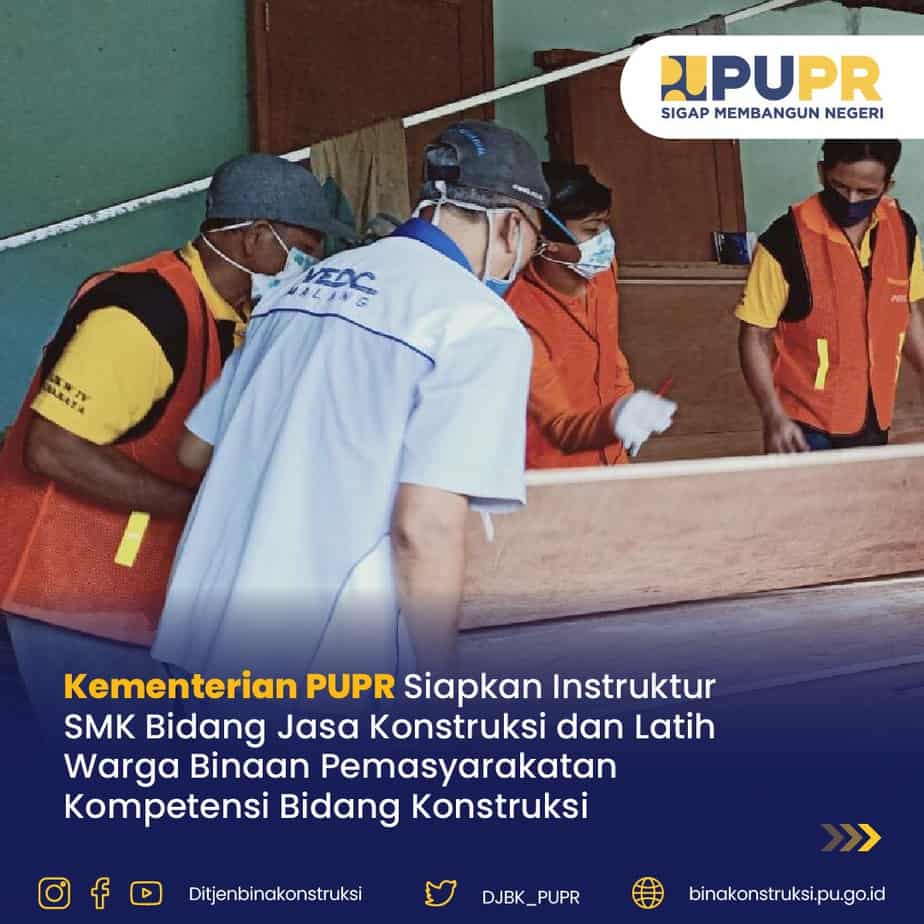 Salah satu visi misi Pemerintah RI periode 2019-2024 adalah mempercepat dan melanjutkan pembangunan infrastruktur nasional. Apalagi pada masa pandemic seperti saat ini, dimana Pembangunan Infrastruktur diandalkan menjadi sektor strategis untuk pemulihan ekonomi nasional. Salah satu kegiatan pembangunan infrastruktur yang melibatkan partisipasi masyarakat dalam rangka pemulihan ekonomi nasional adalah program Padat Karya Tunai (PKT). Pada tahun 2020, alokasi anggaran Padat Karya Tunai (PKT) sebesar 11,5 Trilyun dengan penerima manfaat sebanyak614.480 orang.
Tentunya untuk mendukung kelancaran Pembangunan Infrastruktur diperlukan ketersediaan sumber daya manusia yang kompeten. Oleh karenanya, saat ini pemerintah juga fokus pada pembangunan sumber daya manusia (SDM). Di sektor konstruksi, pembangunan sumber daya manusia bertujuan untuk mencetak manusia Indonesia yang kompeten dan bersertifikat sesuai Undang-Undang Jasa Konstruksi Nomor 2 Tahun 2017. Sehingga diharapkan infrastruktur yang dibangun juga berkualitas, berdurabilitas, dan berdaya saing.
Namun pada kenyataannya masih terdapat beberapa kendala yang ditemui, diantaranya yaitu kurangnya jumlah tenaga kerja konstruksi yang bersertifikat dimana hingga saat ini jumlah tenaga konstruksi yang bersertifikat hanya sebesar 680.674 orang atau sebesar 8% dari total tenaga kerja konstruksi Indonesia, dengan jumlah tenaga ahli sebanyak 173.690 (26%), dan tenaga terampil sebanyak 506.984 (74%). Tentu jumlah ini masih jauh dari yang ditargetkan.
Selain itu masih terdapat, kesenjangan/gap kompetensi angkatan kerja dengan kebutuhan dunia usaha dan industri. Tidak kurang dari 20% pengangguran di Indonesia adalah pengangguran terdidik mulai dari jenjang SMK sebesar 8,3%, Diploma sebesar 6,9%, dan Sarjana sebesar 6,2%. Salah satu pemicunya adalah ketidaksesuaian kompetensi yang dimiliki oleh para calon lulusan dengan kebutuhan di dunia industri. Kurikulum yang kurang adaptif juga disinyalir belum menjawab keinginan dunia usaha dan industri.
"Kementerian PUPR melakukan berbagai langkah untuk mengatasi permasalahan tersebut, salah satunya Link and Match antara dunia pendidikan dengan dunia usaha dan industri, yang meliputi kesesuaian kurikulum, pembekalan kompetensi, pemagangan, upgrading tenaga pendidik, pelatihan dan sertifikasi. Dengan adanya link and match ini, diharapkan calon tenaga kerja dapat segera diserap oleh industri", demikian disampaikan Direktur Kompetensi dan Produktivitas Konstruksi Dedy Natrifahrizal saat membuka Kegiatan Peningkatan Kapasitas Warga Binaan Permasyarakatan (WBP) di Lapas Kelas I Surabaya, Lapas Kelas IIB Pati dan Bimbingan Teknis Refreshment Instruktur SMK Bidang Jasa Konstruksi, Kamis (18/2) secara virtual".
Upaya link and match ditegaskan melalui Surat Edaran Direktur Jenderal Bina Konstruksi Nomor 129/SE/Dk/2020 tentang Pemberian Kompetensi Tambahan & Sertifikasi Kompetensi Bagi Lulusan dan Calon Lulusan SMK, Politeknik dan Perguruan Tinggi Bidang Jasa Konstruksi. Di tahun 2021, Direktorat Jenderal Bina Konstruksi memiliki tugas membina tenaga kerja konstruksi sebanyak 124.300 orang dengan pola kerjasama vokasi dan pendidikan tinggi sebanyak 48.000 orang serta pembinaan regular sebanyak 76.300 orang. Potensi lulusan Sekolah Menengah Kejuruan (SMK), Politeknik, dan Perguruan Tinggi tahun ini yaitu sebanyak 48.559 orang.
Selain link and match, Kementerian PUPR bekerjasama dengan BUMN (PT. Brantas Abipraya, Tbk), Dinas Kabupaten / Kota di Jawa Timur & Jawa Tengah, melakukan pembinaan kepada warga binaan Permasyarakatan di Lapas Kelas I Surabaya dan Lapas Kelas IIB Pati. Hal ini sebagai kelanjutan dari MoU antara Kementerian PUPR dan Kementerian Hukum dan HAM dilanjutkan dengan Perjanjian kerjasama (PKS) yang ditandatangi di Lapas Nusa Kambangan Tahun 2018.
"Hal ini menjadi contoh nyata bahwa saudara-saudara kita memiliki kesempatan yang sama untuk berpartisipasi dalam pembangunan nasional. Dan disini saya mengapreasiasi kepedulian stakeholders dengan turut serta membina warga binaan untuk meningkatkan kompetensinya. Mewujudkan sumber daya manusia yang unggul dan kompeten, membutuhkan komitmen bersama dari seluruh pihak. Untuk itu saya mengajak stakeholders konstruksi lainnya untuk berpartisipasi aktif dalam pembangunan sumber daya manusia terutama di bidang konstruksi", ungkap Dedy Natrifahrizal.
Kepala Balai Jasa Konstruksi Wilayah IV Surabaya Edi Irwanto menyampaikan Kegiatan Peningkatan Kapasitas Warga Binaan Pemasyarakatan (WBP) dilaksanakan selama 7 (tujuh) hari dari tanggal 18 s.d. 25 Februari 2021, sedangkan Kegiatan Bimbingan Teknis Refreshment untuk Instruktuktur pada SMK Bidang Jasa Konstruksi dilaksanakan selama 2 (dua) hari dari tanggal 18 s.d. 19 Februari 2021.
Peserta Peningkatan Kapasitas WBP diikuti oleh 80 orang peserta dengan rincian: di Lapas Kelas I Surabaya dengan peserta : Tukang Las Listrik 20 orang, Tukang Batu 20 orang, dan Tukang Kayu 20 orang; di Lapas Kelas IIB Pati dengan peserta : Tukang Batu 20 orang. Sedangkan Bimtek Refreshment untuk Instruktur pada SMK Bidang Jasa Konstruksi diikuti sebanyak 60 orang peserta dengan rincian : di Jawa Timur 37 orang, di DI Yogyakarta 12 orang, dan Bali 12 orang. Tindak lanjut dari Bimtek ini adalah peserta kegiatan ini akan menjadi instruktur pada Bimtek Kompetensi Tambahan untuk calon lulusan SMK, dimana potensi jumlah peserta Bimtek calon lulusan SMK diperkirakan sebanyak 4.895 orang dengan rincian: Jawa Timur sebanyak 3.465 orang, DI Yogyakarta 844 orang, dan Bali 586 orang.*