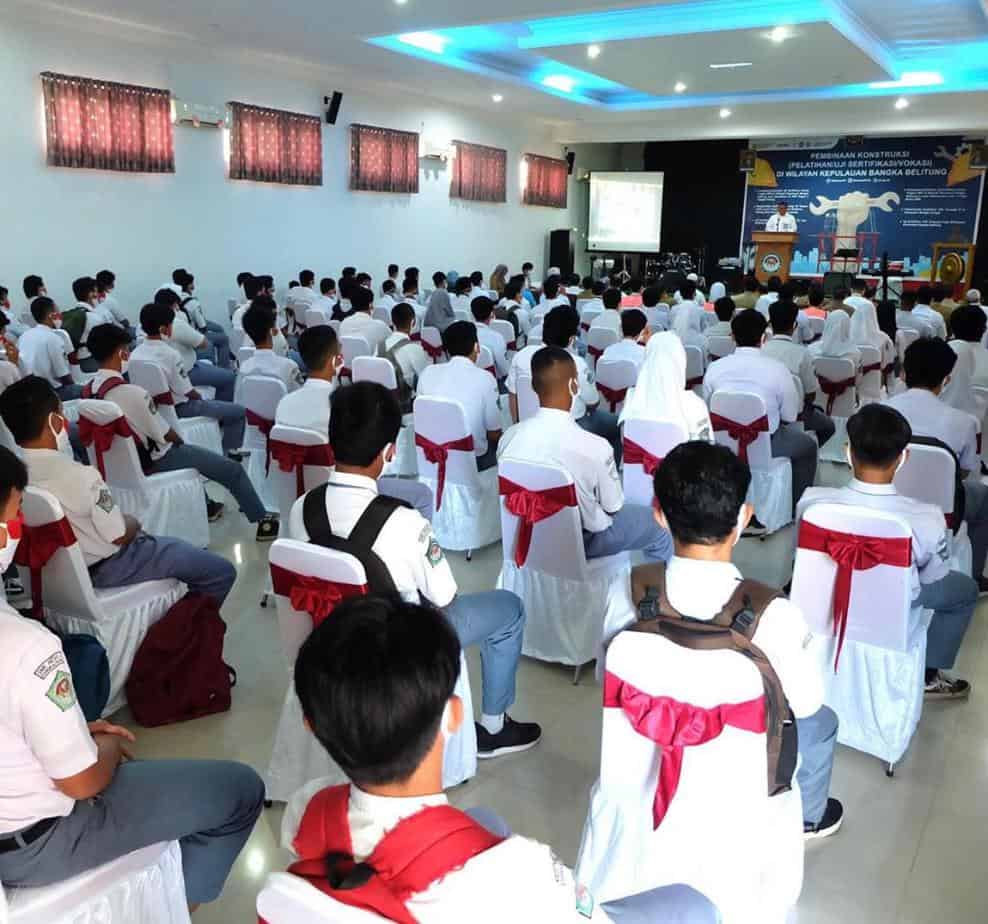 Pembangunan Infrastruktur menjadi salah satu fokus utama Pemerintah. Hal tersebut dimaksudkan untuk meningkatkan konektivitas dan merangsang pertumbuhan ekonomi yang sangat dibutuhkan masyarakat, apalagi di tengah pandemi covid-19 seperti saat ini. Karena itulah sangat penting untuk memastikan Pembangunan Infastruktur dapat berjalan dengan baik sesuai program yang telah ditetapkan.
Salah satu faktor yang menentukan keberhasilan Pembangunan Infrastruktur adalah ketersediaan tenaga kerja konstruksi yang kompeten dan tentunya bersertifikat, sebagaimana amanah Undang-Undang Jasa Konstruksi nomor 2 Tahun 2017. Karenanya percepatan pelatihan dan sertifikasi tenaga kerja konstruksi sangat penting. Untuk itulah Kementerian PUPR melaksanakan Pembekalan/ Fasilitasi Uji Sertifikasi Vokasi Tingkat SMK di Wilayah Kepulauan Bangka Belitung, dan Pelatihan/Uji Sertifikasi Training Of Trainer (TOT) Level 3 Calon Instruktur Pelatihan Bidang Jasa Konstruksi di Lampung, Senin (24/08).
"Meski ditengah situasi seperti saat ini, pembinaan tenaga kerja konstruksi tetap harus dilakukan. Karena Pembangunan Infrastruktur sangat berarti untuk masyarakat. Untuk itu, saya berharap stakeholder jasa konstruksi pusat dan daerah untuk segera menindaklanjuti percepatan sertifikasi tenaga kerja konstruksi dan pelatihan khususnya dalam proyek-proyek strategis agar tetap berjalan baik dan tetap sasaran." demikian disampaikan Direktur Jenderal Bina Konstruksi Trisasongko Widianto saat memberikan arahan secara virtual pada kegiatan ini.
Sementara itu Gubernur Provinsi Kepulauan Bangka Belitung Erzaldi Rosman yang membuka secara resmi kegiatan ini menyatakan sangat mengapresiasi Pelatihan dan Uji Sertifikasi yang dilakukan Kementerian PUPR untuk tenaga kerja konstruksi di wilayahnya. "Hal ini akan menjadi modal yang berharga bagi warga masyarakat kami, karena sertifikat yang didapatkan bisa digunakan untuk memperoleh penghasilan apalagi di tengah situasi yang sulit seperti sekarang. Dan tentunya kami bisa membangun Infrastruktur wilayah kami agar semakin maju di masa mendatang", ungkap Erzaldi Rosman.
Dalam kesempatan ini dilakukan pula penandatanganan kerjasama program Link and Match antara Kementerian PUPR dengan Pemprov Kepulauan Bangka Belitung yang dalam hal ini diwakili oleh Kepala Balai Jasa Konstruksi Wilayah II Palembang Nanan Abidin dan Kepala Dinas Pendidikan Provinsi Kepulauan Bangka Belitung Muhammad Soleh, yang disaksikan oleh Gubernur Kepulauan Bangka Belitung Erzaldi Rosman.
Kegiatan ini diikuti oleh 1.271 orang peserta yang terdiri dari : 768 orang peserta mengikuti uji sertifikasi vokasi tingkat SMK di Wilayah Kepulauan Bangka Belitung, 50 orang peserta pelatihan/uji sertifikasi Training of Trainer (TOT) level 3 calon instruktur pelatihan bidang jasa konstruksi di Provinsi Lampung, 230 orang peserta uji sertifikasi tenaga kerja konstruksi terampil di Dinas PUPR & Pertanahan Kabupaten Bangka Tengah, 115 orang peserta Uji Sertifikasi Tenaga kerja konstruksi di Dinas PUPR & Pertanahan Kabupaten Bangka Tengah, 60 orang peserta Uji sertifikasi Bagi TFL & Korfas pada program BSPS di Provinsi Kepulauan Bangka Belitung, dan 30 orang peserta uji sertifikasi tenaga kerja konstruksi terampil I Mahasiswa Universitas Bangka Belitung yang bekerjasama dengan Asosiasi Tenaga Teknik Ahli dan Terampil Indonesia (ASTTATINDO). *