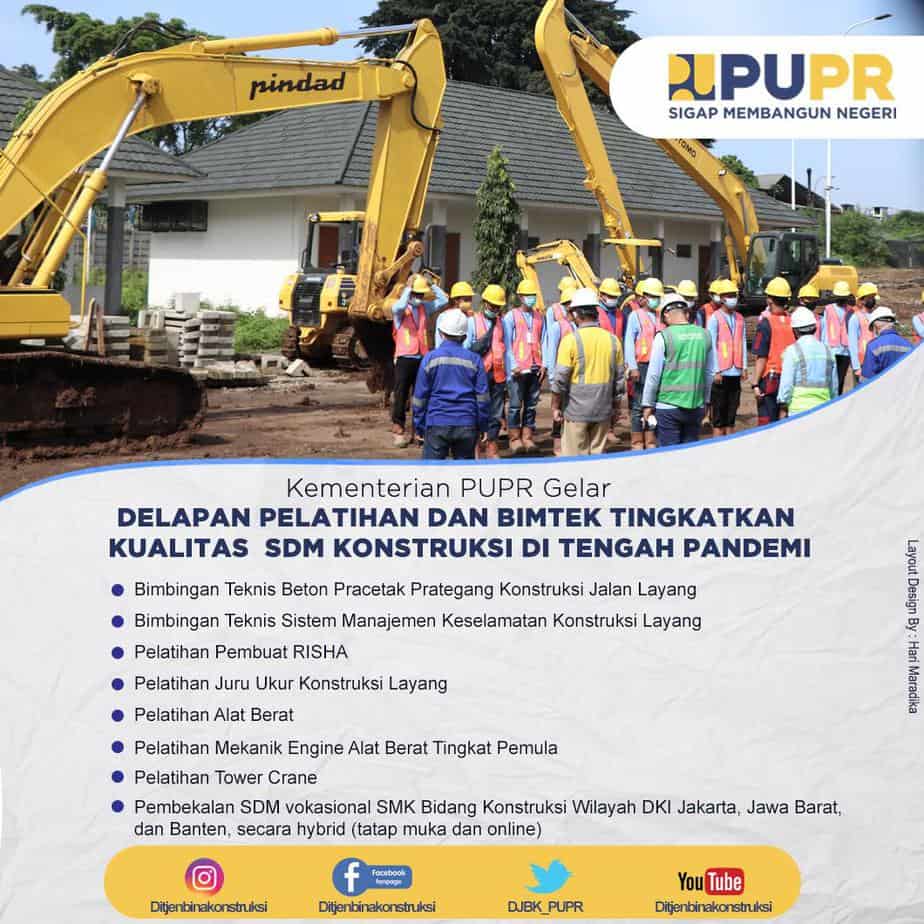 Peningkatan kualitas Sumber Daya Manusia (SDM) yang unggul menjadi salah satu program prioritas pemerintah untuk meningkatkan daya saing nasional. Direktorat Jenderal Bina Konstruksi Kementerian PUPR melalui Balai Jasa Konstruksi Wilayah III Jakarta selaku pembina jasa konstruksi melaksanakan arahan tersebut dengan melaksanakan 8 (delapan) pelatihan dan bimbingan teknis sumber daya manusia konstruksi.
8 (delapan) kegiatan tersebut yaitu: Bimbingan Teknis Beton Pracetak Prategang Konstruksi Jalan Layang, Bimbingan Teknis Sistem Manajemen Keselamatan Konstruksi Layang, Pelatihan Pembuat RISHA, Pelatihan Juru Ukur Konstruksi Layang, Pelatihan Alat Berat, Pelatihan Mekanik Engine Alat Berat Tingkat Pemula, Pelatihan Tower Crane, dan Pembekalan SDM vokasional SMK Bidang Konstruksi Wilayah DKI Jakarta, Jawa Barat, dan Banten, secara hybrid (tatap muka dan online), Selasa (23/02) di Jakarta.
"Salah satu terobosan untuk peningkatan SDM konstruksi adalah dengan menggunakan metode Link and Match, yaitu dengan cara memadupadankan dan menghubungkan kebutuhan Sumber Daya Manusia (SDM) di lapangan, akan menjadi solusi dalam memenuhi kebutuhan peningkatan kompetensi sesuai kebutuhan dunia kontruksi." Ungkap Direktur Jenderal Bina Konstruksi Trisasongko Widianto.
Dirjen Bina Konstruksi menambahkan, selain dengan kegiatan bimtek dan pelatihan, kegiatan link and match dapat memudahkan dunia pendidikan di mana siswa atau mahasiswa tahun terakhir yang akan lulus di fasilitasi dengan uji kompetensi sehingga mendapat pengakuan dan siap bekerja di dunia industri.
Pelatihan dan pembekalan vokasi bagi siswa SMK bidang konstruksi dimulai dengan melakukan pelatihan TOT (Training On Trainer) kepada para guru yang telah mendapatkan sertifikat. Total peserta yang mengikuti kegiatan ini sebanyak 6.723 peserta yang berasal dari 59 sekolah dengan rincian 871 peserta dari 8 sekolah di wilayah DKI Jakarta, 4.379 peserta dari 47 sekolah di wilayah Prov. Jawa Barat dan 713 peserta dari 4 sekolah di wilayah Prov. Banten.
Terdapat 300 orang peserta mengikuti Bimtek beton Pracetak Prategang Konstruksi Layang yang bekerjasama dengan Asosiasi Pracetak dan Prategang Indonesia (AP3I) dan Ketua Umum Ikatan Ahli Pracetak Prategang Indonesia (IAPPI). 200 orang menjadi peserta dalam Bimtek Sistem Manajemen Keselamatan Konstruksi Layang dan bekerjasama dengan Perkumpulan Ahli Keselamatan Konstruksi Indonesia (PAKKI) dan Direktorat Berkelanjutan Konstruksi Ditjen Bina Konstruksi. 25 orang peserta mengikuti Pelatihan Pembuat RISHA yang berasal dari SMK, 24 orang peserta mengikuti Pelatihan Operator Alat Berat, 20 orang menjadi peserta Pelatihan Mekanik Engine Alat Berat Tingkat Pemula, dan 8 orang Peserta Pelatihan Tower Crane.
Dalam kondisi pandemi saat ini membuat penyelenggaraan pelatihan dan bimbingan teknis secara tatap muka menjadi terbatas dan harus dilaksanakan secara daring (online). Meski demikian, kegiatan tersebut tidak mengubah kualitas kegiatan yang tengah berjalan. Serta menjalankan kegiatan dengan melakukan rapid/swab test sebelum kegiatan berlangsung dan mengikuti protokol kesehatan selama kegiatan.
Dukungan dari berbagai pihak seperti Direktorat Jenderal Pendidikan Vokasi Kementerian Pendidikan dan Kebudayaan, Politeknik, Sekolah Menegah Kejuruan di wilayah DKI Jakarta, Jawa Barat, dan Banten serta seluruh mitra kerja menjadi wujud nyata adanya sinergi untuk meningkatkan kualitas pembangunan infrastruktur yang berdaya saing, aman, dan berkualitas. (dri)