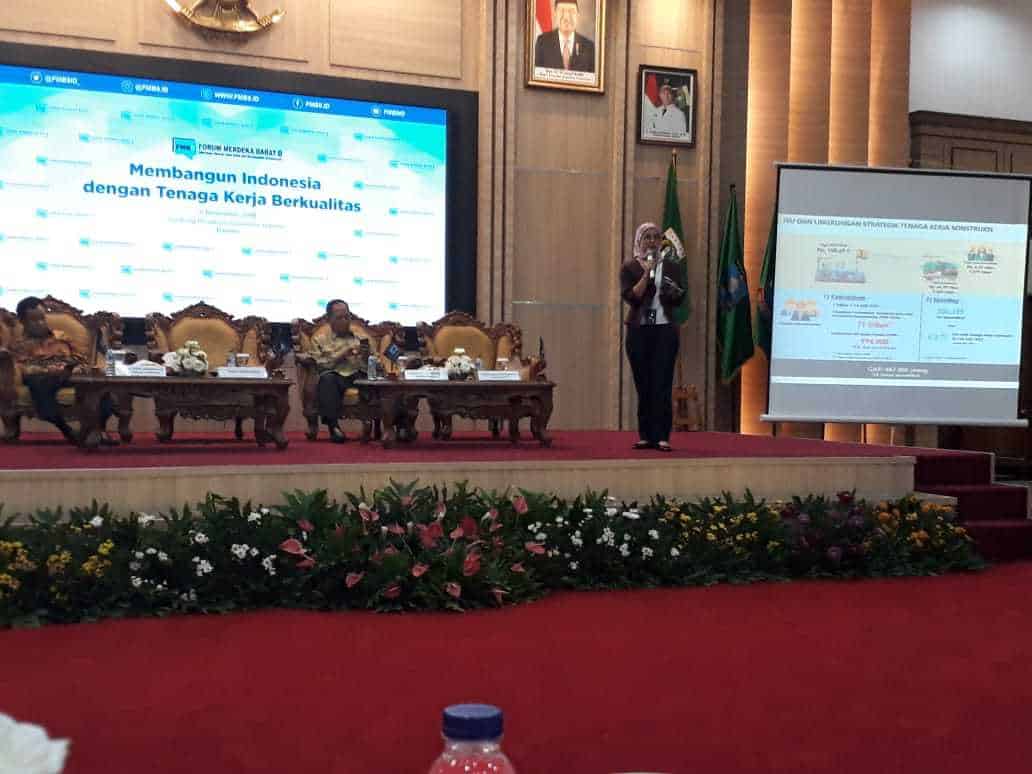 BANTEN – Selama kurun waktu empat tahun terakhir Pemerintah fokus kepada Pembangunan Infrastruktur. Hal ini dilakukan untuk  membuka keterisolasian, membangun konektivitas, memperkokoh persatuan nasional, serta membangun sentra ekonomi baru. Namun menurut Presiden RI Joko Widodo pada acara Ulang Tahun KORPRI beberapa waktu lalu, mulai tahun depan,  Pemerintah akan menggeser program unggulan dari Infrastruktur menjadi program besar-besaran untuk memperkuat Sumber Daya Manusia . Ini termasuk kualitas SDM di pemerintahan dan swasta, kualitas SDM di semua sektor dan lapis masyarakat, serta kualitas SDM di lingkungan remaja dan usia dini.
Di sektor konstruksi sendiri kualitas SDM juga sangat berpengaruh terhadap kualitas Pembangunan Infrastruktur. Salah satu upayanya adalah dengan melakukan sertifikasi kepada Tenaga Kerja Konstruksi (TKK). "Kebutuhan tenaga kerja konstruksi yang berkualitas sangat besar untuk mendukung Pembangunan Infrastruktur yang massif, tentunya upaya percepatan untuk menghasilkan tenaga kerja konstruksi bersertifikat perlu dilakukan dan didukung oleh semua stakeholders konstruksi", demikian disampaikan Direktur Kerja Sama dan Pemberdayaan Ditjen Bina Konstruksi Kementerian PUPR Dewi Chomistriana dalam Diskusi Media Forum Merdeka Barat (FMB) 9 dengan tema "Membangun Indonesia Dengan Tenaga Kerja Berkualitas", Kamis (6/12) di Banten.
Namun hal tersebut masih terkendala dengan jumlah tenaga kerja konstruksi yang ada saat ini. Kebutuhan tenaga kerja konstruksi pada Proyek PUPR mencapai 994 ribu per tahun, sedangkan jumlah tenaga kerja konstruksi bersertifikat yang tersedia saat ini baru 506 ribu orang, atau baru sekitar 6 % dari total keseluruhan tenaga kerja konstruksi. Sehingga terdapat 487 ribu gap (kekurangan) tenaga kerja konstruksi.
Tentunya  kerjasama seluruh mitra dan stakeholder diperlukan untuk memenuhi gap tersebut. Untuk memenuhi percepatan target tersebut, Dewi menyebutkan terdapat dua strategi, yakni Skilling dan Upskilling/Reskilling, yang bekerja sama dengan berbagai stakeholders.
Skilling, salah satu contohnya adalah kerjasama dengan Kementerian Pendidikan dan Kebudayaan (Kemendikbud) dan Kementerian Riset, Teknologi, dan Pendidikan TInggi (Kemenristekdikti) melalui penerapan link and match antara kurikulum yang diberikan SMK dan Politeknik dengan standar kompetensi yang dibutuhkan industri konstruksi. 
"Dengan SMK ada tiga jabatan yang kita harmonisasikan, yaitu mandor konsturksi, mandor batu beton, dan gambar bangunan gedung. Dengan link and match ini hasilnya baik sekali, 2017-2018 kami sudah bisa lakukan sertifikati 1.427 siswa SMK", jelas Dewi. Link Match masih berupa pilot project yang tersebar di 13 SMK di 10 provinsi. Diharapkan di tahun 2019 sudah bisa diperluas sehingga lebih banyak lulusan siswa SMK bersertifikasi.
Sementara terkait Upskilling/Reskilling, Kementerian PUPR melakukan langsung "jemput bola" di proyek konstruksi. Seperti program Mobile Training Unit (MTU) dan On The Job Training. Kementerian PUPR melakukan Upskilling/Reskilling dengan melakukan pelatihan jarak jauh melalui Sistem Informasi Belajar Intensif Mandiri (SIBIMA). Sementara untuk TKK kategori tenaga terampil, salah satu langkah yang dilakukan adalah dengan pemagangan.
"Untuk kerja sama dengan SMK dan Politeknik ini kami link-an dengan badan usaha karya. Salah satu yang sudah berhasil adalah dengan PT Brantas, yang menghubungkan lulusan Politeknik Malang yang sudah disertifikasi" lanjut Dewi. 
Turut hadir dalam FMB 9 kali ini antara lain Menristekdikti Mohamad Nasir, Dirjen Pendidikan Dasar dan Menengah Kemendikbud Hamid Muhammad, dan Gubernur Banten Wahidin Halim.*