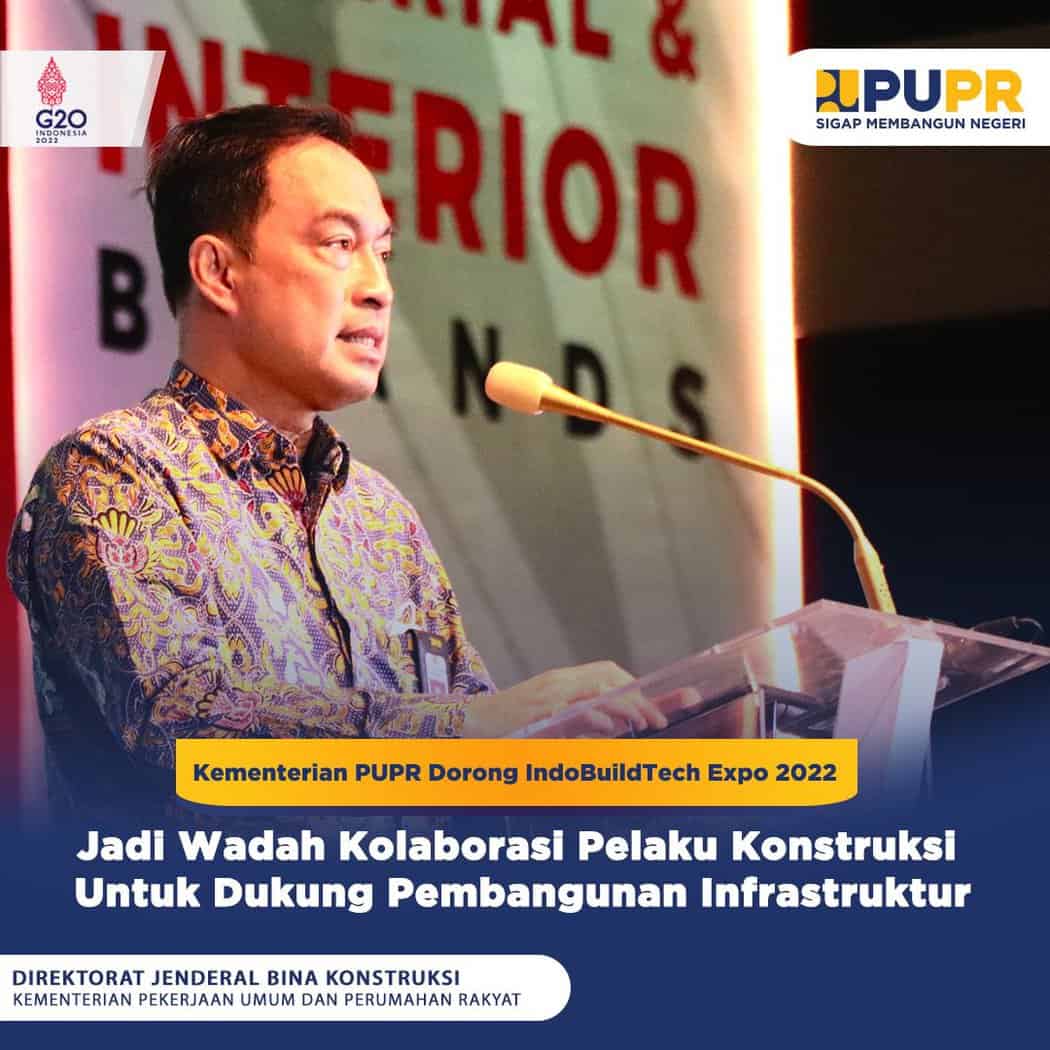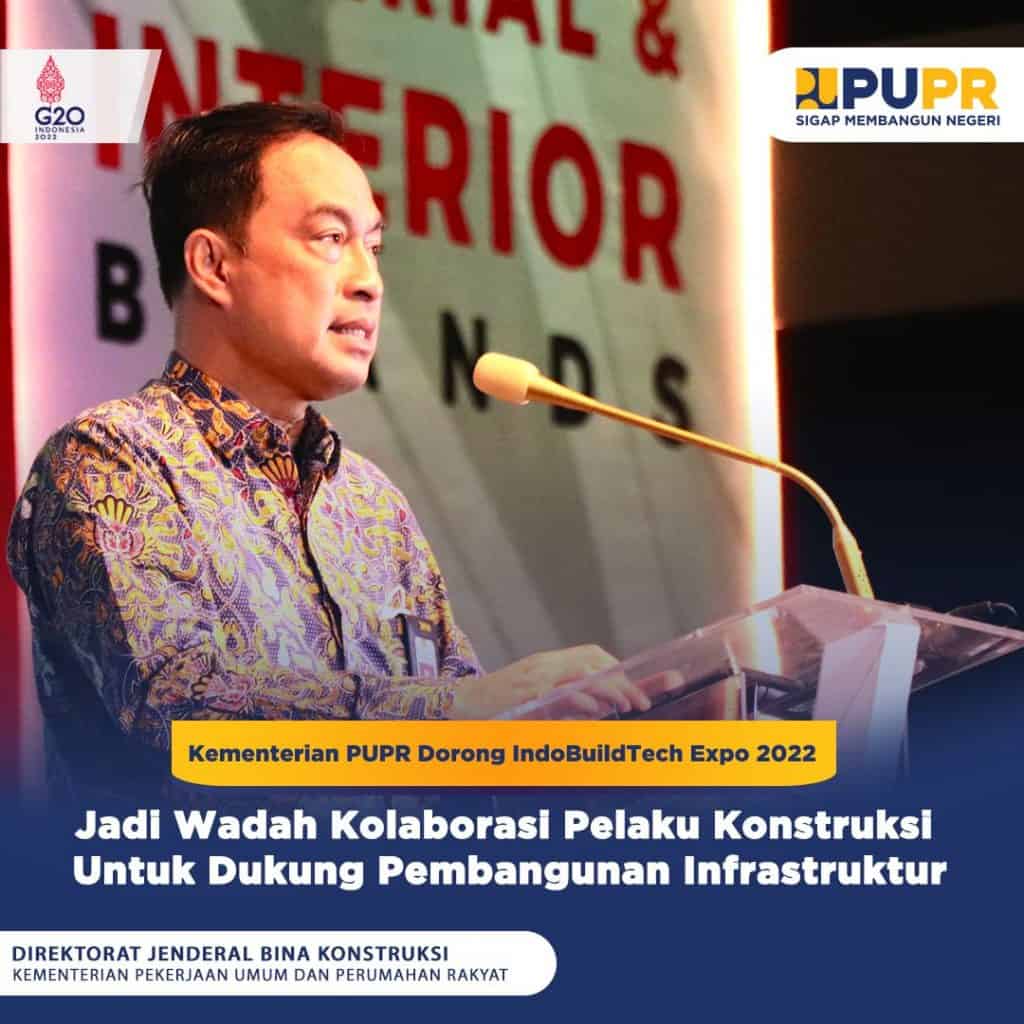 Pemerintah akan terus mendorong percepatan pembangunan infrastruktur, mengingat Infrastruktur menjadi pondasi bagi Indonesia untuk berkompetisi di kancah Internasional sekaligus menciptakan multiplier effect yang akan mendorong pertumbuhan ekonomi. Bahkan menurut Presiden Joko Widodo, pembangunan infrastruktur yang masif menjadi modal Indonesia untuk meningkat menjadi negara maju, dari yang sebelumnya negara berkembang.
"Untuk itulah saya mengapresiasi penyelenggaraan IndoBuildTech Expo 2022, sebagai wadah pertemuan dan kolaborasi para pelaku jasa konstruksi dalam mendukung pelaksanaan pembangunan infrastruktur. Sekaligus mendorong agar kegiatan ini dimanfaatkan semaksimal mungkin untuk mendukung kebangkitan kembali bisnis sektor konstruksi dan industri material kontruksi", demikian disampaikan Menteri PUPR yang diwakili oleh Dirjen Bina Konstruksi Kementerian PUPR Yudha Mediawan saat membuka IndoBuildTech Expo 2022, Rabu (16/11) di ICE BSD Tangerang Selatan.
Dirjen Bina Konstruksi juga mengingatkan bahwa keberhasilan pembangunan infrastruktur sangat ditentukan oleh pasokan sumber daya material dan peralatan konstruksi. Oleh karenanya pembenahan terhadap tata kelola rantai pasok material dan peralatan konstruksi terus dilakukan, untuk memastikan ketersediaannya baik dari segi kuantitas dan kualitas.
"Dalam berbagai kesempatan, Bapak Presiden RI menekankan upaya mengurangi penggunaan bahan konstruksi impor selama kebutuhan spesifikasi dapat dipenuhi dalam negeri atau produk tersebut masih bisa diproduksi di dalam negeri. Sehingga pembangunan infrastuktur yang masif dapat mendongkrak industrialisasi dalam negeri", ujar Yudha.
Produksi Dalam Negeri (PDN) betul-betul menjadi perhatian yang serius. Berbagai produk dalam negeri seperti kebutuhan produk baja, aspal serta berbagai kebutuhan material dan bahan baku lainnya harus disediakan sehingga sektor konstruksi bisa berkontribusi dalam menurunkan defisit neraca transaksi berjalan dan defisit neraca perdagangan Indonesia.
Penggunaan produk dalam negeri, dalam hal ini produk Usaha Mikro dan Kecil serta Koperasi (UMKK), diatur penggunaannya dalam Undang-Undang Nomor 11 Tahun 2021 tentang Cipta Kerja dimana Pemerintah Pusat dan Pemerintah Daerah wajib mengalokasikan paling sedikit 40% (empat puluh persen) produk/jasa Usaha Mikro dan Kecil serta Koperasi dari hasil produksi dalam negeri dalam pengadaan barang/jasa Pemerintah. Kebijakan ini juga telah dituangkan dalam pengaturan Pengadaan Barang/Jasa, dimana preferensi harga diberikan jika terdapat Produk Dalam Negeri yang memiliki penjumlahan nilai Tingkat Komponen Dalam Negeri (TKDN) dan nilai Bobot Manfaat Perusahaan minimal 40% (empat puluh persen).
Kementerian PUPR turut mengambil peran dalam instruksi Presiden tersebut. Dimana dari pagu TA 2022 sebesar Rp 106 Triliun, Kementerian PUPR berkomitmen belanja PDN sebesar Rp. 80,48 Triliun (PDN sebesar 84,9% dari Pagu PBJ sebesar Rp. 92,7 Triliun).
"Saya yakin dengan semangat kolaboratif, kita akan mampu mengejar ketertinggalan dan memulihkan ekonomi nasional. Sekaligus mendorong agar melalui kegiatan IndoBuildTech Expo 2022 ini dapat melahirkan terobosan baru dalam membangun infrastruktur serta memperkuat sinergi, sebagaimana tema acara ini yaitu 'Reinforcing The Bond of Nation'"", tegas Dirjen Bina Konstruksi.
Pada kesempatan yang sama, Direktur Utama PT Debindo-ITE Effi Setiabudi selaku penyelenggara event menyampaikan bahwa IndoBuildTech Expo 2022 di ICE adalah sebuah perwujudan sinergi kemitraan antara Exhibitor, Event Supporting Partners, Visitors dan Organizer untuk mendorong terwujudnya pemulihan ekonomi nasional. Hal ini selaras dengan tekad presidensi Indonesia G20 "Recover Together, Recover Stronger".
"Semangat kemitraan kerjasama itu dapat kita lihat dan kita ikuti bersama dalam bentuk rangkaian kegiatan yang digelar IndoBuildTech bersama Kementerian, Lembaga, dan mitra-mitra lainnya" jelas Effi Setiabudi.
Kegiatan IndoBuidTech Expo, telah diselenggarakan untuk ke-21 kalinya, dengan menghadirkan pameran bidang konstruksi seperti: building material, interior dan lain sebagainya. Selain pameran, diselenggarakan pula berbagai kegiatan seperti: forum bisnis, diskusi panel, sertifikasi ahli tenaga konstruksi, seminar nasional, hingga peluncuran serta demo produk yang berjalan parallel dengan kegiatan pameran selama 5 hari.
Penyelenggaraan IndoBuildTech Premier Exhibition 2022 didukung oleh Kementerian Pekerjaan Umum dan Perumahan Rakyat, Kementerian Pariwisata dan Ekonomi Kreatif, Kementerian Perdagangan, Lembaga Pengembangan Jasa Konstruksi, mitra-mitra asosiasi profesi dan bisnis seperti Ikatan Arsitek Indonesia Banten (IAI Banten), Asosiasi Perusahaan Pracetak dan Prategang Indonesia (AP3I), Ikatan Quantity Surveyor Indonesia (IQSI), Asosiasi Pengusaha TIK Nasional (APTIKNAS), Green Building Council Indonesia (GBCI), Ikatan Arsitek Lansekap Indonesia (IALI), Ikatan Nasional Tenaga Ahli Konsultan Indonesia (INTAKINDO), Kementerian Perindustrian, Himpunan Design Interior Indonesia Banten (HDII Banten), Citiasia Inc, Ikatan Engineers Indonesia (IKEI).*