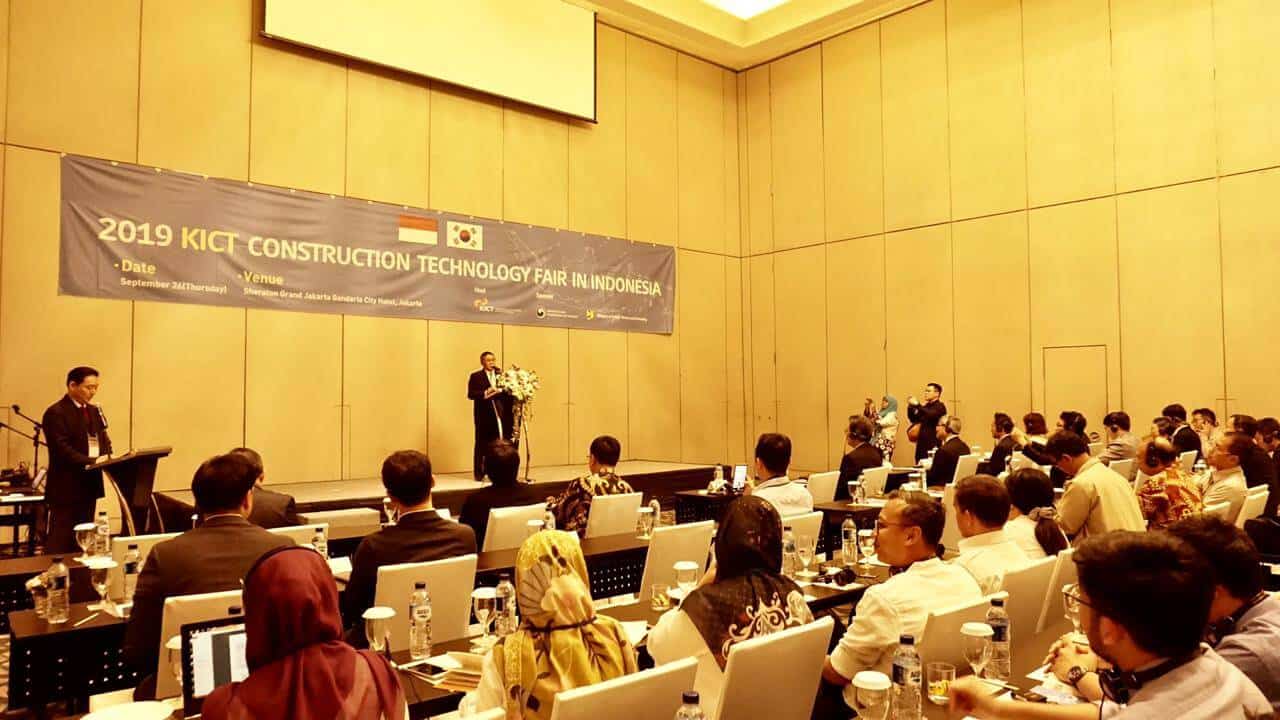 Indonesia saat ini sedang bersiap menghadapi pesatnya Pembangunan Infrastruktur. Hal tersebut terlihat dari perkiraan investasi infrastruktur pada tahun 2020 – 2024 yang mencapai Rp. 6,445 T , dan ditambah dengan rencana pemindahan Ibu Kota Negara yang kebutuhan anggarannya mencapai Rp. 465 Triliun. Tentunya untuk mengimbangi pesatnya pembangunan infrastruktur tersebut diperlukan kesiapan rantai pasok yang terdiri dari : sumber pembiayaan, SDM yang berkompeten, kesiapan material dan teknologi.
"Saya tekankan bahwa Teknologi Konstruksi memegang peranan sangat penting, sebab tuntutan kecepatan dan mutu dalam melakukan pekerjaan konstruksi tidak bisa ditawar lagi. Apalagi rencana pembangunan Ibu Kota baru nanti akan menggunakan konsep Smart City (Kota Cerdas), yaitu kombinasi kawasan Kota Pemerintahan Berbasis keberlanjutan dan teknologi serta memperhatikan efisiensi. Untuk hal tersebut kita tidak perlu sungkan untuk belajar dari Negara-negara lain yang sudah berhasil melakukannya", demikian disampaikan Dirjen Bina Konstruksi Kementerian PUPR Syarif Burhanuddin saat membuka secara resmi Korea Institute of Construction Technology (KICT) Construction and Technology Fair 2019, di Jakarta Kamis (26/9).
Untuk itu, tambah Syarif, Pemerintah mendorong adanya kegiatan seperti KICT Construction and Technology Fair 2019 ini, dengan harapan adanya alih pengetahuan dan teknologi kepada Pemerintah Indonesia, Badan Usaha, Peneliti dan Ahli di bidang konstruksi. Tema KICT Construction Technology Fair 2019, yaitu Sustainable Global Construction Technologies, dianggap relevan dengan isu pembangunan infrastruktur di Indonesia saat ini. KICT Construction Technology Fair merupakan kegiatan tahunan yang diselenggarakan sejak 2016 di berbagai negara di Asia dengan tujuan untuk memperkenalkan sekaligus sebagai ajang alih pengetahuan dan teknologi kepada Pemerintah, Badan Usaha, Peneliti dan Ahli di bidang konstruksi. Kegiatan di tahun ini merupakan kegiatan yang keempat kalinya, dimana Indonesia menjadi tuan rumah. KICT Construction Technology Fair 2019 menghadirkan badan usaha dari Korea yang bergerak pada sektor jasa konstruksi dengan berbagai spesialisasi yang dimiliki seperti ICT (lnformation and Communication Technology), Konstruksi Bangunan Gedung, Jembatan, Geoteknik, Jalan, Air Limbah, Sumber Daya Air, Perlindungan Bahaya Kebakaran dan penanganan bencana alam yang sangat bermanfaat untuk sektor jasa konstruksi di Indonesia.
Kegiatan ini meliputi dua acara yaitu seminar dan B (G) to B meeting. Acara sesi seminar akan dihadiri oleh: 15 badan usaha Korea bidang jasa konstruksi; 2 institusi dari Korea; 150 orang peserta dari Indonesia; 30 orang peserta dari Korea. Sedangkan Sesi B (G) to B meeting meliputi 85 pertemuan. Sebagai informasi, Korea Institute of Civil Engineering and Building Technology (KICT) merupakan institusi dibawah Kementerian Pertanahan, Infrastruktur dan Tranportasi (MOLIT) Korea. KICT telah memiliki banyak pengalaman dalam menyelesaikan issue sosial, penciptaan lapangan pekerjaan dan peningkatan inovasi melalui kegiatan penelitian dan pengembangan untuk terciptanya kegiatan konstruksi yang efisien dan efektif. "Saya sangat menyambut positif kegiatan KICT Construction and Technology Fair 2019 pada hari ini. Semoga tidak hanya menjadi seremonial semata, tapi menjadi awal dari inovasi dan gagasan sebagai masukan bagi kebijakan dan strategi untuk meningkatkan kualitas dan kuantitas pembangunan infrastruktur di Indonesia sesuai Undang-Undang No. 2 Tahun 2017", ungkap Dirjen Bina Konstruksi.
Turut hadir pada acara ini : Kim Changbeom, Ambassador of the Republic of Korea ; Kwon Sooahn, Vice President of Korea Institute of Civil Engineering and Building Technology ; An Sungdae, Director General National Agency for Administrative City Construction ; Sekretaris Badan Litbang Kementerian PUPR Herry Vaza ; Kepala Puslitbang Jalan dan Jembatan Kementerian PUPR Deded Permadi Sjamsudin ; dan Direktur Kerjasama dan Pemberdayaan Kementerian PUPR Kimron Manik.