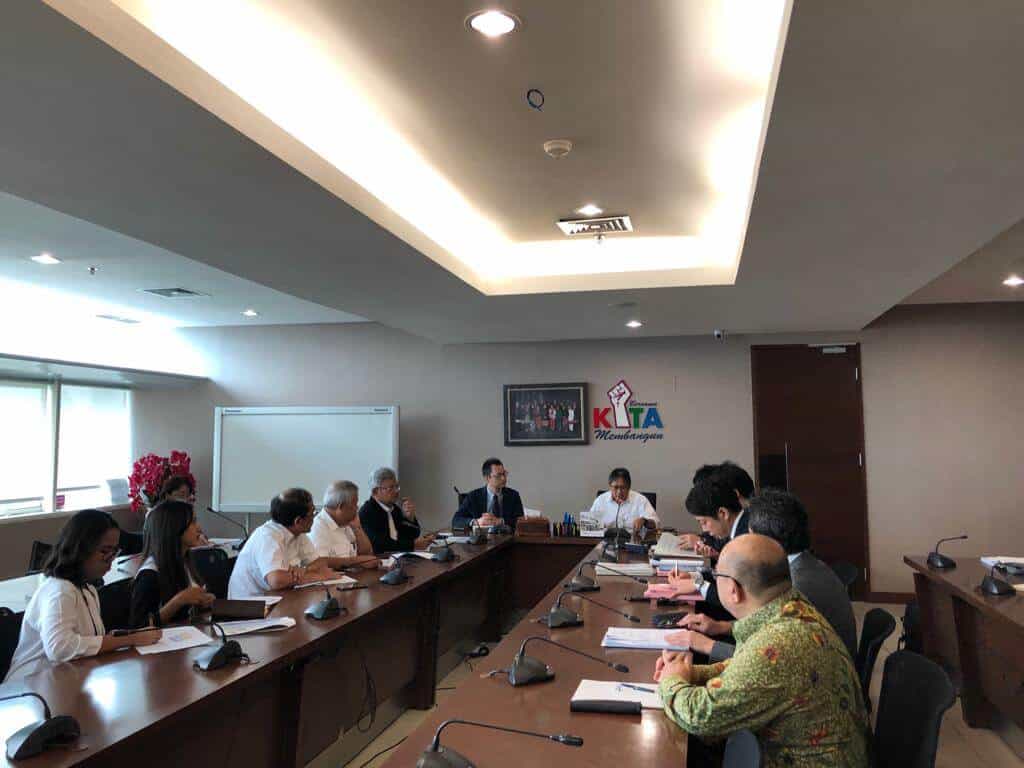 Direktur Jenderal Bina Konstruksi Kementerian PUPR Syarif Burhanuddin menerima kunjungan delegasi Ministry of Land, Infrastructure, Transport and Tourism (MLIT) atau delegasi Kementerian Pertanahan, Infrastruktur, Transportasi, dan Pariwisata Jepang di Kantor Kementerian PUPR, Kamis (24/1) di Jakarta. Pada kesempatan ini kedua belah pihak membahas  Undang – Undang No 2 Tahun 2017 Tentang Jasa Konstruksi terutama dalam kaitannya dengan Badan Usaha Jasa Konstruksi Asing (BUJKA).
Syarif menjelaskan bahwa untuk membangun BUJKA di Indonesia harus memenuhi beberapa persyaratan antara lain seperti : harus bekerjasama dengan kontraktor nasional, jumlah pegawai Indonesia harus lebih banyak daripada pekerja asing, ada transfer of knowledge kepada para pekerja Indonesia, dan Pemimpin perusahaan perwakilan di Indonesia harus WNI.
"Selain itu saya tegaskan bahwa pekerjaan yang bisa dilakukan oleh kontraktor nasional akan dikerjakan oleh kontraktor nasional. Tetapi apabila terdapat pekerjaan yang bersifat spesialis dan tidak bisa dikerjakan oleh kontraktor nasional maka baru boleh dikerjakan oleh kontraktor asing."Ujar Syarif
Pada kesempatan ini pula Syarif menambahkan bahwa pekerja asing yang ingin bekerja di Indonesia, sebagaimana BUJKA, harus memenuhi persyaratan yaitu : harus memiliki rencana penggunaan tenaga kerja asing dan ijin untuk mempekerjakan tenaga kerja konstruksi asing, memiliki surat rekomendasi dari Menteri terkait untuk bekerja di Indonesia sesuai dengan kebutuhan pekerjaan konstruksi di Indonesia, memiliki sertifikat kompetensi sesuai dengan bidang pekerjaannya, serta harus melakukan transfer of knowledge.
Shimperi Izutsu perwakilan MLIT Jepang menginformasikan bahwa pada bulan April 2019 mendatang, Jepang akan membuka lowongan pekerja asing yang dibagi menjadi dua klasifikasi. Pertama, sudah selesai magang dengan persyaratan sudah bisa berbahasa Jepang dan akan diijinkan bekerja selama 5 tahun kedepan. Kedua, pekerja konstruksi yang memiliki kemampuan yang lebih tinggi/ahli dengan masa bekerja tertentu diperbolehkan membawa keluarga.
"Sementara bagi pekerja konstruksi yang belum memiliki pengalaman bekerja di luar negeri diharuskan mengikuti ujian  yang dilakukan oleh Kementerian Pertanahan, Infrastruktur, Transportasi dan Pariwisata Jepang." Jelas Izutsu
Dengan adanya infromasi ini diharapkan dapat dipublikasikan kepada Masyarakat Jasa Konstruksi Indonesia sehingga memberikan peluang kepada tenaga kerja konstruksi Indonesia untuk bisa bekerja di luar negeri. (dri/tw)