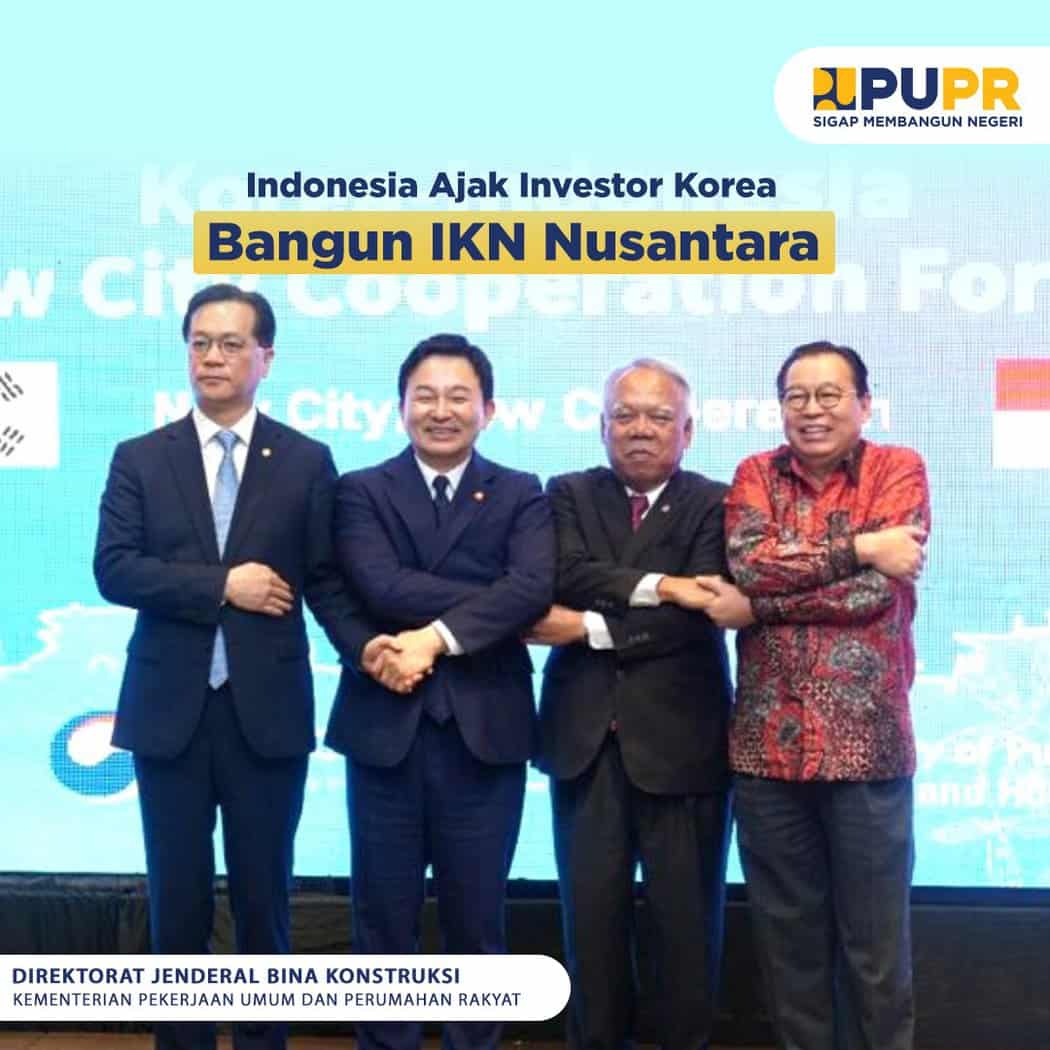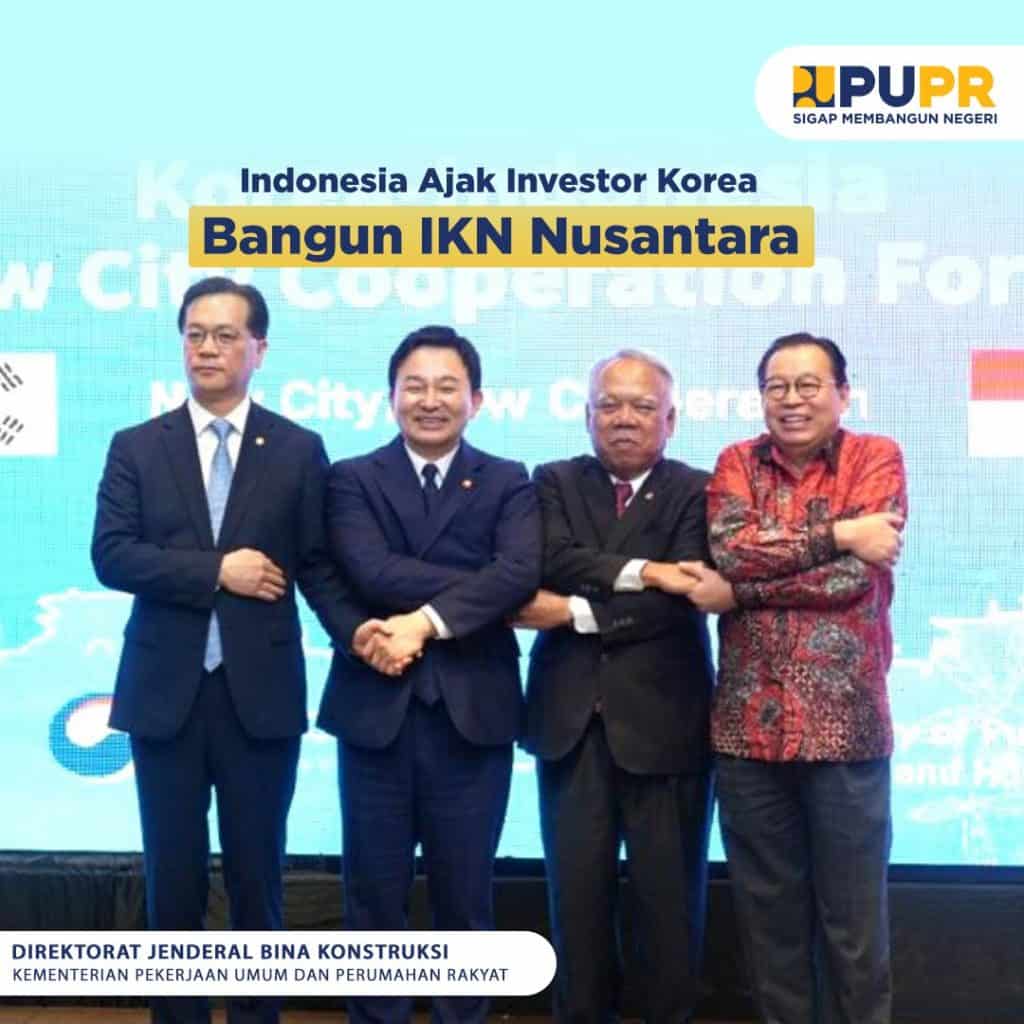 Jakarta – Dalam rangka memperkuat dan memperluas kerja sama internasional dalam pembangunan Ibu Kota Negara (IKN) Nusantara, Pemerintah Indonesia melalui Kementerian Pekerjaan Umum dan Perumahan Rakyat (PUPR) menghadiri acara Korea-Indonesia New City Cooperation Forum yang diselenggarakan oleh Kementerian Pertanahan, Infrastruktur dan Transportasi (Ministry of Land, Infrastructure and Transport) Korea Selatan di Hotel Mulia, Jakarta, Kamis (16/03).
Menteri Pekerjaan Umum dan Perumahan Rakyat (PUPR) Basuki Hadimuljono mengatakan kerja sama antara Indonesia dan Korea Selatan telah terjalin cukup lama. Terlebih, sebelumnya Kementerian PUPR telah bekerja sama dengan K-Water yang telah memiliki pengalaman, teknologi, dan kapabilitas yang sangat baik dalam sektor pengelolaan air.
Di samping itu, Indonesia dan Korea Selatan juga memiliki Nota Kesepahaman tentang Kerja Sama Teknis Pemindahan dan Pembangunan IKN yang akan menjadi landasan mekanisme bilateral serta dasar bagi perusahaan-perusahaan Korea Selatan untuk secara aktif berkontribusi dalam bekerja sama membangun IKN Nusantara.
"Adanya forum ini menjadi starting point kerja sama kita, terutama dalam pengembangan IKN Nusantara. Kita sudah punya MOU sebagai landasan kerja sama. Dan personally, kami sangat nyaman dan terbuka kalau bekerja sama dengan Korea Selatan," kata Menteri Basuki.
Menteri Basuki menjelaskan, pada 2019 lalu Pemerintah Indonesia telah memutuskan untuk memindahkan ibu kota negara dari Jakarta ke IKN Nusantara di Kalimantan Timur. Pemindahan ini dilakukan karena tekanan penduduk yang sangat besar, urbanisasi yang masif dan kerusakan lingkungan di Pulau Jawa, khususnya Jakarta.
"Pemerintah Indonesia sangat serius dalam mengembangkan IKN Nusantara, karena daya dukung Jakarta sebagai ibu kota negara sangatlah terbatas. Mulai dari ketersediaan air baku, penduduk, pengembangan ekonomi, transportasi dan lain-lain. Kalau kita ingin improve Jakarta dari segala hal, at all cost jauh lebih mahal daripada mengembangkan IKN Nusantara. Di samping itu, Pemerintah Indonesia juga ingin lebih memeratakan pembangunan di seluruh Indonesia," jelas Menteri Basuki.
Mengusung konsep Future Smart Forest City, fokus pembangunan IKN Nusantara seluas 256.000 ha tersebut, pada tahap awal 2022-2024 ada pada Kawasan Inti Pusat Pemerintahan (KIPP) seluas 1.600 ha (25%) dari total luas KIPP sebesar 6.600 ha. Sisanya, 5.000 ha akan dipertahankan sebagai area hijau. Hingga saat ini, sekitar 50 proyek konstruksi telah dilaksanakan Kementerian PUPR dengan total biaya Rp62 triliun yang bersumber dari anggaran Pemerintah Indonesia (APBN).
"Sejak 2022, kami telah melaksanakan konstruksi infrastruktur dasar seperti Air Minum, Sanitasi, Jalan logistik, Kantor Kementerian, dan lain-lain. Saat ini progressnya sudah sekitar 20% dengan total sekitar 50 proyek konstruksi. Dengan konsep Future Smart Forest City, pembangunan benar-benar dikendalikan kualitas, estetika dan keberlanjutan lingkungannya," tambah Menteri Basuki.
Menteri Pertanahan, Infrastruktur dan Transportasi Korea Selatan Won Hee-Ryong berharap, melalui forum ini kedua negara dapat menciptakan nilai-nilai dan peluang kerja sama baru, serta berbagi pengalaman masing-masing sehingga ada transfer knowledge. "Saya berharap kedua negara akan terus aktif bekerja sama dan bergerak menuju masa depan yang lebih baik, serta koneksi antara Indonesia dan Korea Selatan dapat terjalin lebih erat," kata Won.
Dalam rangkaian Korea-Indonesia New City Cooperation Forum ini, Menteri PUPR Basuki Hadimuljono beserta seluruh Pejabat Tinggi Madya Kementerian PUPR juga menghadiri Pertemuan Bilateral dengan Menteri Pertanahan, Infrastruktur dan Transportasi Korea Selatan Won Hee-Ryong, Administrator National Agency for Administrative City Construction (NAACC) Korea Selatan Lee Sang-Rae, Duta Besar Indonesia untuk Korea Selatan Gandi Sulistiyanto, Ketua Satgas Pelaksanaan Pembangunan Infrastruktur IKN Danis H. Sumadilaga, Deputi Bidang Transformasi Hijau dan Digital Otorita IKN Mohammed Ali Berawi, serta perwakilan dari 16 Perusahaan Korea Selatan sebagai calon investor IKN Nusantara.