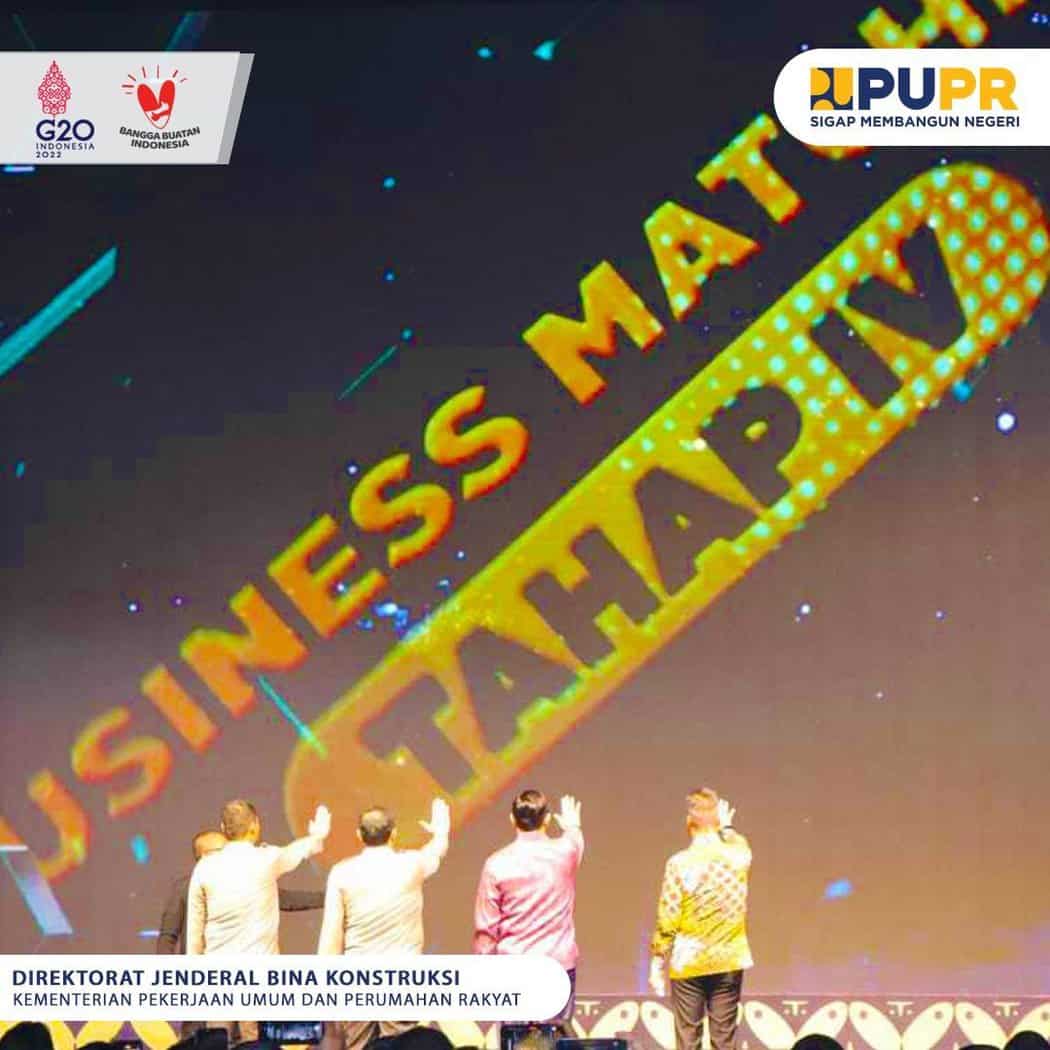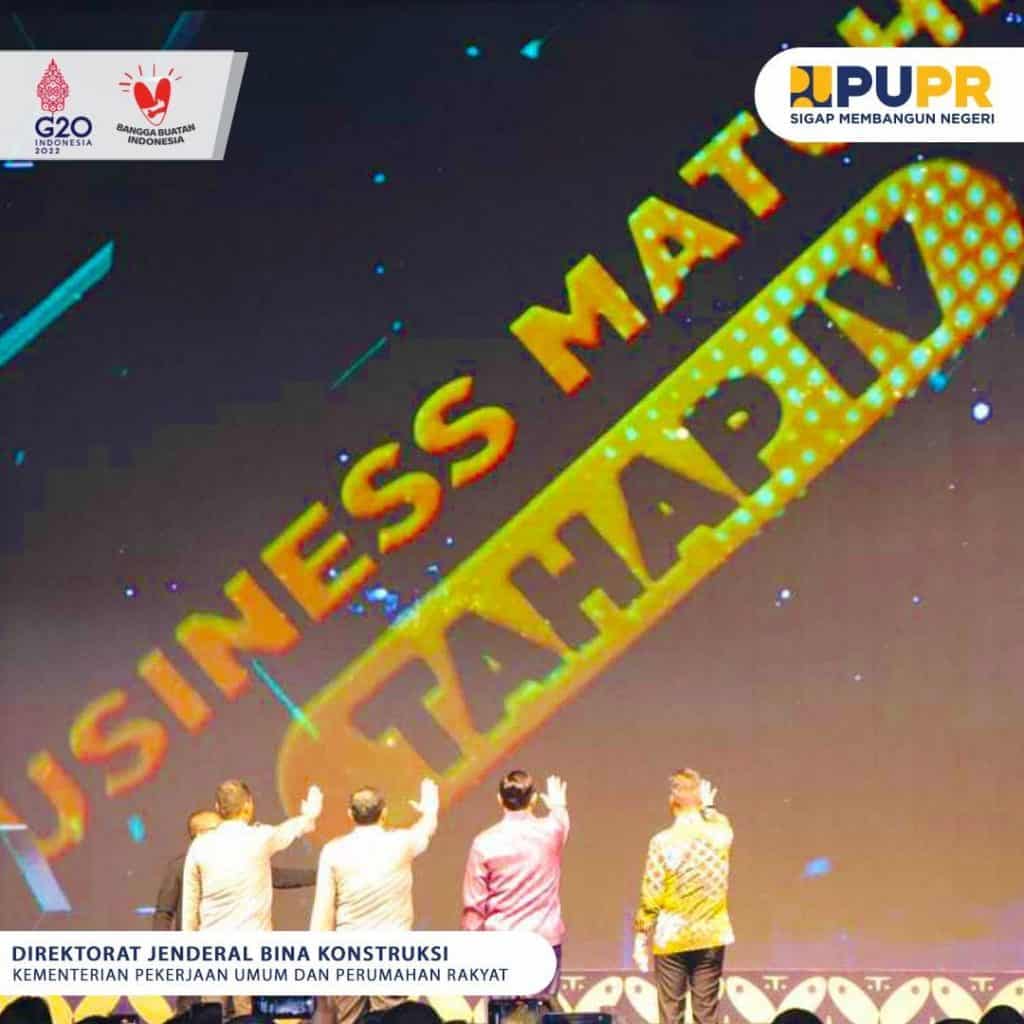 Nusa Dua, Bali – Telah berlangsung Business Matchingtahap IV di Bali Nusa Dua Convention Center. Kegiatan ini merupakan tindak lanjut dari arahan Presiden RI terkait Gerakan Nasional Bangga Buatan Indonesia di Jakarta Convention Center, 24 Mei 2022 lalu. Business Matchingberlangsung selama dua hari dimulai dari tanggal 6 hingga 7 Oktober 2022 dengan tujuan untuk menyediakan forum sharing yang mempertemukan Pemerintah Daerah dengan produsen barang dalam negeri dengan maksud agar Pemerintah Daerah membelanjakan barang-barang produksi dalam negeri untuk memenuhi kebutuhan daerah. Acara inidihadiri langsung dan dibuka oleh Menteri Koordinator Bidang Maritim dan Investasi, Luhut Binsar Pandjaitan.
"Kegiatan Business Matching ini tidak akan berhenti di Bali. Ini merupakan kick of komitmen, dimana seluruh Kementerian/Lembaga, BUMN dan Pemda sudah menandatangani komitmennya untuk belanja produk dalam negeri," ujar Menteri Koordinator Bidang Kemaritiman dan Investasi, Luhut Binsar Pandjaitan. Lebih lanjut Menko juga menuturkan bahwa seluruh Pemerintah Pusat dan Daerah harus kompak dalam pelaksanaan program bangga buatan Indonesia ini.
Sementara itu, disela acara Direktur Jenderal Bina Konstruksi, Yudha Mediawan, menyampaikan pencapaianKementerian PUPR atas realisasi belanja sebagai urutan ke 3 (tiga) yaitu sebesar 69,21% dengan nilai Rp 55,70 T dari komitmen awal sebesar 80,48 T.
"Sebagai Ketua Tim Pengarah P3DN di Kementerian PUPR, saya mengucapkan terima kasih dan apresiasi setinggi-tingginya kepada semua pihak, terutama insan Kementerian PUPR, yang selama ini turut berperan aktif bersama – samamemastikan APBN Kementerian PUPR sebesar – besarnya untuk dibelanjakan untuk penggunaan produk dalam negeri"ucap Yudha Mediawan dalam pemaparannya.
Yudha Mediawan turut menyampaikan bahwa pencapaian tersebut belum final. Kementerian PUPR masih memiliki tugas untuk menyelesaikan target belanja hingga akhir tahun 2022. Berbagai program yang telah dan sedang kami lakukan antara lain: (i) membentuk Tim P3DN; (ii) menerbitkan SOP perhitungan TKDN pekerjaan konstruksi; (iii) menerbitkan SOP pengendalian belanja barang impor dan tenaga kerja asing; serta (iv) menyusun pengaturan tentang Peningkatan Penggunaan Produk Dalam Negeri.
"Selanjutnya pada tahun anggaran 2023 Kementerian PUPR berkomitmen untuk membatasi belanja impor maksimal 5% sesuai Inpres No. 2 Tahun 2022 serta meningkatkan belanja PDN sebesar 95% dari pagu" ujar Yudha.
Kegiatan Business Matching dilanjutkan dengan sesi pameran dari berbagai produsen barang dalam negeri. Acara ini dihadiri langsung oleh Menteri Perindustrian Agus Gumiwang Kartasasmita; Menteri Dalam Negeri Jenderal Polisi (Purn) Tito Karnavian; Menteri Pemberdayaan Perempuan dan Perlindungan Anak, I Gusti Ayu Bintang Darmawati; Menteri Pemberdayaan Aparatur Negara dan Reformasi Birokrasi, Abdullah Azwar Anas; Wakil Kepala Kepolisian Republik Indonesia, Komisaris Jenderal Gatot Eddy Pramono, serta perwakilan Kementerian/Lembaga Negara, Pemerintah Daerah, BUMN dan BUMD.
Di hari berikutnya, tepatnya pada tanggal 07 Oktober 2022, Direktur Jenderal Bina Konstruksi, Yudha Mediawan,bersama dengan Direktur Kelembagaan dan Sumber Daya Konstruksi, Nicodemus Daud, melakukan peninjauan lapangan proyek Penataan Kawasan Pura Besakih. Peninjauan lapangan diterima langsung oleh PT. Pembangunan Perumahan (PP) tepatnya di kantor proyek Besakih,Kecamatan Rendang, Kabupaten Karangasem, Bali. Proses peninjauan terdiri dari pemaparan laporan serta peninjauan proyek pembangunan di lapangan.
Pura Agung Besakih yang terletak di kaki Gunung Agung ini merupakan pura terbesar dan paling suci di Bali, serta merupakan pusat pelayanan spiritual utama umat Hindu di Indonesia untuk melakukan persembahyangan. Perpaduan lansekap dan arsitektur bangunan pura yang indah juga menjadikan Kawasan Pura Agung Besakih sebagai salah satu destinasi wisata kelas dunia.
Penataan Kawasan Pura Agung Besakih dilakukan dengan mekanisme rancang dan bangun (design and build) menggunakan APBN sebesar Rp378,4 miliar. Progres fisik saat ini mencapai 62,37 dengan progress Tingkat Komponen Dalam Negeri (TKDN) yang mencapai 51% yang terhitung sampai dengan 6 Oktober 2022.
Direktur Jenderal Bina Konstruksi Yudha Mediawan menyampaikan kepada kontraktor dan seluruh pelaksana agar tetap memperhatikan Tingkat Kandungan Dalam Negeri (TKDN) dari material-material penyusunnya sesuai dengan yang dimandatkan pada Instruksi Presiden Nomor 2 Tahun 2022, yang sekaligus juga memperhatikan sisa waktu pelaksanaan yang tidak lama lagi, ia juga mengingatkan agar kontraktor pelaksana dapat segera melakukan upaya-upaya percepatan, baik dari sisi material, tenaga kerja, maupun alat.
"Instruksi Presiden Nomor 2 Tahun 2022 tersebut berisi tentang percepatan peningkatan penggunaan produk dalam negeri dan produk usaha mikro, usaha kecil, dan koperasi dalam rangka menyukseskan gerakan nasional bangga buatan Indonesia pada pelaksanaan pengadaan barang/jasa pemerintah. Beliau menekankan agar nilai TKDN setiap material diupayakan agar memenuhi minimal 40%." Tutup Yudha Mediawan. (Har&An)