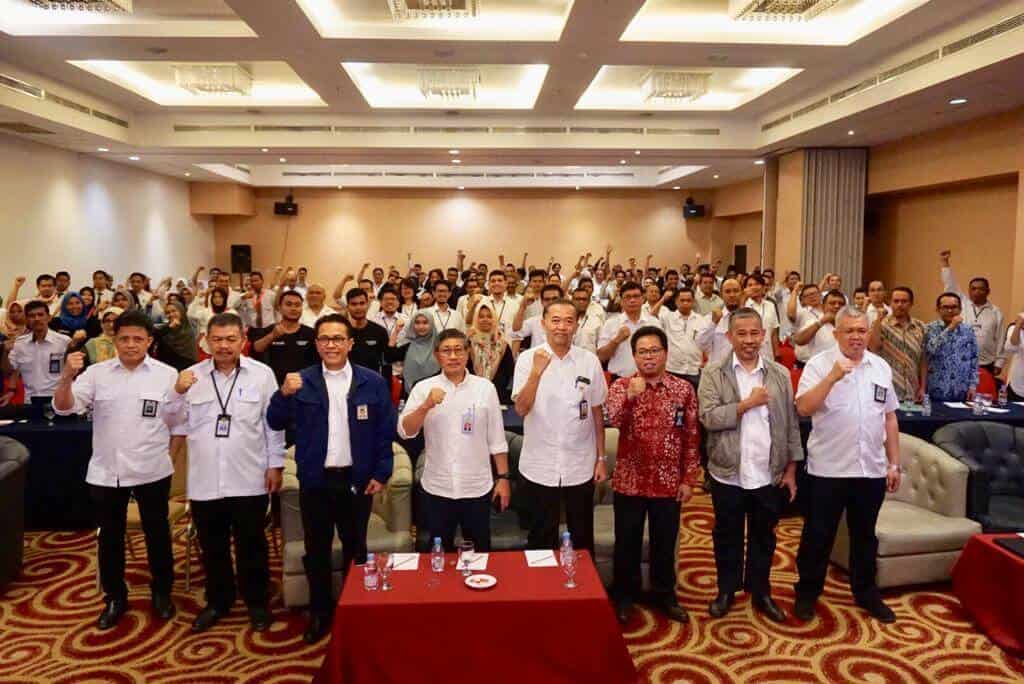 DJBK-KENDARI. Pembangunan Infrastruktur yang sedang dilaksanakan Pemerintah memerlukan berbagai faktor pendukung untuk memastikannya berjalan dengan lancar. Salah satu faktor pendukung tersebut adalah tertib penyelenggaraan konstruksi, dimana salah satu indikatornya adalah terlaksananya pengadaan barang/jasa konstruksi sesuai peraturan yang telah ditetapkan.
"Disinilah pentingnya saya tekankan bahwa SDM konstruksi terutama yang melaksanakan tugas pengadaan barang/jasa harus memahami peraturan-peraturan di bidang pengadaan barang/jasa sektor konstruksi. Jangan sampai justru salah sejak awal sehingga malah menghambat terlaksananya Pembangunan Infrastruktur" demikian disampaikan Direktur Jenderal Bina Konstruksi Kementerian PUPR Syarif Burhanudin saat memberikan sambutan dalam acara Bimbingan Teknis Pengadaan Jasa Konstruksi sesuai Peraturan Menteri 07 Tahun 2019, Workshop Pendalaman Substansi dan Sosialisasi PerMen 08 Tahun 2019, Pelatihan Training of Trainer (ToT) Instruktur Bidang Jasa Konstruksi dan Uji Sertifikasi Keterampilan (SKT) dan ahli muda (SKA) di Universitas Halu Oleo Kendari, Selasa (17/09) di Kendari.
Berdasarkan kajian Direktorat Penelitian dan Pengembangan Komisi Pemberantasan Korupsi sepanjang tahun 2004 – 2017 korupsi pada Pengadaan Barang/Jasa masih menjadi salah satu dari top three/tiga teratas kasus korupsi di Indonesia yaitu sebanyak 171 kasus yang merugikan negara hingga Rp 1,3 Trilyun. Disinyalir penyebabnya karena kurangnya pemahaman tentang regulasi yang berlaku dalam pelaksana pengadaan barang/jasa.
Beberapa solusi telah dilaksanakan Kementerian PUPR, diantaranya seperti membentuk satu unit kerja khusus yang khusus menangani pengadaan barang/jasa, yaitu Balai Pelaksana Pemilihan Jasa Konstruksi (BP2JK) bersama Tim Pokja dibantu, mendorong pelaksana pengadaan untuk memahami kontrak konstruksi yang menjadi acuan saat terjadi permasalahan antara pihak penyedia dan pengguna jasa,  menerbitkan standar dan pedoman pengadaan jasa konstruksi yaitu Peraturan Menteri PUPR No: 07/PRT/M/2019, dan lain sebagainya.
Terkait dengan perizinan, Kementerian PUPR juga  telah menerbitkan Peraturan Menteri PUPR No 8/PRT/M/2019 tentang Pedoman Pelayanan Perizinan Usaha Jasa Konstruksi Nasional. Melalui peraturan ini, pemerintah kabupaten/kota memiliki acuan standar untuk  pelaksanaan perizinan izin usaha Jasa Konstruksi  nasional dan rujukan pengaturan dalam peraturan bupati atau peraturan walikota.
Pada kesempatan yang sama, Balai Jasa Konstruksi Wilayah VI Makassar melaksanakan Training of Trainers (TOT) dan Uji Sertifikasi Keterampilan (SKT) dan Sertifikasi Keahlian (SKA) di bidang jasa konstruksi untuk wilayah Sulawesi Tenggara di Universitas Halu Oleo Kendari. Kegiatan ini dilaksanakan untuk mendukung program pemerintah untuk mendorong Pembangunan Sumber Daya Manusia melalui percepatan sertifikasi tenaga kerja konstruksi.
"Percepatan jumlah tenaga kerja ahli konstruksi harus segera dilakukan. Mahasiswa tingkat akhir akan mengikuti program Link and Match melalui bimbingan/pelatihan. Sehingga setiap mahasiswa tidak hanya mendapatkan Ijazah tetapi juga surat keterangan untuk dapat mengikuti uji kompetensi. Jika lulus uji kompetensi mereka akan mendapatkan Sertifikat Keahlian Muda." Jelas Syarif
Percepatan sertifikasi tenaga kerja konstruksi sangat diperlukan, sebab menurut data Badan Pusat Statistik (BPS) di tahun 2018, dari 8,3 juta total tenaga kerja konstruksi di Indonesia, hanya 700.000 orang yang memiliki sertifikat. Jumlah ini bahkan berkurang menjadi 600.000 orang karena sertifikat sudah berakhir masa berlakunya. Sementara jumlah tenaga ahli yang sebelumnya berjumlah 195.000 sekarang hanya 160.000, mengingat sebelumnya peraturan membolehkan seseorang memiliki 3 sertifikat, namun dengan peraturan baru maksimal satu orang hanya memiliki 2 sertifikat.
"Disinilah saya mendorong partisipasi semua stakeholders konstruksi untuk mendukung upaya Pemerintah mencetak tenaga-tenaga kerja konstruksi bersertifikat. Sebab hanya dengan tenaga kerja konstruksi berkualitas Pembangunan Infrastruktur dapat terlaksana dengan baik", ungkap Syarif (dri/tw)