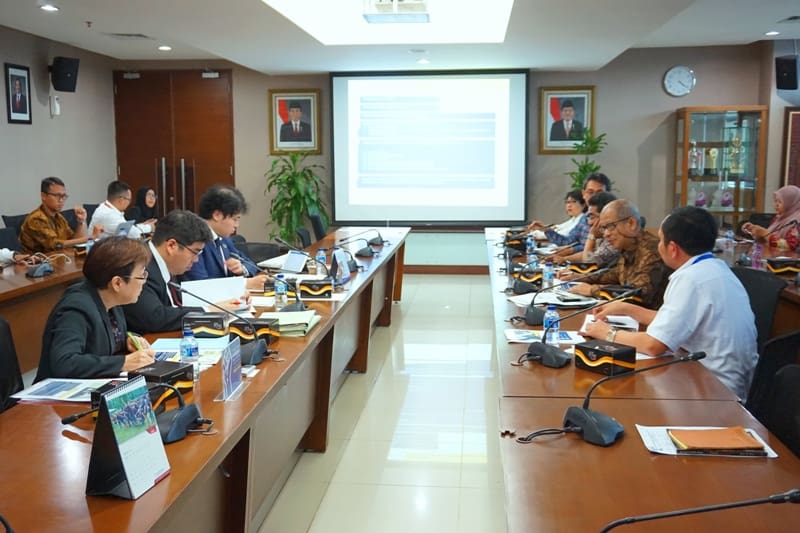 BAGIAN DARI THE FOURTH HIGH LEVEL MEETING ON INFRASTRUCTURE DEVELOPMENT : DJBK DAN MLIT JEPANG BAHAS UUJK NO.2 TAHUN 2017

Direktur Bina Kelembagaan dan Sumber Daya Jasa Konstruksi Kementerian PUPR, Yaya Supriyatna bertemu dengan pihak dari Ministry of Land, Infrastructure, Transport and Tourism (MLIT)  Jepang di Jakarta, Rabu (22/2). Pertemuan yang menjadi bagian dari acara The Fourth High Level Meeting on Infrastructure Development antara Kementerian PUPR dengan MLIT Jepang ini, membahas UU No.2 Tahun 2017 tentang Jasa Konstruksi yang baru disahkan.
Yaya Supriyatna menjelaskan kepada pihak Jepang mengenai alasan penggantian UU Jasa Konstruksi yang sudah berada selama 15 tahun karena Indonesia ingin lebih baik dalam bidang konstruksi. Dengan UU ini, Indonesia diharapkan dapat meningkatkan daya saingnya ditingkat internasional.
 "Indonesia bertekad untuk meningkatkan tata laksana good governance dan transparansi serta menciptakan produk konstruksi yang berkualitas.", ujar Yaya.
 Peran masyarakat jasa konstruksi juga menjadi salah satu faktor yang diharapkan dapat meningkat dengan keberadaan UU ini. Undang-Undang ini juga untuk menghindari adanya tumpang tindih dengan UU lain yang terkait.
 Yaya melanjutkan, dalam menerbitkan UU ini ada studi banding ke Korea, Malaysia, dan Thailand dan membaca keadaan konstruksi negara-negara lain di dunia. 
Sementara itu, pihak Jepang membahas tentang The 10th Indonesia-Japan Conference on Construction yang rencananya akan dilaksanakan pada tahun 2018. Selain itu, pihaknya menjelaskan mengenai pelatihan bidang konstruksi yang diadakannya.
Dalam kesempatan ini Direktur Bina Kelembagaan dan Sumber Daya Jasa Konstruksi  menekankan tentang keberadaan BUJKA di Indonesia. Ia menerangkan mengenai cara membuka badan usaha asing di Indonesia. Selain itu juga menjelaskan adanya kewajiban transfer technology dan transfer knowledge bagi tenaga asing.
Adanya UU Jasa Konstruksi ini salah satunya untuk menghindari praktik badan usaha asing yang tidak berjalan sesuai hukum Indonesia. Diharapkan Indonesia dan Jepang dapat meningkatkan kerja samanya di masa mendatang. (cha/hr/tw)