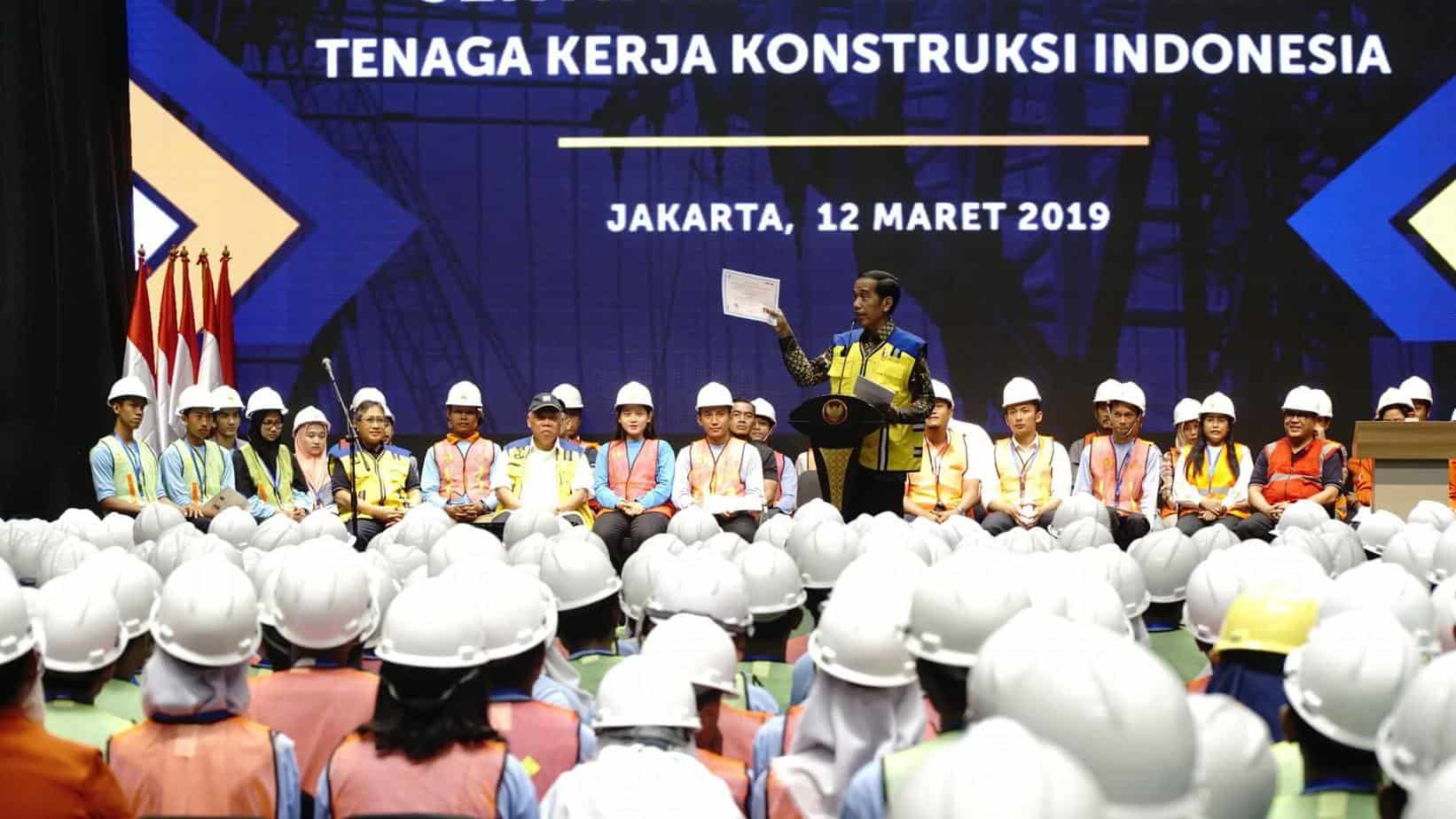 Jakarta – Presiden Republik Indonesia Joko Widodo di dampingi oleh Menteri Pekerjaan Umum dan Perumahan Rakyat Basuki Hadimuljono, menyerahkan sertifikat kompetensi kerja kepada perwakilan dari 16.000 tenaga kerja konstruksi yang terdiri dari 13.900 peserta tenaga kerja terampil dan 2.100 tenaga kerja ahli bidang konstruksi dari wilayah DKI Jakarta, Jawa Barat, dan Banten, pada selasa (12/03) di Istora Senayan Jakarta.
"Pemerintah masih terus mendorong pengembangan sumber daya manusia, tidak terkecuali di sektor konstruksi. Pada sektor konstruksi pengakuan kompetensi kerja dinyatakan melalui sertifikat. Oleh karena itu dengan makin banyaknya tenaga kerja konstruksi yang bersertifikat akan mampu meningkatkan kesejahteraan masyarakat sekaligus menjamin mutu dan kualitas Pembangunan Infrastruktur." Ujar Joko Widodo.
Berdasarkan data Badan Pusat Statistik (BPS,2018) tenaga kerja konstruksi saat ini berjumlah 8,3 juta, sedangkan tenaga kerja bersertifikat hanya 7,4% saja, atau sebesar 616.000 orang dengan rincian : 419.000 orang tenaga kerja terampil dan 197.000 orang tenaga kerja ahli (data LPJKN, Januari 2019). Pada tahun ini, Kementerian PUPR menargetkan 212.000 orang tenaga kerja konstruksi bersertifikat melalui program pelatihan dan sertifikasi reguler, maupun jalur vokasional (sebanyak 16.000 orang) atas anggaran APBN, dan 300.000 tenaga kerja konstruksi bersertifikat melalui LPJK dan sumber dana lainnya. Dengan demikian tahun ini Kementerian PUPR menargetkan 512.000 tenaga kerja konstruksi bersertifikat.
Sejak tahun 2015 sampai dengan 2018, jumlah tenaga kerja yang tersertifikasi adalah sebesar 192 ribu tenaga kerja dengan rata-rata setiap tahun menghasilkan 50 ribu tenaga kerja. Kementerian Pekerjaan Umum dan Perumahan Rakyat melalui Direktorat Jenderal Bina Konstruksi selaku pembina jasa konstruksi Indonesia terus berupaya memenuhi target peningkatan jumlah tenaga kerja konstruksi hingga 10 kali lipat, sebagaimana yang disampaikan Presiden RI saat memberikan Sertifikasi Tenaga Kerja Konstruksi di Ji-Expo Kemayoran, Oktober 2018 lalu. Hal tersebut juga sesuai amanat Undang-Undang Jasa Konstruksi nomor 2 Tahun 2017.
Untuk mengejar target tersebut, Kementerian Pekerjaan Umum dan Perumahan Rakyat telah melakukan berbagai upaya untuk mendorong Pengembangan SDM Konstruksi, diantaranya melakukan kolaborasi dengan Kementerian Pendidikan dan Kebudayaan, Kementerian Ristekdikti, Kementerian Hukum dan HAM, Kementerian Tenaga Kerja, dan Kementerian BUMN untuk melaksanakan revitalisasi pendidikan kejuruan dan vokasi dengan program link and match.
"Saya mengapresiasi kerjasama antara Kementerian PUPR dan beberapa Kementerian lain yang telah mengagas revitalisasi pendidikan kejuruan, vokasi dan pendidikan tinggi melalui program link and match. Kerjasama seperti ini perlu terus dikembangkan untuk menyiapkan generasi muda yang berkualitas, terampil dan berdaya saing." Ungkap Joko Widodo.
Selain itu dalam menghadapi era industri 4.0, Kementerian PUPR terus mengembangkan berbagai inovasi salah satunya sertifikat elektronik. Sertifikat elektronik diharapkan mampu memudahkan akses informasi sumber daya konstruksi, serta meningkatkan kualitas dan akurasi sistem perencanaan pembangunan proyek infrastruktur.
Sebelum dilakukan penyerahan sertifikat ini, dari periode bulan Oktober 2018 sampai dengan Maret 2019, Kementerian PUPR sudah melakukan sertifikasi terhadap 127.846 tenaga kerja konstruksi, yang terdiri dari 84.774 orang tenaga terampil dan 43.072 orang tenaga ahli serta dilakukan sertifikasi terhadap warga binaan yang memenuhi syarat dan sampai saat ini sudah berjumlah 3.267 orang di 53 Lembaga Pemasyarakatan. (*)