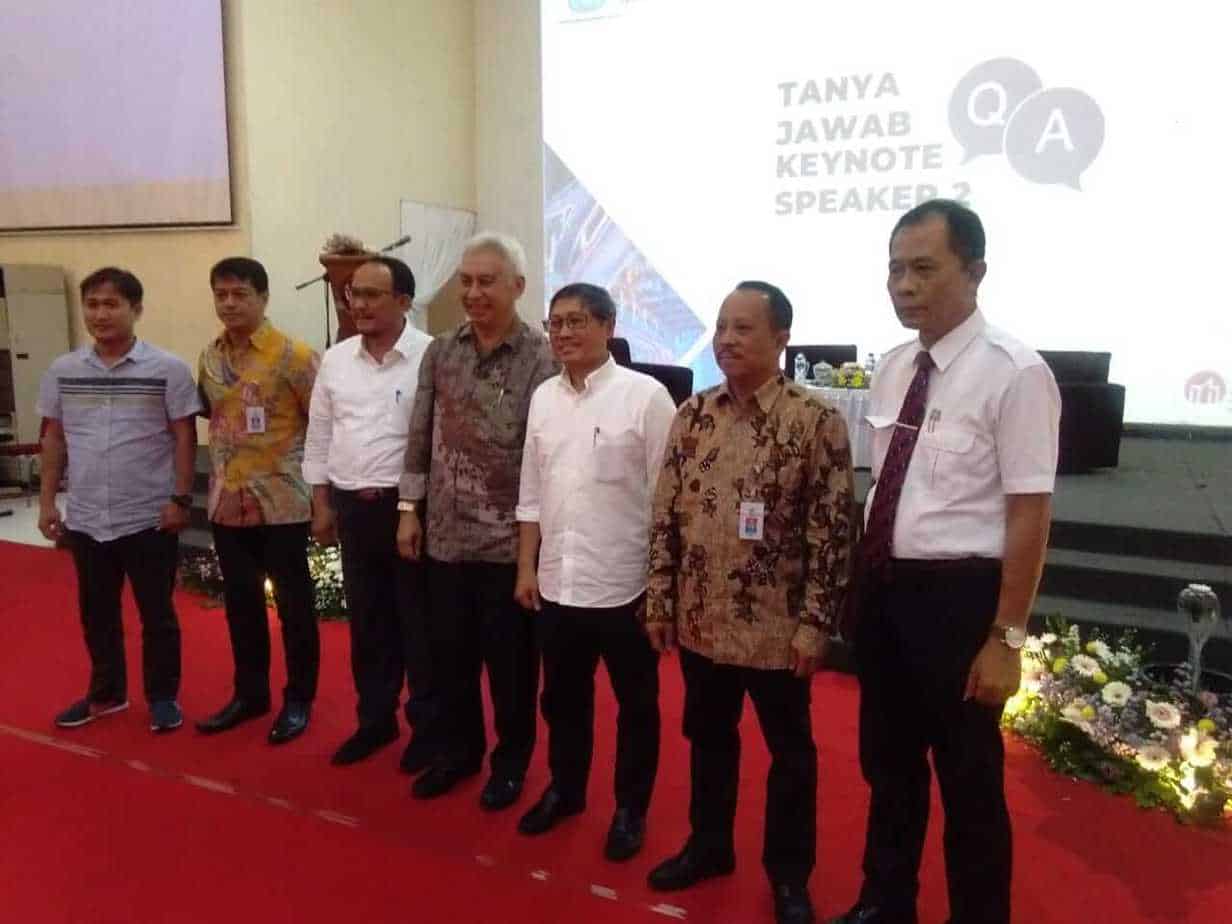 Malang – Dirjen Bina Konstruksi Kementerian PUPR Syarif Burhanuddin mewakili Menteri PUPR, memberikan materi pada Seminar  Nasional Fakultas Teknik Sipil dan Perencanaan (Semsina 2) Institut Teknologi Nasional Malang dengan mengangkat tema 'Infrastruktur Berkelanjutan Era Revolusi Industri 4.0' , Kamis (31/10) di Malang.
Pada kesempatan tersebut diingatkan kembali oleh Dirjen Bina Konstruksi, bahwa sesuai arahan Presiden RI fokus utama pemerintah adalah pembangunan sumber daya manusia, yaitu dengan menciptakan generasi pekerja keras yang dinamis serta menguasai ilmu pengetahuan dan teknologi. " Meski demikian kita masih menghadapi tantangan yaitu kurangnya SDM konstruksi bersertifikat sesuai UU Jasa Konstruksi nomor 2 tahun 2017, untuk itu percepatan sertifikasi tenaga kerja konstruksi harus didukung oleh semua stakeholders konstruksi, termasuk Perguruan Tinggi", ujar Syarif.
Sebagai gambaran, SDM konstruksi yang bersertifikat saat ini baru berjumlah 692.303 orang atau baru sekitar 8,3 % dari total seluruh tenaga kerja konstruksi. Dan lebih jauh lagi, 34 % lulusan teknik berasal dari bidang komputer-teknik informatika, sedangkan lulusan teknik sipil yang merupakan tenaga utama pembangunan Infrastruktur hanya 10 % dari seluruh lulusan teknik. Disamping itu, kenyataan bahwa pasar kerja membutuhkan kombinasi skill yang berbeda dengan yang diperoleh dari sistem pendidikan, memerlukan terobosan baru.
Untuk itu, terobosan atau inovasi-inovasi baru di bidang pendidikan perlu diterapkan, terutama di era industry 4.0 dimana teknologi informasi telah menguasai seluruh bidang sekaligus mengadopsi prinsip berkelanjutan. Prinsip pembangunan berkelanjutan, sebagaimana tertuang dalam Permen PUPR nomor 5 Tahun 2015 yaitu : efisiensi penggunaan biaya dan perbaikan perekonomian masyarakat setempat, perbaikan terhadap kehidupan masyarakat lokal dan sebagai pemersatu rakyat, serta ramah lingkungan dan dapat memperbaiki kualitas lingkungan hidup.
Beberapa contoh pembangunan infrastruktur berkelanjutan (green infrastructure) antara lain : green water seperti bendungan, tanggul laut ; green energi seperti teknologi pompa hidran, teknologi panel surya ; green building seperti gedung PUPR dan RISHA ; green waste seperti aspal plastik dan aspal karet ; green community seperti TPS 3R dan Kotaku ; dan lain-lain.
Dalam bidang teknologi informasi, salah satu terobosan yang mampu mendukung Pembangunan Infrastruktur yaitu Building Information Modelling (BIM). BIM adalah representasi digital dari karakter fisik dan karakter fungsional suatu bangunan. "Karenanya dengan menerapkan BIM akan mempercepat dan mengurangi resiko kesalahan pada penyelenggaraan konstruksi", ungkap Dirjen Bina Konstruksi.
BIM  memiliki manfaat antara lain : meningkatkan efisiensi dan akurasi, proses desain dan konstruksi lebih ramping dan transparan, akurat dalam perhitungan, menghindari kesalahan sejak perencanaan hingga pelaksanaan, dan waktu pelaksanaan lebih cepat. Pemerintah mendorong stakeholders konstruksi untuk secara bertahap mengadopsi BIM, menyusun standar BIM Nasional (SNI), serta menyusun standar kurikulum dan kompetensi BIM untuk Universitas dan Profesi. Di Kementerian PUPR sendiri implementasi BIM telah diwujudkan melalui beberapa aksi nyata, seperti: penetapan Tim BIM PUPR melalui SK Kepala Balitbang nomor 32 Tahun 2017 ; melalui Balai Penerapan Teknologi Konstruksi Ditjen Bina Konstruksi telah dilakukan Training of Trainer (TOT) di beberapa kota ; serta dikeluarkannya Peraturan Menteri PUPR nomor 22 tahun 2018 Penggunaan BIM wajib diterapkan pada Bangunan Gedung Negara tidak sederhana dengan kriteria luas diatas 2000 M2 dan diatas 2 (dua) lantai.
Direktorat Jenderal Bina Konstruksi sendiri melakukan upaya peningkatan kualitas SDM Konstruksi dengan cara : mengembangkan kompetensi keahlian/spesialis, mendorong link and match jasa konstruksi dengan dunia pendidikan terutama dalam hal modernisasi kurikulum dan silabus perguruan tinggi sesuai kebutuhan industri konstruksi 4.0, dan seterusnya.
Peserta seminar berjumlah kurang lebih 90 orang yang berasal dari beberapa Perguruan Tinggi di Indonesia, instansi pemerintah dan asosiasi di Provinsi Jawa Timur. Turut hadir pada acara ini,  Rektor ITN Malang Kustamar,  Guru Besar Bidang Sumber Daya Air Universitas Brawijaya Muhammad Bisri,  dan Ketua LPJK Provinsi Jawa Timur Gentur Prihantono Sandjoyo Putro. (tw)