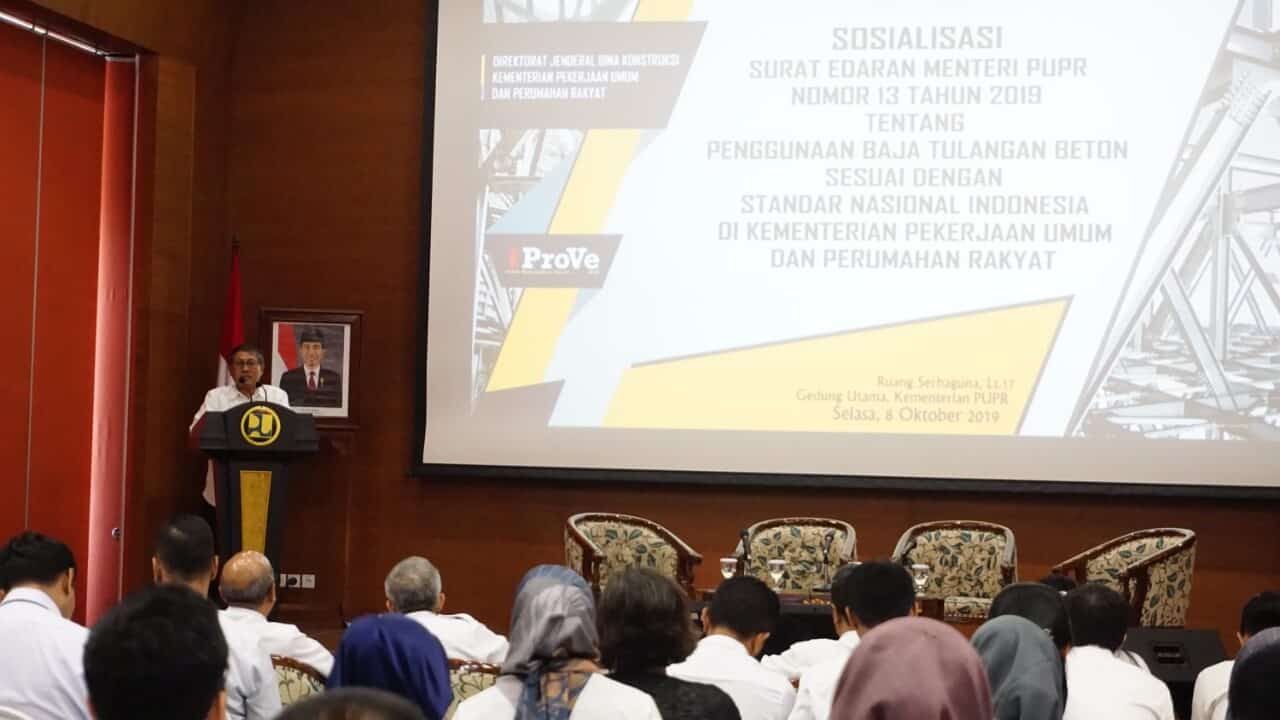 Jakarta – Peningkatan kualitas baja tulangan beton di Indonesia tentunya dapat menjadi salah satu upaya dalam menghindari kegagalan bangunan akibat baja tulangan yang tidak sesuai dengan standar yang berlaku, mengingat kebebasan dalam ekspor dan impor tidak bisa dihindari lagi. Salah satu perlindungan yang dilakukan hanya melalui SNI, yaitu bagaimana membuat standar yang harus digunakan, ungkap Syarif saat membuka acara "Sosialisasi Surat Edaran Menteri PUPR No. 13 tahun 2019 tentang Penggunaan Baja Tulangan Beton Sesuai dengan Standar Nasional Indonesia di Kementerian Pekerjaan Umum Dan Perumahan Rakyat", di Ruang Serbaguna Kementerian PUPR, Selasa (8/10).
Sehubungan dengan hal tersebut, para asosiasi industri besi dan baja di kawasan Asia Tenggara menyampaikan keprihatinannya (Voice of Concern) atas perkembangan industri besi dan baja di ASEAN, dimana maraknya pabrik Induction Furnace yang merupakan relokasi dari fasilitas di China ke wilayah ASEAN. Menurut mereka, fasilitas-fasilitas ini menghasilkan produk baja karbon dengan kualitas dibawah standar karena pada dasarnya Induction Furnace memiliki kemampuan yang terbatas dalam melakukan proses permurnian (refiniing).
Produk Baja yang dihasilkan melalui proses Induction Furnace sudah ditemukan dalam beberapa proyek konstruksi, hal ini ditandai dengan adanya beberapa proyek konstruksi yang mengalami gagal konstruksi. Selain itu, perbedaan antara besi baja yang diproduksi melalui metode Induction Furnace dan dengan metode lainnya tidak dapat dibedakan secara visual, akibatnya baja yang diproduksi melalui metode Induction Furnace tidak memiliki kekuatan yang cukup atau lemah dalam umur pakai dan durabilitas sehingga berbahaya jika diaplikasikan ke proyek konstruksi, khususnya pada tulangan beton.
Sehingga hari ini menjadi penting untuk kita mengetahui Surat Edaran Menteri PUPR No. 13 tahun 2019 ini, dan sosialisasi  ini tidak cukup hanya ditujukan kepada pengguna jasa saja tetapi juga penyedia jasa agar ada link and match dalam pelaksanaan peraturan ini, yang kemudian harus ada komitmen antara keduanya, dan jika terjadi pelanggaran maka bangunan tersebut harus dibongkar, tegas Syarif.
Dikatakan Syarif, kewajiban penggunaan baja tulangan beton berstandar SNI untuk pekerjaan konstruksi harus didukung oleh semua pemangku kepentingan. "Yang pertama semua pengguna jasa harus mengetahui ada aturan seperti ini. Kemudian kedua adalah penyedia jasa seperti konsultan dan kontraktor harus juga mengetahui aturan ini. Dan yang ketiga produsen dan penjualnya juga harus tahu, jangan hanya menjual tanpa mengetahui dampak kepada masyarakat pengguna," ujarnya.
Pengawasan peredaran baja yang harus ber-SNI juga sepatutnya dapat dilakukan dari hulu ke hilir dengan melibatkan Kementerian/Lembaga lainnya seperti Kementerian Perindustrian dan Pemerintah Daerah yang dapat melakukan pengawasan industri baja di tingkat pusat dan daerah.
Mengingat Indonesia merupakan bagian dari ring fire yang setiap saat terjadi bencana baik karena gempa maupun tsunami, tentunya itu membutuhkan standar bangunan yang bisa diyakinkan keamanannya. Hal ini kadang dianggap remeh, bukan hanya bangunan pemerintah saja yang harus dijaga, tetapi dari sisi masyarakat pun harus mengetahui informasi seperti ini, sehingga perlunya sosialisasi kepada masyarakat tentang bagaimana mengetahui tulangan baja yang sesuai standar. Tidak cukup dengan mengatakan hanya SNI saja tetapi juga harus memberikan informai terkait SNI tersebut, lanjut Syarif.
Berdasarkan data yang diterimanya, Syarif mengatakan tidak kurang dari 5,9 juta ton baja impor masuk ke dalam negeri setiap tahunnya. Meskipun begitu, dirinya memastikan pemerintah tak akan membatasi impor baja tulangan dari luar negeri. Hanya saja menurutnya perlu diwajibkan bahwa baja yang diimpor harus ber-SNI untuk menjaga kualitasnya.  "Persaingan global, kita perlukan sehingga harga pasaran kompetitif," katanya.
Diungkapkan Syarif produksi baja dalam negeri berkisar antara 15-16 juta ton per tahun. Dengan demikian, peredaran baja secara nasional mencapai 21,9 juta ton per tahun. Padahal menurutnya konsumsi baja nasional hanya sekitar 13,59 juta ton per tahun. "Artinya, terjadi surplus peredaran baja karena supply masih lebih besar dari demand. Akibatnya pengguna cenderung mencari yang kualitasnya lebih rendah dengan harga lebih murah," tuturnya.
Produk hukum yang diterbitkan terutama dari Kementerian PUPR harus diketahui dan dilaksanakan, jangan sampai aturan yang kita buat justru menohok diri kita sendiri, dimana tidak kita laksanakan dengan baik. Sehingga dari acara ini kita dapat mengetahui yang mana yang dimaksud dengan SNI berdasarkan SE tentang tulangan baja ini. Tugas kita hari ini bukan hanya mendengar tetapi juga melanjutkan informasi yang didapatkan, yang kemudian menjadi terompet pemerintah dalam menyebarluaskan informasi ini, tutup Syarif. *