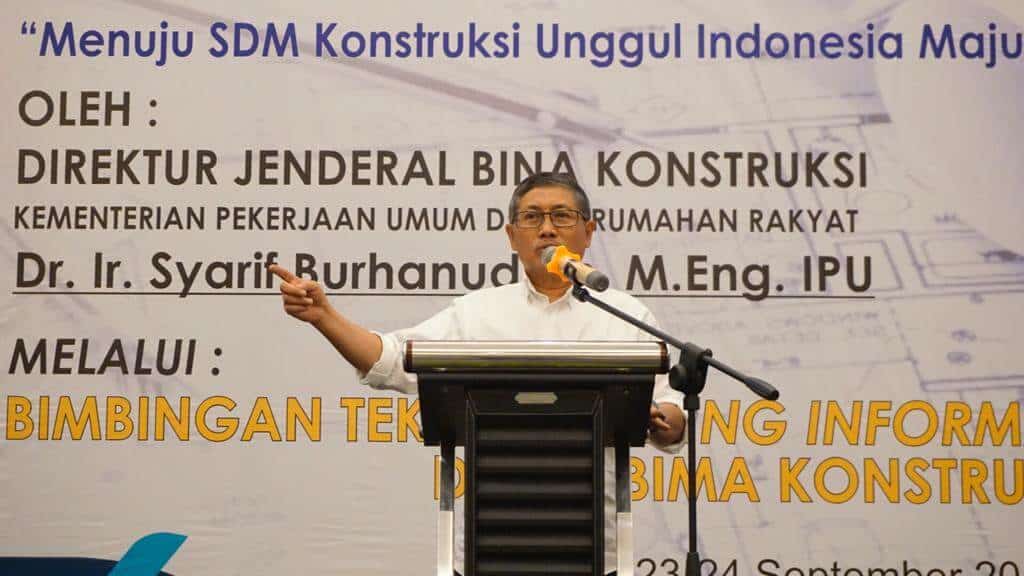 Ambon – Sumber daya manusia menjadi perhatian utama Pemerintah. Hal ini ditunjukkan dengan arahan Presiden RI, dimana dalam visi-misi 2019-2024 Pembangunan SDM dilaksanakan bersamaan dengan Pembangunan Infrastruktur, serta membuka seluas-luasnya investasi. Namun yang masih menjadi masalah saat ini, tenaga kerja konstruksi khususnya yang bersertifikat masih kurang. Menurut data LPJK per 15 Agustus 2019, jumlah Tenaga Kerja Konstruksi (TKK) yang bersertifikat baru mencapai 7,25% dari total jumlah TKK yang ada.
"Hal tersebut juga makin dipersulit dengan banyaknya lulusan teknik yang tidak bekerja dibidangnya, dikarenakan ketidakserasian antara kurikulum dan kebutuhan dilapangan. Harus dicari solusi untuk mengatasi hal ini", demikian disampaikan Dirjen Bina Konstruksi Kementerian PUPR Syarif Burhanuddin saat membuka kegiatan Kuliah Umum yang bertema 'Penerapan Building Information Modelling (BIM) di Era Industri 4.0', di Ambon Senin (23/9).
Untuk itu Pemerintah melakukan berbagai langkah nyata  antara lain : melakukan link and match antara pendidikan (vokasi dan PT) dan jasa konstruksi melalui pelatihan/bimbingan teknis tenaga ahli konvensional, SIBIMA Konstruksi untuk tenaga ahli, link and match pendidikan kejuruan (SMK) dan jasa konstruksi melalui pelatihan/bimbingan teknis tenaga terampil konvensional, MTU, dan ajar mitra konstruksi.
"Program link and match ini dimulai sejak mahasiswa tersebut belum lulus yang kita kenal dengan kegiatan magang, atau juga bisa dilakukan setelah lulus agar ilmu yang sudah didapatkan oleh seorang sarjana teknik dapat teraplikasi di lapangan. Hal tersebut juga dikuatkan dengan adanya aturan bahwa, proyek dengan dana diatas Rp 50M wajib menganggarkan dananya untuk kegiatan magang", lanjut Syarif.
Diharapkan dengan adanya upaya-upaya tersebut, lulusan teknik sudah mempunyai pandangan kedepan terkait kompetensi yang harus dimiliki, karena kedepan yang dibutuhkan bukan hanya ijazah, melainkan kompetensi yang sesuai dengan kebutuhan dilapangan.
Selain dari segi pelaksana, dunia jasa konstruksi juga membutuhkan tenaga yang ahli bidang pengadaan jasa konstruksi. Hal ini terlihat dengan dibentuknya Balai Pemilihan Pengadaan Jasa Konstruksi (P2JK) yang dibentuk secara independen oleh Menteri PUPR. Melalui balai ini diharapkan proses pengadaan khususnya di Kementerian PUPR dapat terlaksana dengan transparan dan akuntabel, sehingga pelaksanaan pengadaan ini dapat dipercaya dalam kegiatan pelaksanaan pekerjaannya.
Pengawasan ini sangat diperlukan, mengingat Balai P2JK menjadi wajah Kementerian PUPR. "Diharapkan jangan ada lagi intervensi oleh siapapun, agar balai ini dapat bekerja maksimal dan menghasilkan pekerjaan yang independent sesuai aturan yang berlaku", tutur Syarif, pada hari yang sama saat menjadi narasumber dalam Rapat Koordinasi Koordinasi Penyelenggaraan Tim Pengawal dan Pengaman Pemerintahan dan Pembangunan (TP4) Bidang Infrastruktur PUPR di Ambon.
Untuk mewujudkan hal tersebut, saat ini terdapat aplikasi dengan sistem perencanaan yang terintegrasi untuk berkolaborasi antara proses perencanaan, perancangan, fabrikasi hingga pembangunan dan pemeliharaan, yang dikenal dengan Building Information Modelling (BIM). Diharapkan BIM dapat menjadi solusi dari pekerjaan yang kompleks di masa mendatang. BIM merupakan representasi digital dari karakter fisik dan karakter fungsional suatu bangunan yang mengandung informasi mengenai elemen-elemen bangunan yang digunakan sebagai basis pengambilan keputusan dalam kurun waktu siklus umur bangunan, sejak konsep hingga demosili. (cla/tw)