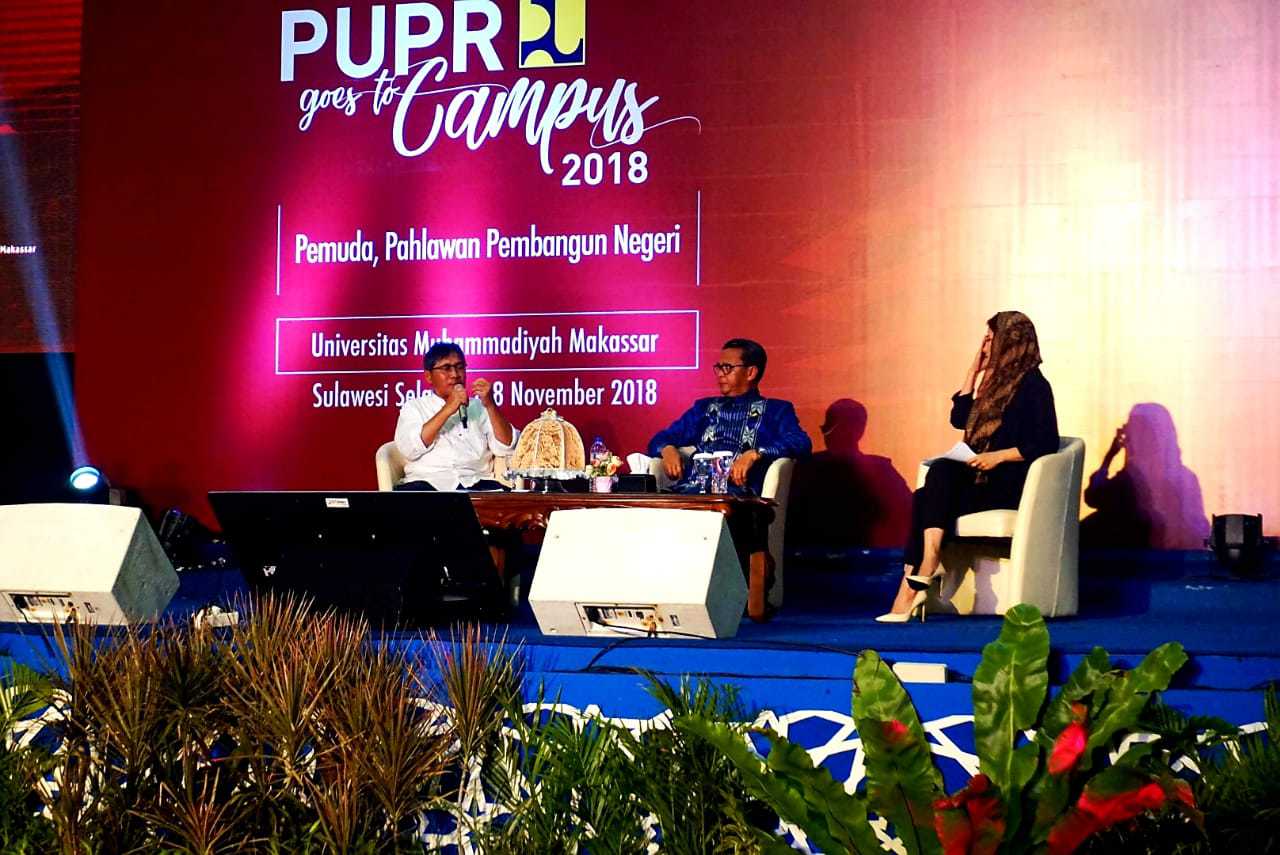 MAKASSAR – Menteri Pekerjaan Umum dan Perumahan Rakyat (PUPR) yang diwakili oleh Direktur Jenderal Bina Konstruksi, Syarif Burhanuddin memberikan Keynote Speech dalam kegiatan PUPR Goes To Campus dengan Tema "Peran Pemuda Dalam Membangun Infrastruktur di Indonesia yang diselenggarakan di Universitas Muhammadiyah Makassar. Kamis, (8/11) di Makassar, Sulawesi Selatan.
Dihadapan ribuan mahasiswa Universitas Muhammadiyah Makassar Syarif mengungkapkan Pemerintah bekerja untuk menghadirkan pemerataan ekonomi yang berkeadilan bagi seluruh rakyat Indonesia. Dalam membangun infrastruktur, Kementerian PUPR menghadapi tantangan diantaranya disparitas antar wilayah dan kawasan masih tinggi (KBI dan KTI), adanya daya saing nasional yang masih belum kuat karena keterbatasan dukungan infrastruktur (termasuk konektivitas), pemanfaatan sumber daya yang belum optimal dalam mendukung kedaulatan pangan dan energi, serta urbanisasi yang tinggi (53% penduduk tinggal di kawasan perkotaan). 
"Oleh karenanya dibutuhkan peran pemuda milenial sebagai agen perubahan ke arah lebih baik, membangun karakter positif (disiplin, etos kerja tinggi, berdaya saing), meningkatkan daya pikir kreatif dalam mengembangkan infrastruktur," ujar Syarif. 
Dari data yang diperoleh tercatat dalam periode 2015-2018 pembangunan proyek jalan telah mencapai 3.432 km, yang mana telah melampaui target pembangunan 2015-2019. Untuk pembangunan jembatan di periode 2015-2018 telah mencapai 39.798 m, sementara jalan tol pada tahun 2015-2018 diperkirakan mencapai 947 km. Hingga bulan Juli 2018 jalan tol yang telah beroperasi sepanjang 110 km. Dalam hal peningkatan ketahanan air dan pangan, pemerintah membangun 17 bendungan pada periode 2015-2018. Sebanyak 40 bendungan lainnya masih dalam tahap pembangunan di tahun ini. Sementara itu, dalam penyediaan hunian layak telah dibangun sebanyak 31.488 unit rumah susun, 17.808 unit rumah khusus, 292.865 unit rumah swadaya. Secara keseluruhan pada periode 2015-2018 telah terbangun 3.287.005 unit rumah. Dengan banyaknya proyek pembangunan yang dilaksanakan oleh Kementerian PUPR membuat program link and match guna mendapatkan tenaga kerja konstrusksi yang berkompeten dan bersertifikat.Selanjutnya Syarif mengatakan pada tahun ini ditargetkan oleh Pemerintah dalam hal ini Kementerian Pekerjaan Umum dan Perumahan Rakyat melalui Direktorat Jenderal Bina Konstruksi untuk mencetak tenaga kerja konstruksi berkualitas sebanyak 26 ribu tenaga konstruksi berkompeten, berasal dari SMK 18 ribu orang dan perguruan tinggi serta politeknik sebanyak 8.000 orang.
Upaya sertifikasi tenaga kerja konstruksi merupakan jawaban untuk menciptakan tenaga kerja konstruksi yang andal dan berkualitas di Indonesia. Hal ini sejalan dengan Undang-Undang Nomor 2 tahun 2017 tentang Jasa Konstruksi. Hal ini sebagaimana disampaikan Presiden RI Joko Widodo beberapa waktu lalu saat membuka sertifikasi tenaga kerja konstruksi secara serentak, agar selalu menjaga mutu pekerjaan. Penjaminan mutu tenaga kerja konstruksi dilakukan dengan terus menerus melakukan pelatihan-pelatihan untuk mengadaptasi perkembangan teknologi terbaru, karena setiap saat teknologi berubah, mengingat kemajuan teknologi sangat cepat berubahnya termasuk konstruksi.
Untuk itu dalam melakukan percepatan sertifikasi SDM konstruksi upaya terobosan juga telah dijalankan Kementerian PUPR yang bekerjasama dengan lembaga pendidikan dan perguruan tinggi melalui program link and match. Melalui program ini para mahasiswa/i akan mendapatkan materi melalui kurikulum yang diperoleh.
"Saya harapkan mahasiwa/i untuk dapat mengembangkan inovasi-inovasinya tentunya yang juga harus sejalan dengan materinya, sehingga nantinya akan menjadi insinyur yang handal dan berkualitas" pungkas Syarif
Sementara turut hadir menjadi Narasumber pada acara tersebut Gubenur Sulawesi Selatan, Nurdin Abdullah menegaskan Sulsel punya peluang besar untuk membangun di segala aspek. Masih adanya kelemahan SDM, menurutnya, kampus harus turut bersama masyarakat dan pemerintah untuk terus bersinergi.
"Saya berterima kasih Pemerintah yang terus mendorong infrastruktur di wilayah timur Indonesia, khususnya wilayah Sulawesi Selatan yang telah banyak dibangunnya infrastruktur jalan dan bendungan yang memang sangat dibutuhkan" ujarnya.
Kementerian Pekerjaan Umum dan Perumahan Rakyat berharap besar perguruan tinggi harus mengikuti perkembangan IPTEK dan inovasi agar sesuai dengan kebutuhan dan roadmap industri 4.0 yang telah dicanangkan oleh Pemerintah. Sisi lain yang lebih penting juga Perguruan tinggi wajib mencetak insinyur yang berkompeten dan berdaya saing sehingga kemandirian dan daya saing global berbasis IPTEK dan keinsinyuran akan meningkat.
"Lulusan Para insinyur muda harus memiliki kemampuan utama dan tambahan yang mampu menjawab tantangan Revolusi Industri 4.0, disamping itu para insinyur muda harus mampu berinovasi, beradaptasi dan kreatif" tutup Syarif.
Di penghujung acara dilakukan Serah Terima Pinjam Pakai Mobile Trainning Unit Kementerian PUPR (MTU) kepada Pemerintah Provinsi Sulawesi Selatan, hal ini sebagai bentuk upaya mendukung program percepatan sertifikasi tenaga kerja konstruksi diluar pulau jawa khususnya yang berada di wilayah timur Indonesia. Penyerahan ini dilakukan oleh Dirjen Bina Konstruksi Kementerian PUPR Syarif Burhanuddin dan diterima langsung oleh Gubenur Sulawesi Selatan, Nurdin Abudullah.