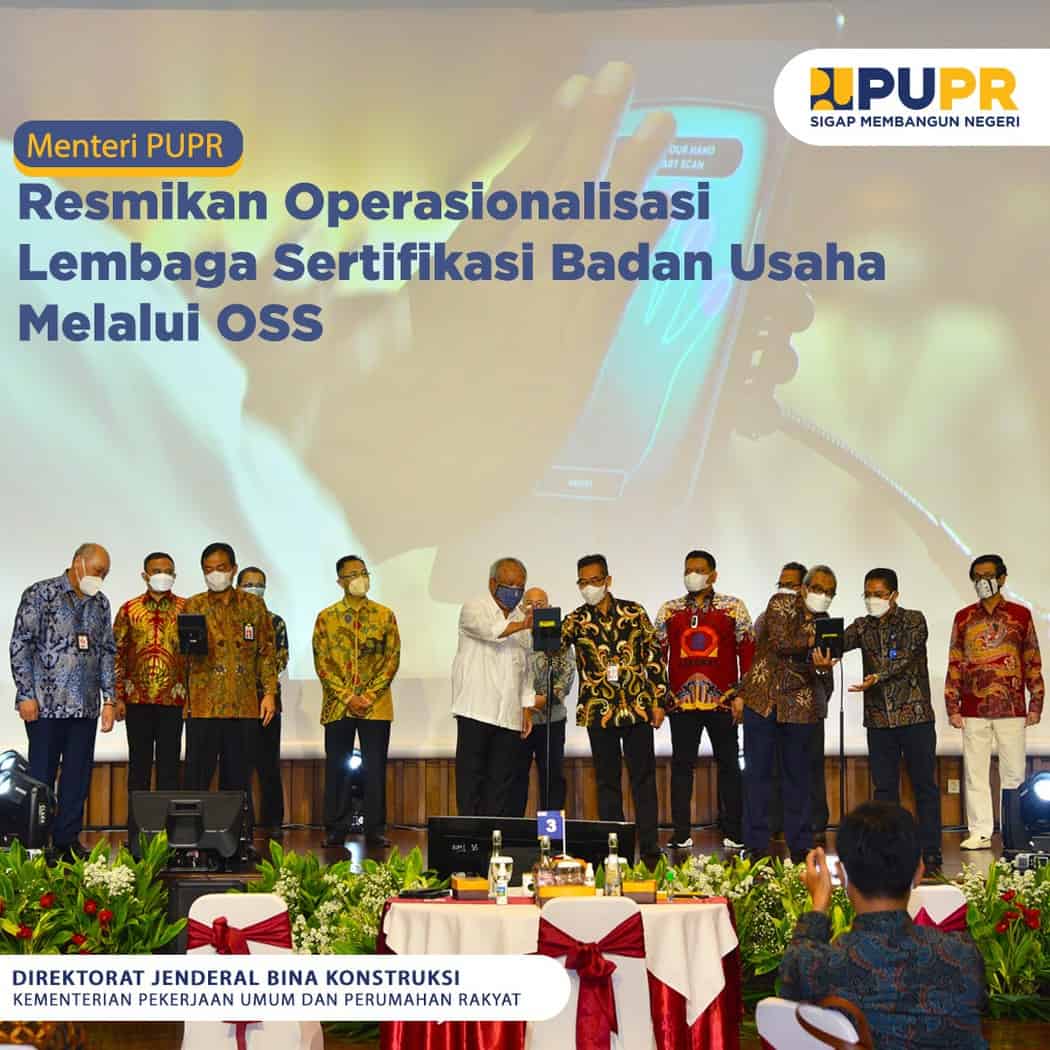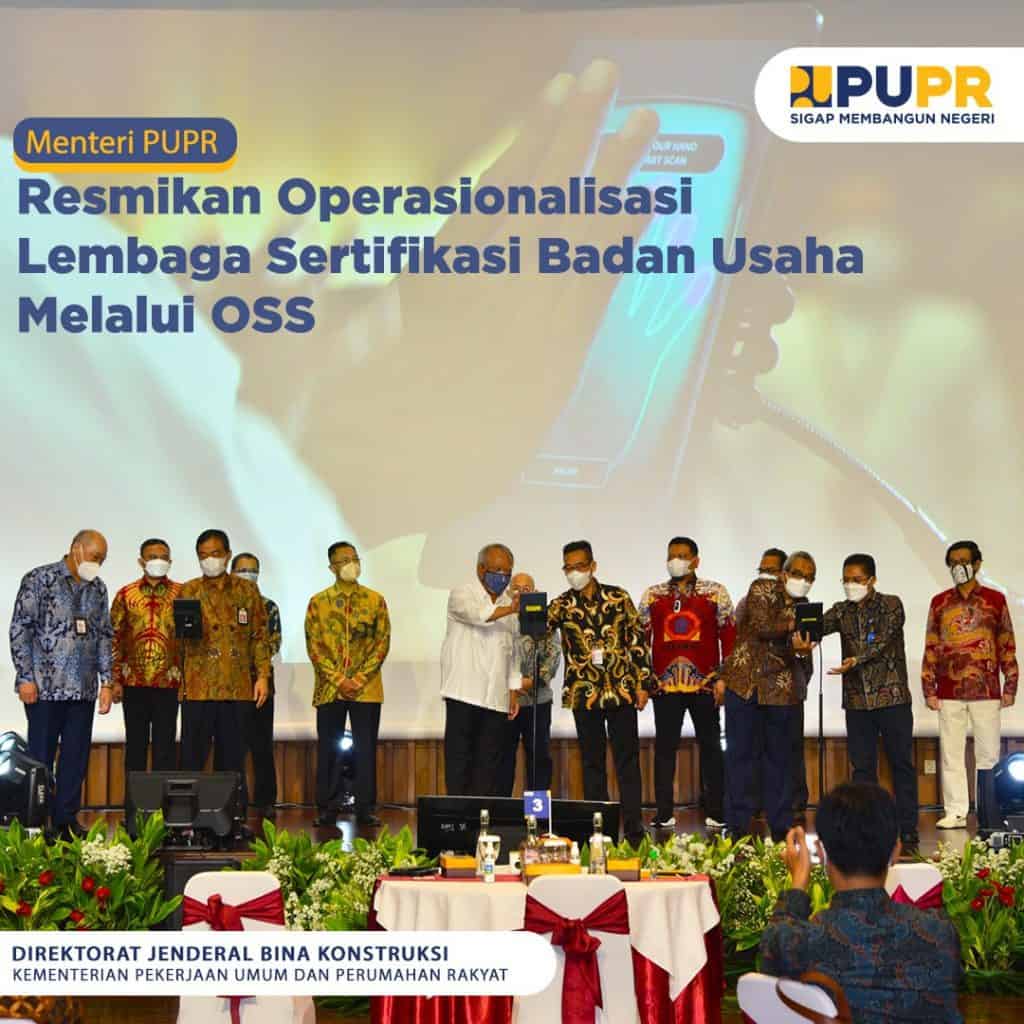 Jakarta – Menteri Pekerjaan Umum dan Perumahan Rakyat (PUPR) Basuki Hadimuljono meresmikan Operasionalisasi Lembaga Sertifikasi Badan Usaha (LSBU) melalui Online Single Submission (OSS) di Jakarta, Selasa (5/10/2021). Operasionalisasi ini merupakan amanat UU Nomor 11 Tahun 2020 tentang Cipta Kerja beserta Peraturan Pemerintah (PP) turunannya yaitu PP 5 Tahun 2021 tentang Penyelenggaraan Perizinan Berusaha Berbasis Risiko, yang mendorong Pemerintah Pusat untuk menciptakan sistem perizinan terpadu.
Menteri Basuki mengatakan, dengan beroperasinya LSBU melalui sistem OSS akan mempercepat proses pelayanan perizinan, serta lebih efisien sebab mengurangi tatap muka. Sistem OSS ini memberikan kemudahan karena layanan semakin fleksibel, dapat dilakukan di mana saja, kapan saja, dengan jaminan kualitas yang didasarkan pada sistem terintegrasi dan terstandar.
"Dengan demikian, proses digitalisasi ini akan meminimalisir upaya penyelewengan yang mengarah kepada tindak korupsi. Untuk itu jangan hanya mendigitalisasi proses dari yang manual, tetapi juga harus mengubah perilakunya," tegas Menteri Basuki.
Menteri Basuki menekankan, meskipun dengan meningkatnya kecepatan proses sertifikasi dan perizinan usaha jasa konstruksi, agar tetap dijaga kualitas dari hasil jasa konstruksi. "Jangan sampai hanya memperhatikan kecepatan tapi lupa melihat kualitas hasil pekerjaannya. Kualitas ini akan terlihat di lapangan dan terasa dampaknya. Saya ingin dua hal ini dapat tetap berjalan beriringan, kecepatan berimbang dengan kualitas pekerjaan," pesannya.
Ditambahkan Menteri Basuki, bahwa digitalisasi sertifikasi badan usaha akan meningkatkan indeks Ease of Doing Business yang diterbitkan oleh The World Bank, dimana pada tahun 2020 Indonesia menduduki peringkat 73 dunia. Peringkat tersebut melonjak cukup signifikan dibandingkan dengan tahun-tahun sebelumnya yaitu pada peringkat 109 di tahun 2016 dan 91 pada tahun 2017.
Menteri Basuki menyampaikan apresiasi kepada seluruh pihak terkait yang telah mewujudkan operasionalisasi LSBU melalui sistem OSS, mengingat proses perizinan berusaha melalui OSS merupakan salah satu agenda utama reformasi struktural pemerintah untuk mendorong iklim usaha yang semakin kondusif termasuk usaha jasa konstruksi.
"Saya ucapkan terima kasih dan apresiasi kepada Komisi Pemberantasan Korupsi (KPK) dan Badan Nasional Sertifikasi Profesi (BNSP) yang selalu membimbing kami dalam proses digitalisasi, juga kepada para pengurus Lembaga Pengembangan Jasa Konstruksi (LPJK) dan seluruh asosiasi yang terlibat dalam jasa konstruksi," tuturnya.
Direktur Jenderal Bina Konstruksi Kementerian PUPR Yudha Mediawan mengatakan, saat ini OSS telah terintegrasi dengan portal perizinan Kementerian PUPR melalui http://perizinan.pu.go.id/, dimana portal tersebut telah terintegrasi dengan Sistem Informasi Jasa Konstruksi (SIJK) Terintegrasi. "Dengan demikian proses perizinan berusaha yang dilakukan oleh Lembaga Sertifikasi Badan Usaha (LSBU) yang terdiri dari Nomor Induk Berusaha (NIB) dan sertifikat standar (lisensi) telah siap dilaksanakan melalui Sistem OSS," ujarnya.
Dikatakan Yudha, untuk jasa konstruksi, sebagaimana diatur dalam PP 14 Tahun 2021 diamanatkan 4 (empat) standar perizinan berusaha yang prosesnya dilaksanakan melalui OSS, yaitu: lisensi Lembaga Sertifikasi Badan Usaha (LSBU), lisensi Lembaga Sertifikasi Profesi (LSP), Sertifikat Badan Usaha (SBU) dan Sertifikat Kompetensi Kerja (SKK) subsektor Jasa Konstruksi. "melalui sistem OSS, proses penerbitan NIB akan semakin cepat dengan durasi maksimal 7 (tujuh) menit dari awal mula proses pendaftaran dengan catatan seluruh data pendaftaran lengkap. Sedangkan untuk proses lisensi LSBU dilakukan sebagaimana diatur dalam PP 5 tahun 2021 maksimal selama 30 (tiga puluh) hari kerja. Setelah ternotifikasinya lisensi LSBU dari LPJK kepada sistem OSS, akan dilanjutkan dengan verifikasi dan persetujuan Sertifikat Standar oleh Kementerian PUPR melalui sistem OSS (Hak Akses)." ujarnya.
Ketua Lembaga Pengembangan Jasa Konstruksi (LPJK) Taufik Widjoyono menyampaikan, hingga 30 September 2021 terdapat 7 (tujuh) lisensi LSBU yang telah diterbitkan. LSBU tersebut saat ini telah siap untuk beroperasi, didukung dengan 253 (dua ratus lima puluh tiga) personil asesor badan usaha yang telah melaksanakan Recognition Current Competency (RCC). 7 (tujuh) lisensi LSBU tersebut yaitu : Lembaga Sertifikasi INKINDO, LSBU Gamana Krida Bhakti, PT Andalan Sertifikasi Kontraktor Nasional, PT Sertifikasi Badan Usaha Gabungan Perusahaan Konstruksi Nasional Indonesia, LSBU ASPEKNAS Konstruksi Mandiri, PT Bina Mitra Rancang Bangun, dan PT Sertifikasi Kontraktor Indonesia. "LSBU yang sedang berproses untuk mendapatkan lisensi sebanyak 1 (satu) LSBU, dan yang telah mengajukan permohonan akun pada aplikasi lisensi sebanyak 2 (dua) LSBU," tambahnya. Hadir dalam acara tersebut para Pimpinan Tinggi Madya dan Pratama Kementerian PUPR, Ketua BNSP Kunjung Masehat; Deputi Bidang Pelayanan Penanaman Modal Kementerian Investasi/BKPM Achmad Idrus, Staf Ahli Menteri Bidang Pengembangan Produktivitas dan Daya Saing Ekonomi Kementerian Koordinator Bidang Perekonomian Lestari Indah, Koordinator Harian Strategi Nasional Pencegahan Korupsi KPK Herda Helmijaya, serta para Pengurus dan Dewan Pengawas LPJK.(*)