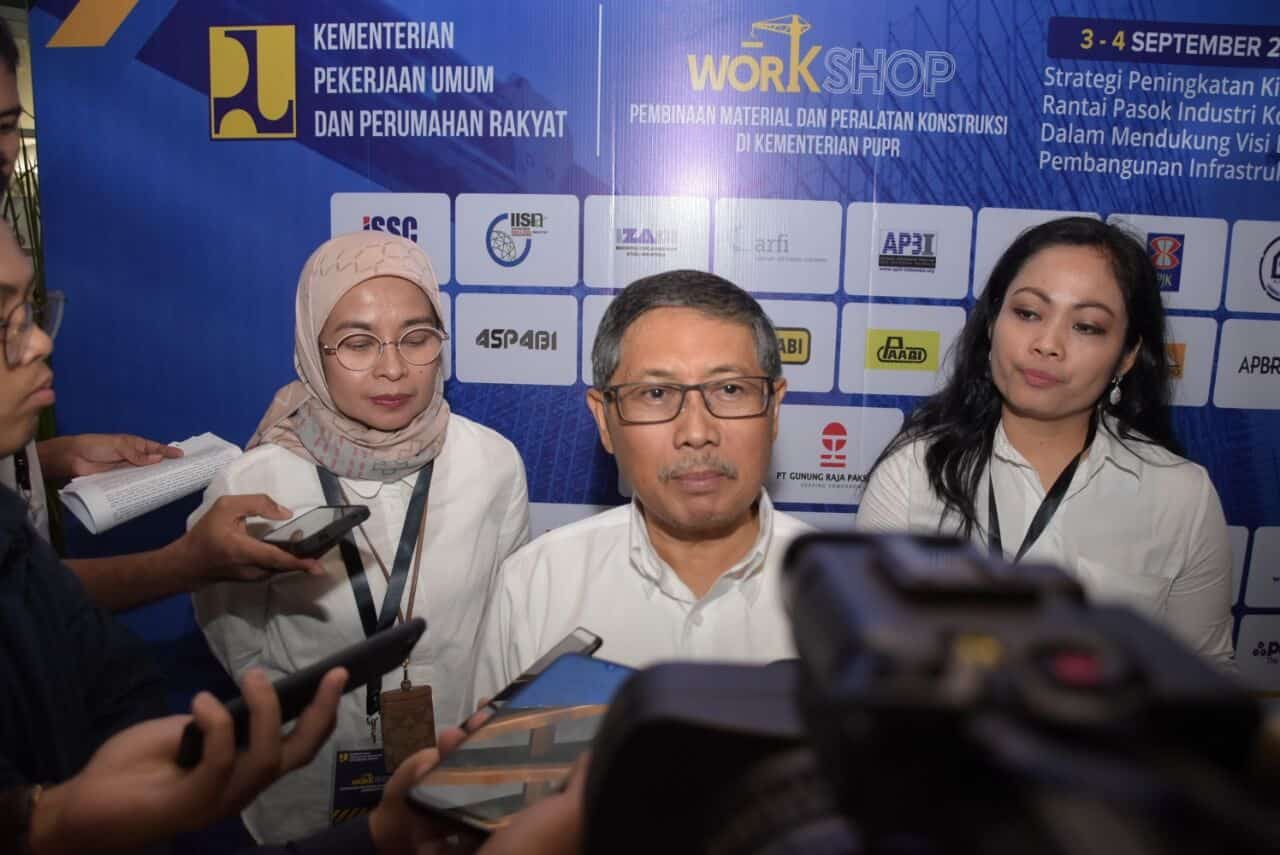 TERNATE – Pengadaan Barang/Jasa memegang peranan penting dalam pelaksanaan Pembangunan Infrastruktur. Untuk itulah dalam beberapa kesempatan penting Menteri PUPR menekankan harapannya agar Balai Pelaksana Pemilihan Jasa Konstruksi (P2JK) bekerja sungguh-sungguh, sesuai aturan, berintegritas, dan independent dalam melaksanakan pengadaan barang/jasa bidang ke-PUPR-an.
"Setiap Bapak Menteri PUPR melakukan ke daerah, yang ditanyakan setelah detail proyek yang dikunjungi, adalah Balai P2JK di provinsi tersebut. Beliau berpesan agar jangan sampai ada masalah dalam proses pengadaan barang/jasa yang dapat berujung pada tertundanya pekerjaan proyek Infrastruktur", demikian disampaikan Dirjen Bina Konstruksi Kementerian PUPR Syarif Burhanuddin saat memberikan arahan pada Rapat Koordinasi Persiapan Tender/Seleksi Dini Pengadaan Barang/Jasa Tahun Anggaran 2020 di Balai P2JK Wilayah Maluku Utara, serta membuka secara resmi Bimtek Sistem Manajemen K3 Konstruksi, Bimtek Pengawas Mutu Konstruksi Gedung, dan On the Job Training Balai Prasarana Permukiman Maluku Utara, Jumat (6/9) di Ternate.
Lebih lanjut lagi, Syarif menyatakan bahwa Menteri PUPR menganggap Balai P2JK adalah wajah Kementerian PUPR. Yang menggambarkan bagaimana kualitas pelaksanaan Pembangunan  Infrastruktur yang menjadi prioritas Pemerintah saat ini. Untuk itulah Balai P2JK harus bekerja independent dan tentunya sesuai dengan aturan yang berlaku.
"Kenaikan anggaran yang diberikan kepada Kementerian PUPR di tahun mendatang menunjukkan kepercayaan yang tinggi dari Presiden kepada kita. Bahkan banyak Kementerian/Lembaga yang belajar ke Kementerian PUPR bagaimana melaksanakan Pengadaan Barang/Jasa. Tentunya hal ini harus kita jadikan pemacu agar kita dapat bekerja dengan baik", ungkap Syarif.
Selanjutnya, lelang dini bukan merupakan hal baru di Kementerian PUPR, sebab sudah mulai dilaksanakan sejak tahun 2015. Lelang dini tidak akan terlaksana jika tidak ada kerjasama antara Balai P2JK dengan Balai-Balai dari semua Unit Organisasi di Kementerian PUPR. Selama ini, lelang dini yang dilakukan di Kementerian PUPR sebagian besar dapat berjalan sesuai dengan waktunya. Dengan harapan turut mendukung Pembangunan Infrastruktur yang menjadi program utama Pemerintah.
Ditambahkan oleh Dirjen Bina Konstruksi, untuk melaksanakan Pembangunan Infrastruktur diperlukan rantai pasok konstruksi yang efektif dan efisien. Salah satunya adalah SDM konstruksi yang kompeten. Untuk itulah percepatan sertifikasi tenaga kerja konstruksi terus dilakukan, dan tentunya harus didukung oleh seluruh stakeholders konstruksi.
Peserta Bimtek dan OJT berasal dari Kota Ternate dengan rincian : Bimtek Sistem Manajemen K3 Konstruksi 183 orang,  Bimtek Pengawas Mutu Konstruksi Gedung 50 orang, dan On the Job Training Balai Prasarana Permukiman Maluku Utara 58 orang (Benteng Oranye dan Kampung Makassar).
Kegiatan ini dilaksanakan dalam rangka memberikan informasi mengenai tahapan proses pengadaan barang/jasa di Balai Pelaksana Pemilihan Jasa Konstruksi sesuai Kepmen PUPR No. 288/KPTS/M/2019, serta memberikan informasi terkait Standar Operasional Prosedur Pengadaan Barang/Jasa Kementerian PUPR.(tw)